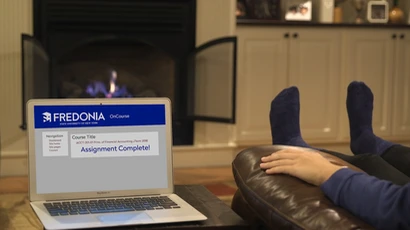 Student Services for J-Term
Student Services
J-Term
BOOKSTORE
The University Bookstore is the main outlet for textbooks, general interest books, school supplies, art supplies, and other student needs. The store also has a vast array of State University of New York at Fredonia imprinted merchandise. For additional information, please call 716-673-3417, ext. 6295 or visit the University Bookstore Website for all textbook and Fredonia imprinted merchandise needs.
CAREER DEVELOPMENT OFFICE
The Career Development Office provides services to assist with career choice, career planning, internships, job search, and admission to graduate school. Career counseling, internship and job search advising, resume and cover letter critiques, and videotaped practice interviews are offered by professional counselors. Information about occupations, internships, employment opportunities, and graduate schools is located in the resource area. Visit the office on the second floor of Gregory Hall, view the Career Development Office Website or call 716-673-3327 to schedule an appointment.
DISABILITY SUPPORT SERVICES FOR STUDENTS
Students who require reasonable accommodations to access J-Term courses should contact the Coordinator of Disability Support Services for Students (DSS). To ensure that accommodations are provided in a timely manner, it is recommended that students contact the DSS office as soon as possible. Students requesting services must provide documentation of a disability to the DSS office to determine eligibility. Please visit Disability Support Services for Students.
HEALTH CENTER
Located in LoGrasso Hall, the Student Health Center at The State University of New York at Fredonia provides currently enrolled Fredonia students with confidential primary care of acute illness and injury, health education, immunizations, preventative health, and laboratory services. Its mission is to enhance the educational process and personal development of Fredonia students by providing quality health care and promoting an optimal level of health and wellness in a caring atmosphere that respects their unique qualities as individuals.

The Student Health Center is open daily Monday-Friday from 8 a.m.-5 p.m. When the Center is not open or if needed, emergency care is always available at Brooks Memorial Hospital, located at 529 Central Avenue in Dunkirk, approximately three miles from campus. For any emergency on-campus or when an ambulance is needed, University Police should be called at 716-673-3333. If there is an emergency off-campus, dial 911. All services provided outside the Student Health Center, such as outpatient laboratories, x-rays, and emergency room visits are the student's responsibility, and are not covered by the student health fee.
IDENTIFICATION CARDS
In order to use the library, students must have a proper identification card. Obtain this card from the FSA Office during regular business hours, Monday through Friday 8:30 a.m.- noon, 12:30-4 p.m. in Gregory Hall. Bring proof of registration.
LIBRARY SERVICES
Reed Library Students will need a valid FREDCard (student I.D.) in order to use library services or check out library materials. The Reed Library Website provides access to its catalog, announcements, and other resources. These electronic resources are available 24 hours a day. Students can renew library materials before they are overdue by calling 716-673-3184 or by signing in to the Reed Library Catalog and accessing their account.
ITS SERVICE CENTER
For information about the ITS Service Center, located on the second floor of Thompson Hall, please click here.
PARKING
Except for posted restricted areas, parking lots on campus are available to students, college employees and visitors. Only campus visitors may park in those areas designated for visitors. University employees and students enrolled in regular semesters are required to obtain parking stickers. Visitors and students enrolled in J-Term are not required to obtain permits. However, anyone parking in violation of regulations (in traffic lanes, near fire hydrants, on lawns, in restricted areas) will be subject to penalty. Cars parked in tow away zones will be towed away. For clarification of rules and regulations, please click here.
RECREATIONAL FACILITIES
For information about the Blue Devil Fitness Center and Natatorium, please click here.
VETERANS AFFAIRS
For veterans information please contact the Veterans Affairs Office, McGinnies Hall 716-673-3423.