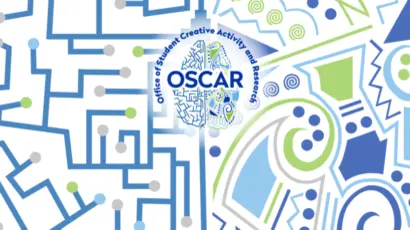 Upcoming Events for Research and Creative Activity
Opportunities for Research & Creative Activity:
State, National, & International
Below is a chronological list that includes professional events for a variety of disciplines at which students and faculty can present or attend.
Nominations open: September 5, 2023

SUNY Fredonia deadline for nominations: October 10, 2023

Submit nominations to Dr. Thomas A. Hegna (hegna@fredonia.edu): Goldwater Campus Representative for SUNY Fredonia

Nominations for the top four candidates from SUNY Fredonia will be submitted to the Goldwater Scholarship Committee before January 26th at 5pm.
International Business Innovation Association InBIA
Dates: October 2-3, 2023

Location: Bethlehem, Pennsy

Deadlines for Registration: N/A

Registration link.
Dates: October 11-14, 2023

Location: Seattle, WA
Dates: October 13-15, 2023

Location: Pittsburgh, PA (David L. Lawrence Convention Center)

On-site registration available
Dates: October 16 & 17, 2023

Location: Saratoga City Center & Saratoga Hilton Hotel, Saratoga Springs, NY
Dates: October 26-28

Location: Portland, OR
November 1-5, 2023 | Salt Lake City, UT

Future conference date: October 30-November 3, 2024 | Anaheim, CA
Dates: November 15-18, 2023

Location: Phoenix, AZ

Undergraduate (Sophomore, Junior, or Senior) & Community College Students:

Oral abstract for in-person conference (November 16-17), OR

Poster abstract for in-person conference (November 16–17), OR

ePoster abstract for virtual conference (November 18)
Dates: November 10–12, 2023

Location: Long Beach, California
Dates: November 30 - December 3, 2023 (Research Gallery Session: Dec 2)

Location: Rochester, NY

Abstract submission deadline - October 1, 2023 (for completed or in-progress research (e.g., music education, performance, music therapy, other related topics). Send materials to NYSSMA Research Chairperson, Dr. Mara Culp, mculp@esm.rochester.edu
SUNY Undergraduate Research Conference (SURC) 2024
Conference Dates: TBD (April 2024)

Location: TBD
Conference Dates: TBD (Spring 2024)

Location: Harvard University
Conference Dates: May 3-4, 2024

Location: SUNY Fredonia

Submission Deadline: December 1, 2023