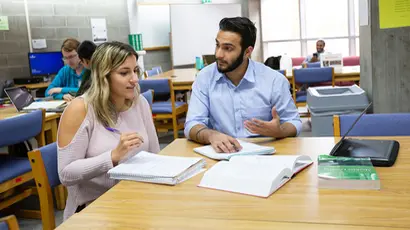 Fall 2023 Drop-In Tutoring Schedule
Scroll down to find the discipline you are looking for and the times when tutors are available. Additional course information is provided in the subject area links.  Please note, this is not an exhaustive list and tutors can still be of assistance with courses, even if they are not listed.
Announcement(s):
The last day of our regular tutoring schedule will be Thursday, December 7th.  Limited tutoring will be available during finals week.  Schedule TBD.
Schedule Change:  Writing hours that were scheduled for Sundays from 7 - 9 pm have been changed to 6 - 8 pm.
Fall 2023 Drop-In Tutoring Schedule 
Miscellaneous Courses
*Need help with a paper?  Our peer writing tutors work with students from across all disciplines to help them become better writers.  From English classes to lab reports.  Research papers to creative writing.  Our tutors are trained to work with you at any stage of the writing process and help you find your own voice.  Tutors do not just proofread papers.  Instead they can help you develop proofreading and other revision strategies. See "Writing" on our drop-in schedule for availability.