Fredonia professor receives U.S. patent for pioneering flight tracking technology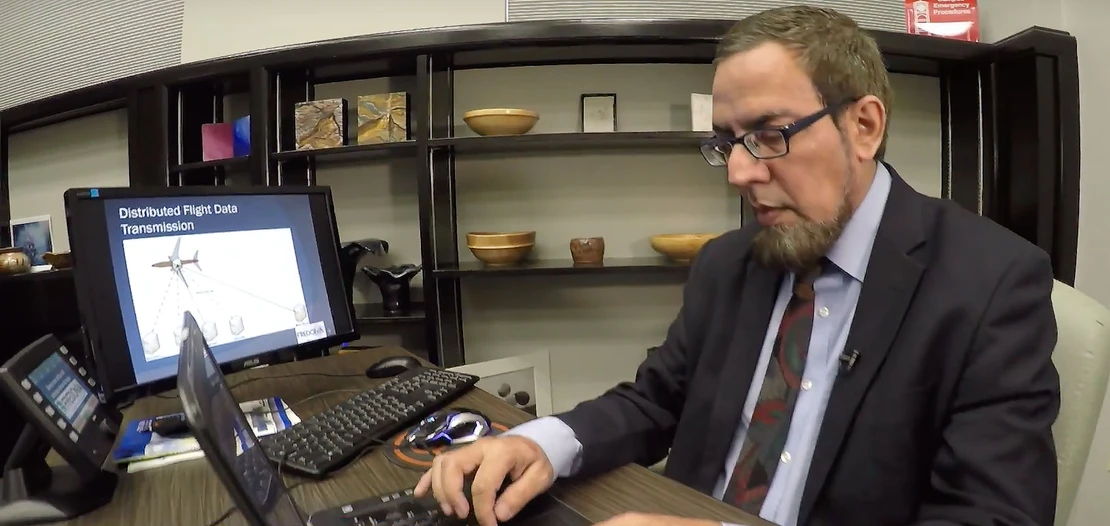 ABOUT THE NURTURING INNOVATION CAMPAIGN
A revolutionary technology, developed by Junaid Zubairi, professor of Computer and Information Sciences, has the potential to render obsolete the so-called "black box" – an essential  investigation tool used in all airplane accidents and incidents – through the real-time transmission of vital flight data to ground-level sensors.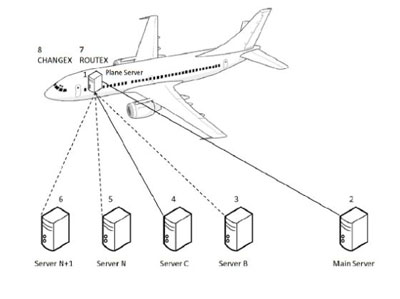 The United States Patent and Trademark Office issued a patent to Dr. Zubairi for the Flight Data Tracker that he designed, with the assistance from undergraduate students, to track and save flight data that's currently accessed from an aircraft's black box. Zubairi's software would eliminate the need, following a crash, to mount what can be an expensive and time-consuming search to recover the flight data recorder that stores the vital information.
"If the flight ends abruptly due to an accident, the data available in the (ground-based) server would allow the investigation into the crash to start immediately instead of searching for the black box," Zubairi explained. Accident scene searches can take several days to complete.
"In case of a crash, this real time component is really useful because instead of looking for the black box, we can reach out to the information immediately and we can start looking into the reasons why the plane crashed," Zubairi said. 
Dr. Joseph (Andy) Karafa, dean of the College of Liberal Arts and Sciences, indicated Zubairi's ground-breaking software is a prime example of the caliber of scholarship at Fredonia. "And, although exceptional, it highlights one of the things we at Fredonia do so well and so often: We engage students in meaningful hands-on experiences. In fact, we pride ourselves on creating a community of scholars where members of the faculty remain professionally engaged and undergraduate students play significant roles in research and creative endeavors."
The real time component of the Flight Data Tracker also makes it extremely useful for ground-based monitoring of flights. This feature, Zubairi believes, has the potential to avoid situations, such as the Northwest Airlines Flight 188 that missed its designated airport by 150 miles, or disasters such Colgan Air Flight 3407 that crashed near Buffalo, by continually monitoring flight data and triggering alarms. Information to be sent to ground-level servers includes engine data, such as oil pressure and airspeed, as well as altitude, roll, pitch, thrust, heading, and other parameters.
Flights within the continental United States can safely and reliably transmit data to a string of servers, located at airports along the aircraft's flight path, through existing UHF radio links. Satellite links could be utilized on international flights when UHF radio links are not available.
The Flight Data Tracker is scalable, so it can handle any number of flights – even thousands – without modification. The system allows several flights to send their data simultaneously to different servers. It is also "fault-tolerant," so it can continue to function even if a few servers are down. 
Unlike other patented flight tracking systems, Zubairi's system does not require installation of new hardware devices on each aircraft, does not direct and store data to a single ground-based server or use proprietary algorithms.  
Four Fredonia undergraduate students assisted Zubairi in various development aspects. These students, who have since received their degrees, and their projects and the course each attended, included:  Ahenk Er, whose thesis was "An Investigation into the Feasibility of Replacing the Black Box with Glass Box," for CSIT 497; Zhoujun Fu and Sean Wignall, who worked on flight tracker programming in CSIT 435; and Iago De Silva, "Integration and Routing of FlightTracker," for CSIT 499. Zubairi worked with Ms. Er to design the flight data tracker at the theoretical level using flowcharts and diagrams. He later built prototype software that simulated the working of the tracker.
"I always try to get the students involved in my research. That is the hallmark of my research," Zubairi said.
Zubairi, who began work to develop the new technology in the 2010-2011 academic year, suggests use of black boxes could begin to be phased out within the next two years.
The SUNY Research Foundation and technology incubators at SUNY Binghamton and the University at Buffalo have provided marketing assistance that involves reaching out to aviation companies and aircraft manufacturers, such as Boeing, and regulators, including the Federal Aviation Agency and International Civil Aviation Organization. 
Zubairi, who holds a Ph.D. and M.S., both in computer engineering from Syracuse University, and a B.S. in Electrical Engineering from NED University of Engineering, Pakistan, sees the Flight Data Tracker as "potentially disruptive" because it has the potential to disrupt the status quo and force the aviation industry to redesign flight data tracking with new features and new possibilities. Zubairi has been a member of Fredonia's Department of Computer and Information Sciences since 1999.
"I have been working on research for saving lives. Flight Data Tracker and medical emergency patient management projects are my humble contributions," Zubairi said. "I am inspired by the quote, 'Whoever saves one life, it is written as if he has saved all humanity.' from Holy Quran and Old Testament."