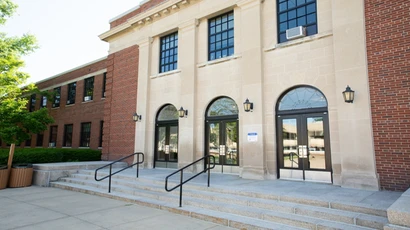 Information to Help Recruiting
Each member of the college community contributes to the development and maintenance of Fredonia as a healthy environment in which diversity is valued. Search committees can use the following methods to recruit and assess candidates who will lead the college toward excellence. The suggestions are designed to help the search committee ascertain effective teaching, research and scholarship for an increasingly diverse, multicultural workforce.
---
Interview Questions
Reference the Human Resources department's Inquiry Guide for more detail on what is appropriate to ask during an interview. See also: What Can I Ask?
Search committee members are encouraged to ask the candidate about specific kinds of studies, policies, procedures, or programs initiated to further develop the campus or workplace as a multicultural environment. Examples may include work already done or a statement of initiatives a candidate would propose if appointed.
Inquiries about equity and affirmative action need to be consciously incorporated throughout the interview and raised in varied contexts. Avoid compartmentalizing questions about fairness, equity, and affirmative action as if they were separate from issues regarding effective teaching, research and scholarship.
Finally, questions about diversity and multiculturalism need to be asked by various members of the search committee. Frequently, members of constituency groups assume the responsibility for asking the "diversity" questions during the meeting. Making a conscious effort to share responsibility for questions regarding diversity ensures that diversity issues will be raised regardless of the gender and racial composition of the group.
[ back to top ]
---
Posting: Description
Valuing and assessing a candidate's experience with multicultural issues can begin at the beginning by including in the job description's listing of qualifications such qualities as "demonstrated commitment to diversity," "experience promoting a diverse environment," or "experience working effectively in diverse environments." This informs candidates from the outset of the University's commitment and encourages them to be forthcoming about such experience during the interview process.
Posting: Announcement
The same language used in the job description can then be used in the text of the advertisement. In addition to soliciting prospective candidates, the ad text serves to communicate the University's mission to the general public. The following statements should be included in all advertisements:
Fredonia prides itself on an outstanding workforce. To continually support organizational excellence, the university conducts background screens on applicants.
An Affirmative Action, Equal Opportunity Employer, Fredonia provides for, and promotes, equal opportunity employment, compensation, and other terms and conditions of employment, without discrimination.
[ back to top ]
---
Recruitment Strategies and Links
Attention needs to be paid to recruitment strategies designed to reach diverse applicants for all positions. Personal and professional contacts can be helpful in exploring creative avenues that reach diverse groups. Examples include culturally targeted publications and/or scholarly journals, electronic bulletin boards, professional newsletters, and conferences. Reference Recruitment Sites, or the more comprehensive Diversity Resources page, for culturally targeted resources where advertisements can be placed.
[ back to top ]
---
Search Committee Membership
The search committee should be comprised of individuals who reflect the diversity of the campus. To achieve this goal it may be necessary to include a member from related departments or units on the search committee. Additionally, arranging for candidates to meet with diverse University constituencies may be appropriate so those candidates can gain a more direct sense of the community with which they will work and live.
[ back to top ]