Fire Code for Residence Halls
The Office of Environmental Health, Safety, and Sustainability would like to take this opportunity to welcome students who are coming on campus to live in the residence halls. We hope that this page will be useful to you by providing information that will help you to comply with fire safety regulations.
New York State Fire Code has specific regulations that dictate what is allowed to be in a student room on campus. We have taken this opportunity to explain just how the code regulations will apply to you as a resident.
The following items are prohibited in residence hall rooms

: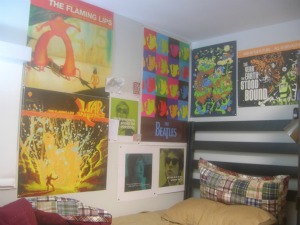 Candles (even if they are not burned or the wick is cut)
Incense (even if it is not burned)
Wax warmers
Extension cords and "power taps" (power strips with overcurrent protection are permitted)

Pop Up Bed Tents
Multi-colored lamps with plastic shades
Halogen lamps
Lava lamps
Any appliance with open heating elements
Nothing may be hung from the ceiling of your room at any time.
Flags and tapestries are not permitted.
Any kind of fuel (grill lighter fluid, propane, etc)
The following items are permitted in residence hall rooms, but with restrictions:
Holiday Lights - plug-in holiday lights are permitted two weeks prior to the end of the fall semester only. Lights may never be hung from the ceiling. Battery operated decorative string lights are permitted.
Posters - The NYS Fire Code permits a modest amount of pictures and posters to be hung on student walls. Paper should never be hung on the door to your rooms.
Other regulations to keep in mind:
3 feet of exit width must always be maintained in your doorway. If at any point the exit path from your room becomes less than 3 feet wide, furniture or other items must be moved.
Shoes, bikes, or other personal items cannot be stored in the hallway at any time
Suite doors must remain closed at all times, NEVER prop it open in any way.
Smoke/Heat detectors may never be covered or otherwise disabled. This is a serious violation.
For more information on living in the residence halls, please visit the Residence Life page.

Contact:
If you have any questions about what is or is not permitted by fire code, we encourage you to e-mail Sarah.Laurie@fredonia.edu or call our office at 716-673-3796.