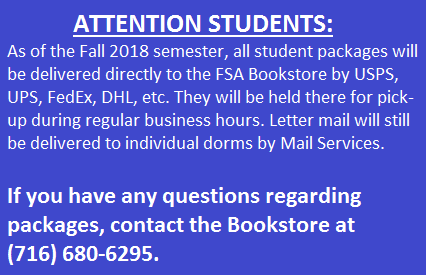 Use your full name (no nicknames or shortened names) and dorm address when addressing packages/ mail that you will be receiving. Not using your full name and address will delay your mail.
Stamps and mailing supplies such as envelopes, padded envelopes, etc. can be purchased at the Bookstore. Mail services does have free Priority Mail envelopes and boxes available if needed. If you are shipping a package or Priority Mail, you will need to purchase the postage through usps.com. If you are unsure of the weight, you can bring your package to Mail Services and our staff will weigh it for you.
Students are assigned a locked mailbox in the main lobby of their residence hall. Carry your mailbox key with you as mail cannot be handed out over the counter as per Federal Post Office regulations.
Special delivery, certified, insured, registered, and postage due mail will be held in the residence hall office. Packages will be held in the FSA Bookstore. Residents in receipt of these items will be notified and may pick up their mail during posted office hours. Students need to produce identification and must sign for these items in person. PLEASE NOTE: Guaranteed Express or other timed early delivery packages are independent of Fredonia.
Mail Services cannot give family members, friends, etc. student addresses.
If your mailing address is not formatted as shown, it will DELAY your mail as UPS or USPS will have to try and locate your address. Please take that into consideration when ordering packages.
Your mailing address is formatted as follows:
Name
Room number and building (EX: 900 Alumni Hall)
The State University of New York at Fredonia
Fredonia, NY 14063
For packages, you may need a street address. You can format it as follows:
Name
Room number and building (EX: 900 Alumni Hall)
280 Central Ave.
The State University of New York at Fredonia
Fredonia, NY 14063