Departmental Mail Guidelines
Outgoing and intra-campus mail to be picked up should be in the department mail room or pick-up area by 9:30 a.m.
The department account number and/or department name must be on all off-campus outgoing mail. It should be placed in the top left corner above the return address to ensure that the correct department is charged for the postage.
Multiple pieces coming from the same department may have only the top piece marked with the department account number or name if they are bundled together in a way that it is obvious that they belong together, such as, rubber banded or boxed.
Mail to be sealed must be sent to Mail Services with the flaps up, envelopes placed one in front of the other (nested). See image below.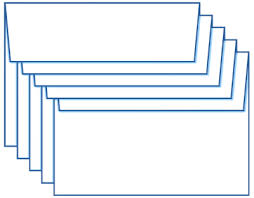 Bundle intra-campus mail, domestic outgoing mail, and international outgoing mail separately.
Incoming mail should be addressed as follows:
                   Name
                   Department
                   Room Number/Building
                   280 Central Ave.
                   Fredonia, NY 14063
Any mail addressed simply to SUNY Fredonia (or any variation thereof) will be opened to determine where it should go.
UPS and FedEx packages are delivered by the carriers to Central Receiving. Central Receiving will then deliver the packages to their respective departments. Any pre-paid outgoing UPS/FedEx can be picked up by Mail Services who in turn will deliver to Central Receiving for carrier pick up.
When a large mailing is to be picked up,  the mail room should be notified in advance to allow adequate staff coverage for the job. If additional trays, hampers, etc. are needed, please contact Mail Services and we will provide them to the department.
It is the responsibility of the individual departments to forward all mail addressed to former staff and faculty members.
If mail belonging to another department is delivered to your department by mistake, promptly report it to the Mail Services (ext. 3157) so it can quickly be rectified.
Stamped personal mail will be picked up and delivered to the Post Office as a courtesy. Mail Services will not be responsible for personal mail that is lost or damaged.
PLEASE NOTE: Personal mail (not relating to the business of the university) should not be sent to the campus. Mail Services will not be responsible for personal mail that is lost or damaged.