Harry A. King
King Concert Hall is named in honor of Harry A. King, who spent 40 years in Fredonia and made a great contribution to the college community.
Joining the faculty of the Fredonia Normal School in 1928, he became the assistant director of the Teachers College in 1948 and then dean in 1958. He then served as the academic dean of the State University College of Education from 1960-66.
A passionate musician, King played for the Washington and Rochester Symphony Orchestras between 1950 and 1958.
After retiring from his position as dean, King donated some of his valuable art pieces from his personal collection to the College Foundation for display in Rockefeller, including an old wooden flute, a fantasy etching by Rene de Coninck and an unconfirmed Amati violin from the 17th century that he inherited and began playing at a young age.
Harry A. King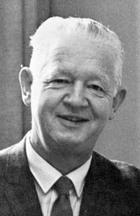 Joined faculty of Fredonia Normal School in 1928
Was a member of both the Washington Symphony Orchestra and the Rochester Symphony Orchestra in the 1950s
Served as Academic Dean of College of Education from 1960 to 1966