Michael C. Rockefeller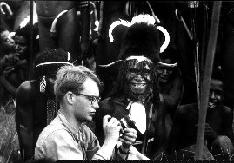 Michael C. Rockefeller was the youngest son of Nelson Aldrich and Mary Todhunter Clark Rockefeller. His grandmother, Abby Aldrich Rockefeller, was a founder of the Museum of Modern Art, and his father founded the Museum of Primitive Art, now part of the Metropolitan Museum of Art in New York City.

From his childhood, Michael demonstrated a love of beautiful things and people. Independent in spirit and enthusiastic in all that he did, he was a keen observer, intrigued by the unknown and unexplored.

In March 1961, less than a year out of Harvard University, he traveled to New Guinea as the sound man and still photographer on an expedition for Harvard's Peabody Museum of Archaeology and Ethnology. The group was studying the life of the Ndani, a people who live in the Baliem Valley in the mountainous interior of western New Guinea. Michael and a friend left the expedition in June for a trip to the southern coast of New Guinea to explore the possibilities of collecting art from the Asmat tribe, one of the last surviving Stone Age cultures. He became fascinated by the art and rituals of the Asmat. On July 10, the two young Americans left the coast to rejoin the Harvard-Peabody expedition, working with it until the beginning of September, when all its members returned to the United States.

After a brief stay at home, Michael went back to the southern coast of New Guinea late in September to collect Asmat art for the Museum of Primitive Art, of which he was a trustee. For nearly two months, he and a friend visited native villages along the coast of New Guinea and up the rivers. On November 18, 1961, in heavy tides and swift currents at the mouth of the Eilanden River, their catamaran overturned. Two native assistants swam to shore for help. Michael and his friend clung to the canoes for nearly a day. With no help in sight, Michael decided to swim the 12 miles to shore with the help of a life preserver he fashioned from two gas tins tied together with his belt. He was never seen again. His friend stayed with the overturned canoes and was rescued. A book entitled "Savage Harvest: A Tale of Cannibals, Colonialism and Michael Rockefeller's Tragic Quest for Primative Art" by Carl Hoffman, published in March 2014 and excerpted by Smithsonian Magazine gives significant credence to the idea that Michael was killed and eaten by cannibals.

Governor Rockefeller attended the dedication ceremony on October 17, 1969, which established the Michael C. Rockefeller Arts Center as an ongoing tribute to a dynamic young man whose life was devoted to demonstrating the universality and timelessness of art in all forms.