Internships and Applied Learning
As part of the department's committment to helping students apply their learning to real-world applications, all students will be expected to complete an Applied Learning experience beginning in the fall of 2018. Internships are a great way for student to apply their knowledge and skills in a real-world setting. In addition, an internship will enrich classroom learning, providing students with a meaningful work experiences to develop useful career-building skils. The Department of History strongly encourages students to complete an internship prior to graduation.
Public History and the Digital Humanities
The growing field of public history, which includes careers in archives, museums, historic preservation, and other historical institutions, provides excellent internship opportunities. New digitial tools--on-line museums, social media, podcasts, data mining, gaming, documentaries--have opened up an array of possible internship and career opportunities for students in history.
---
Museum Studies Minor
For students with a strong interest in a public history career, the
Museum Studies minor
provides an interdisciplinary introduction to the field of museum work and prepares students for graduate work in museum studies and for professional careers in history, art, anthropological, or science/natural history museums. The minor in combination with an education major will help prepare students to enter the rapidly growing field of Museum Education. Moreover, the minor provides opportunities for service learning through internships, and provides benefits to understaffed local cultural institutions. For more information on the minor, contact
Prof. Ellen Litwicki
, Museum Studies coordinator.
---
STUDENT EXPERIENCES
Students have recently held internships at a variety of local and regional institutions, including the McClurg Museum in Westfield, the Steel Plant Museum in Buffalo, Chautauqua Institution Archives, Reed Library Archives, the Fenton History Center in Jamestown, the Dunkirk Lighthouse, and the Seneca Museum in Salamanca. There are numerous opportunities for internships at these and other institutions, such as the Robert H. Jackson Center in Jamestown, the Buffalo & Erie County History Museum,and the Dunkirk History Museum.
Kali O'Day & Ben Schrantz
Many students are unaware that we possess a large collection of documents right here at the Reed Library in Fredonia. In 2015, two students served as interns working in these College Archives.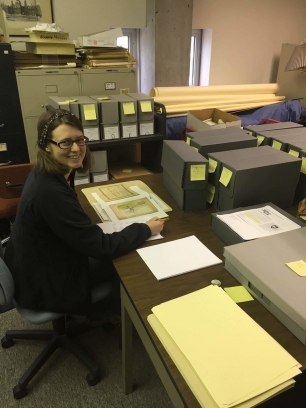 The History Department has a variety of opportunities for students to partake in when it comes to internships. In 2016, two students in the History Department were lucky enough to be interns in Reed Library College Archives, working directly with the Peacock Family Papers. This collection has been split between Fredonia's archives and the McClurg Museum in Westfield, NY. Kali O'Day and Benjamin Schrantz worked on preserving these documents and making sure all documents in the collection were accounted for. Also, they updated and re-constructed the finding aid. A finding aid is a document that contains detailed information about what is available in the Reed Library College Archives. Once O'Day and Schrantz have completed this finding aid, it will be uploaded online and available for research purposes. These students sifted through multiple documents and uploaded them carefully in order for others to research these files for themselves.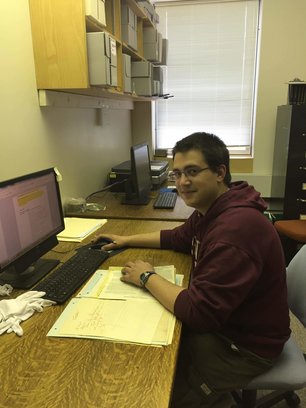 O'Day and Schrantz were able to view and physically hold a 100 year old document that pertains to the Peacock Family. Both enjoyed working with old documents and diving into the past of this particular family. They examined correspondence, business records, and family photographs all while documenting the history of the family's life in Mayville and Westfield. As Schrantz stated, "You can learn A LOT about a person from looking at their old correspondences, and their old grocery receipts." Being able to hold these documents allowed history to come to life for these two students. While reviewing the old documents that consist of information about the Peacock Family, they saw how the world has changed politically, socially and economically over time.
Both students are majors in History and felt that being a part of the History Department prepared them for this internship. For O'Day, she was able to connect dates from these documents to what was happening in the world during that time period. Also, O'Day has a Museum Studies Minor where she has learned how to handle and preserve the documents along with the legal procedures. Being a History Major has allowed Schrantz to develop his critical thinking ability. He is able to develop this ability even further by doing in depth research on this collection.
O'Day and Schrantz hope to pursue careers after Fredonia that are related to their internship because of the impact it has had on them. Schrantz is considering a Master's in Library Science with an archival concentration. He stated that he might not have considered this option if it hadn't been for interning in the archives. O'Day hopes to become a museum educational out-reach coordinator. In this position, O'Day could plan events for school groups at museums or go to schools with artifacts, as well as teach the students with these artifacts. O'Day stated, "If students can see and touch objects that they are learning about, then they will be able to better connect with the lesson material they are learning about." Since obtaining this internship, it has influenced O'Day's decision concerning her career path.
Internships through the History Department will allow a person to access history in a tangible way. These two students were able to intern through our own archives to research and create a finding aid in order to have this particular collection of documents available for all. So next time when you are in the library, check out the archives. They are located in the back of the library near the elevators. Who knew so much history was accessible on our campus, and that you could work directly with history!
---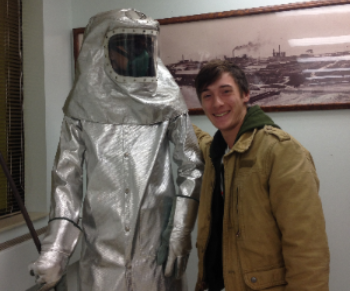 Curt Kibler interning at the Steel Plant Museum of Western New York
I am an intern at the Steel Plant Museum of Western New York. Today I cataloged photos of the Bethlehem Steel Plant that were taken in the 1930's and 1940's. This internship has benefited me in numerous ways. For the first time in my life I've had a way to apply my love and interest in history in a real-world setting. I've gained a massive amount of experience that very few of my peers can say they have. I'm learning cataloging, archiving, artifact handling and storage, as well as record keeping.
Why intern? My answer to that was: why not? It's always been a thing that has been in the back of my mind and this semester I decided I was going to go after it. Like I said earlier, the experience alone is worth the work and the drive. But besides the experience, I've developed connections and relationships with people who have history experience and can vouch on my behalf when it comes to my work ethic, devotion to the area of study and my love of history.
My curator and boss, Megan, taught me how to catalog documents on my first day and a huge amount of documents had to be cataloged. If my memory serves me right, about 75-80 boxes! During my first three weeks I cataloged all of them, and then the museum hired an archivist to come in and tell the staff (Megan and I - the rest are volunteers) what to change about our approach and how to update the museum's collection. It turns out we had been cataloguing incorrectly and I had to go through and re-catalog everything. Megan was so apologetic that she took me out for lunch! It didn't matter though; through cataloging the documents (both times) I was just happy to gain the knowledge and the lesson of learning through one's mistakes.
I'm a zealous advocate for college students to intern. Dr. Litwicki has been extremely helpful and has guided me through it all and I'm proud of myself for going through with my decision to intern. Whether a student is looking for a possible career path, valuable experience in a real-world setting, or just looking to put something on their resume, I believe that you can't go wrong by interning. Get out and learn something!
---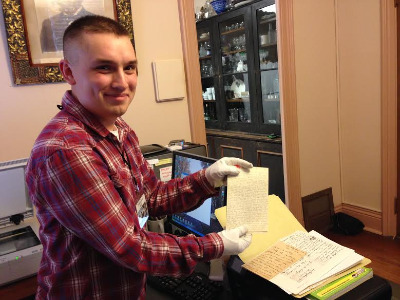 Charles Johnson interning at the McClurg Museum
For the fall 2014 semester, I chose to become an intern at the McClurg Museum, home of the Chautauqua County Historical Society. At first, I didn't really know what to expect. Back in April, I learned that because of my experience in the Navy Reserve I would be focusing my time on the Cushing Family papers. The Cushings were brothers, originally from Delafield, Wisconsin who moved to Fredonia while they were young. William, Alonzo, and Howard all served in the military during the late 19th century. William was a Navy officer who is considered "The First Navy SEAL", because of his daring raid that led to the sinking of the CSS Albemarle. Howard was killed in Arizona while fighting the Apache. The man of the hour is Alonzo, a West Point Graduate who served in the 4th US Artillery Battery during the Civil War. He was mortally wounded on the third day of the battle during Pickett's Charge. 150 years after his heroic stand, he was awarded the Medal of Honor.
Since my project at the McClurg focuses on the Cushing Family, I was involved with John Paul Wolfe, the curator of the museum, in assisting the Loring Family, the distant relatives of the Cushings, in accepting the Medal of Honor. I received an invite to attend the ceremony in Washington D.C.; however, I was unable to attend due to unforeseen circumstances. In addition to digitizing the Cushing family correspondence, I have conducted tours of the building, accessioned items into the museum catalog, as well as set up my very own exhibit on Civil War armaments. My exhibit is the center piece of the Civil War room and features rifles, muskets, pistols, sword/sabers, shot, shot molds, etc.
I highly recommend doing an internship during your time here at The State University of New York at Fredonia. It is important to go out and gain experience in that field before graduating. Not only does it allow for you to better understand how your major will be applied to the job you are looking to do, it allows for you to see if you're going to enjoy it. I have thoroughly enjoyed my time at the McClurg Museum and the Chautauqua County Historical Society. I'd like to thank everyone involved in my internship, including Dr. Litwicki and John Paul Wolfe for everything they've done to guide me this semester. If you are able, get an internship; it's definitely worth the time and energy.