Certificates, Awards, & Scholarships
The Educational Development Program is proud to be able to offer certificates, awards, and monetary scholarships to recognize students' achievements as well as that of staff and alumni. Here is a listing of awards.
The
Dr. Jeffrey J. Wallace Sr. Leadership and Excellence Scholarship Endowment Fund
was established in fall 2008 in recognition of the contributions, dedication, and leadership of Dr. Jeffrey J. Wallace Sr. who was director of the Educational Development Program from 1972-1981. It was his vision and dedication which laid the foundation for the growth and development of the Educational Development Program currently in place at the State University of New York at Fredonia. The term "development" in the name of the program represents Dr. Wallace's vision of the process that students go through in becoming successful and contributing citizens. The selection committee looks for candidates who demonstrate the characteristics and determination exhibited by Dr. Wallace in his quest for student success.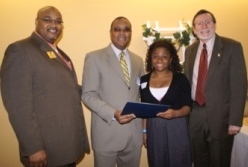 Criteria for the scholarship are for EDP students to have earned at least 50 credit hours; must be enrolled at least one semester after receiving the scholarship; must be in good academic standing (2.50 CUM GPA or higher); and must have evidence of campus and/or program leadership, maturity. Once a student is invited to apply for the award, a 500-600 word essay is required and should include (but not limited to) a description of successes and challenges while at Fredonia and the strategies used to achieve academic success. Highlights of involvement in the campus community and how the Educational Development Program has been instrumental in assisting them in achieving their goals should be addressed. Scholarships are in the amount of $500.

The list of eligible scholarship candidates is reviewed by the EDP staff and recommendations go to the scholarship committee consisting of Emma McFayden '76, Keith McFayden '77, Dr. Sherryl Weems '76, Dr. Jawaan Wallace, and Dr. Jeffrey J. Wallace '68. Contributions may be made to the Fredonia College Foundation, earmarked Wallace Leadership and Excellence Endowment Fund, at any time—www.fredonia.edu/foundation/. Many thanks go to those who have already made a contribution.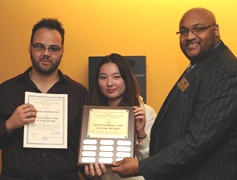 OUTSTANDING EDP TUTOR OF THE YEAR AWARD - Presented to College Tutoring Services tutor(s) who have shown a tremendous amount of support, dedication, commitment, and inspiration in tutoring for EDP. Selected by EDP students and staff, these tutors are being recognized for "Going Above and Beyond" in academic assistance.

COMMUNITY SERVICE AWARD - Recognizes those EDP students who have demonstrated a commitment of service to the Educational Development Program, the University, and the community through on and off campus activities.

ARTHUR O. EVE SCHOLARSHIP AWARD - Awarded to students who have demonstrated commitment to self-improvement, leadership, and service to the Educational Development Program, the University, and the community. Selected by EDP staff. Scholarships are in the amount of $125.

DIRECTOR'S AWARD - Awarded to the student who has achieved the most significant cumulative improvement in academic progress over the course of one year. Scholarships are in the amount of $100

GREGORY ANTONIO MEMORIAL AWARD - In memory of Gregory Antonio, '91 political science/pre-law EDP graduate. Established by Gregory's mother and sisters in '92 to give extra assistance to an EDP student and/or member of the Lacrosse Club. Greg was a member of Phi Sigma Alpha National Honor Society, a class rep, founder and captain of Fredonia's lacrosse team, and was a chair on the college judicial board. Scholarships are in the amount of $150. Selected by EDP staff.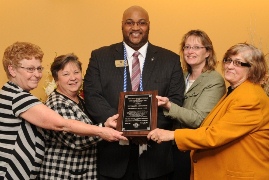 EXEMPLARY SERVICE AWARD - Recognizes the support and dedication of those who have been instrumental in helping EDP accomplish its mission. These contributions and commitments make EDP able to go "Above and Beyond." Selected by EDP staff.

ACADEMIC ACHIEVEMENT CERTIFICATES - Recognizes students who achieved a minimum of 3.0 gpa for the Fall 2016 semester.

DISTINGUISHED ALUMNI AWARD - Presented to a graduate of Fredonia's Educational Development Program w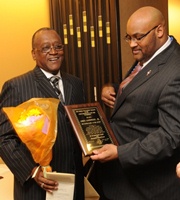 ho has accomplished personal and career goals and demonstrated a commitment to leadership and academic excellence. Selected by EDP staff.

RALPH WILSON BOOK AWARD - The initial Wilson endowment was created in spring of 2000 by the Ralph Wilson, Jr., Foundation to help EDP students with book and over-all college expenses. EDP students submit essays which are reviewed by the EDP counseling staff as well as the students' accomplishments, community service activities, academic merit, and economic need. This award is offered each semester. The initial gift of $25,000 was secured by Karen West, Senior Director of Development, Fredonia College Foundation. Ralph Cookerly Wilson, Jr. (October 17, 1918 – March 25, 2014) was the founder and owner of the Buffalo Bills, a team in America's National Football League (NFL). He was one of the founding owners of the American Football League (AFL), the league with which the NFL merged in 1970, and was the last of the original AFL owners to own his team. He was inducted into the Pro Football Hall of Fame in 2009. Fredonia served as the Buffalo Bills' training camp for 19 consecutive years (1981-1999). Team members, the coaching staff and management lived and met in three of the college's 13 dormitories.
SPRING 2017 Ralph Wilson Book Award Application

NICHTER ABOVE AND BEYOND EDP SCHOLARSHIP - Alan Nichter '69 and Annmarie Woloszyn Nichter '70 were freshman orientation leaders when they met on campus. They are both very appreciative of their Fredonia education and have establish two scholarships through the Fredonia College Foundation—the Kenneth Cutler Scholarship in honor of History Professor Kenneth Cutler and the Alan Nichter and Annmarie Woloszyn Nichter Scholarship in Communication Disorders and Sciences. The Nichters became aware of EDP when they met Mary Kay Taylor (pictured lower left), a recipient of the Cutler History scholarship in the fall of 2014. After talking with EDP Director David White and getting a good idea of what EDP was all about, they graciously formed a third endowment to benefit an EDP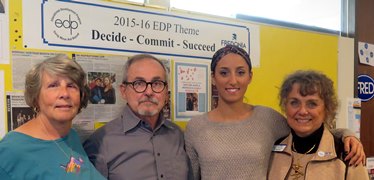 student. With the help of Ms. Karen West, senior director of Development/University Advancement, the Nichters named the endowment the Above and Beyond Scholarship in recognition of the Educational Development Program's motto and commitment by the staff, students, and faculty. The criteria for the $500 Nichter Above and Beyond EDP Scholarship are: must be coded as an independent EDP student; must have earned a minimum of 24 credit hours at Fredonia; must be enrolled at least one semester after receiving the scholarship; and must be in good academic standing (minimum 2.50 CUM GPA). Eligible EDP students must submit a 300 word essay to include (but not limited to) a description of the challenges an independent student has as well as successes here at Fredonia. Essays are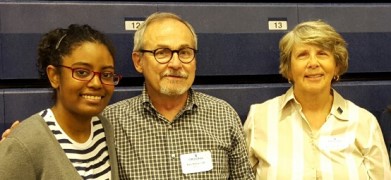 submitted to Mr. and Mrs. Nichter to make the selection. The recipient is recognized during the Fredonia College Foundation's Scholars' Breakfast. Amanda Gusmano (JR/Visual Arts and New Media: Graphic Design/North Salem) was the first recipient and is pictured above with the Nichters and Ms. West.