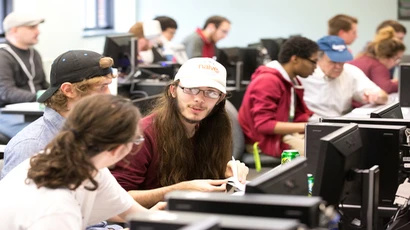 CIS/CS Alumni
Surveys of our graduates show that they are enjoying almost 100% employment or graduate school placement. We have alumni employed globally as computer consultants, programmers, systems analysts, network administrators, project managers, software engineers and developers, hardware specialists, and more.
Check out what some of our alumni have been up to since graduation!
Our CIS/CS graduates are employed by:
Amherst Systems
Apple
AT&T
ATTO Technology
Ball State University
Bausch & Lomb
Bell Atlantic Software Sys.
Blue Cross
Bush Industries
CVS Pharmacy
DFT Communications
Dunlop Tire
Eastman Kodak
Eaton
First Union Bank
Fisher-Price
Frontier Science & Tech.
Galaxy Scientific
General Electric
Goldman Sachs
Google
Grumman Aircraft Systems
Horizon Management Group
Hughes Aircraft Company
IBM
Infosys Business Solutions
Intel
Jamestown CC
Lockheed Martin
MetLife
Microsoft
Niagara Mohawk Power Co.
NY Dept. of Transportation
Oracle
Parmed Pharmaceuticals
Paychex
Pepsi
Progressive Insurance
Qualcomm
Relex Software
Six Flags Darien Lake
St. John Fisher College
The Prudential
United Parcel Service
Wegman's
Welch Foods
Xerox
Ziff Davis Publishing
Our alumni have also been graduate students at the following institutions:
George Washington University
Pace University
Rice University
Northeastern University
University of Minnesota-

Duluth

Illinois Institute of Technology
Shizuoka University, Japan
Employers recognize that our graduates have developed useful general skills such as problem-solving ability, organized thinking, clarity of expression, and logical decision-making, and an assortment of software and hardware expertise.
Here are some First Year Employers of our graduates:
Computer Science (CS) graduates
Automation Engineer Atlas Automation, Rochester NY
GIS Coordinator Cattaraugus County, Little Valley NY
Software Engineer Cisco Systems, San Jose CA
Software Development Cliffstar Corporation, Dunkirk NY
Test Engineer Ericsson, Ismir Turkey
Independent Contractor Fusion Computer Development Inc., Aitkin MN
Software Developer Garanti Teknoloji (Garanti Bank), Istanbul Turkey
Computer Programmer Heritage Centers, Buffalo NY
IT Programmer/Analyst Medical Management Services, Inc., Amherst NY
Technician NFP Telecom, Webster NY
Systems Engineer NWN Corporation, Waltham MA
Software Engineer Open Systems International, Medina MN
Software Developer Paychex Inc., Rochester NY
Software Test Automation Engineer Paychex Inc., Henrietta NY
Sales Representative Radio Shack, Dunkirk NY
Developer Red Argyle, Canandaigua NY
L1 Technical Support Customer Service Representative The Connection, Olean NY
Graduate Student Teaching Assistant University of Minnesota - Duluth, Duluth MN
IT Helpdesk Support William Mattar P.C., Williamsville NY
Computer Information Systems (CIS) graduates
Team Lead/SCRUM Master AcisTek Corporation, Arlington VA
Operations Analyst Computer Task Group, Corning NY
Level II IT Operations Analyst Corning Inc., Corning NY
IT Support Assistant CUNY Graduate Center, New York NY
System Administrator Demandware, Burlington MA
Technology Support Specialist Hobart and William Smith Colleges, Geneva NY
Network Technician Innovative Solutions, Henrietta NY
Technical Support Microworx Inc., Rochester NY
Service Coordinator/Project Manager MVP Network Consulting, Buffalo NY
Systems Training Assistant Onondaga Cortland Madison BOCES, Syracuse NY
Information Technology Support Personal Computers Inc., Buffalo NY
Senior Resnet Coordinator State University of New York at Fredonia, Fredonia NY
IS Analyst Titan X Engine Cooling, Jamestown NY
Software Engineer Vestel Elektronik, Manisa Turkey
Global Service Desk Technician Yahoo!, Lockport NY
Are you a Fredonia CIS graduate? Please catch up with us by sharing your news!