State University of New York at Fredonia Convocation 2016-2017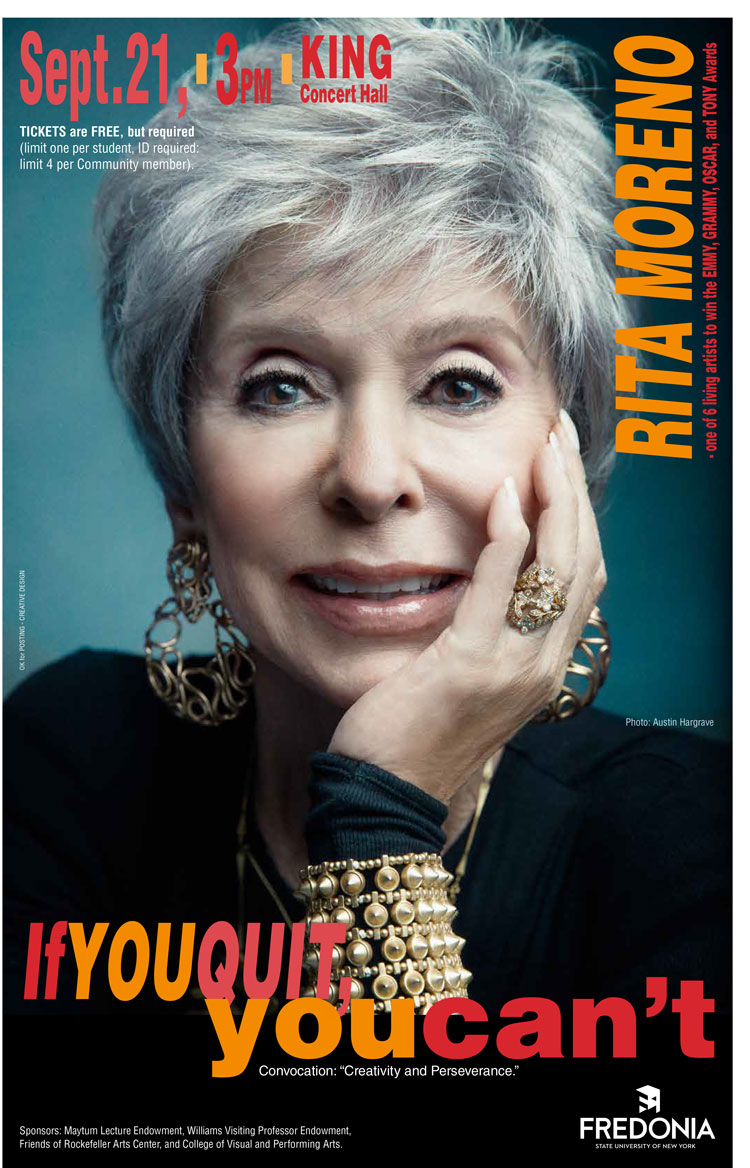 The Convocation Committee is pleased to announce trailblazing performer Rita Moreno as the Maytum Convocation Lecturer and Williams Visiting Professor.
Her presentation in King Concert Hall on Wednesday, Sept. 21 at 3 p.m., "If You Quit, You Can't" will follow the 2016-2017 Convocation theme, "Creativity and Perseverance."
The lecture is offered to the student body for free, but tickets are required, and are available at the Fredonia Ticket Office in the Williams Center. There is a limit of four tickets per community member, and one ticket per student (ID required).
Moreno completed production on the Latino remake of Norman Lear's classic sitcom, "One Day at a Time," which will premiere on Netflix in January 2017. She also lends her voice to the character "Abuelita" in the animated series, "Nina's World," which airs on NBC-TV's Sprout Network. Moreno recently released her first ever all-Spanish language album, "Una Vez Mas," produced by her good friend, Emilio Estefan, and her first book in 2013, "Rita Moreno: A Memoir," instantly became a New York Times Bestseller. In 2011, she premiered her one-woman show, "Life Without Makeup," an original stage production about her life.
Moreno's legendary career spans six decades. She is best known for her Academy Award-winning performance as Anita in the film version of Leonard Bernstein's musical, "West Side Story." A generation of children also grew up with Moreno during her role on the children's television series "The Electric Company." She is among only a few performers to have won all four major entertainment awards; in addition to the Oscar, she won the Emmy, twice, for roles on "The Muppet Show" and "The Rockford Files;" a GRAMMY for her performance on "The Electric Company Album," and a Tony for her comedic triumph in "The Ritz" on Broadway. She received the Presidential Medal of Freedom in 2004, and the National Medal of Arts by President Obama in 2010.
In 2015, she received the Kennedy Center Honors for her lifetime contributions to American culture and was honored by her peers as the 50th recipient of the Screen Actors Guild Life Achievement Award.
She has served on the National Endowment for the Arts and as a Commissioner for The President's White House Fellowship, as well as a member of The President's Committee on the Arts and Humanities.
Moreno's appearance at Fredonia comes during Latino History Month, and the city of Dunkirk is ready to roll out the red carpet. "I am honored to welcome Rita Moreno to our area," said Dunkirk Mayor Wilfred Rosas. "She has been a pillar of strength and inspiration to me, my generation and my fellow members of the Hispanic Community. Her contribution to the performing arts is unmatched, and her work with the Hispanic community has been phenomenal!"
Fredonia student Zach Beaudoin, one of two student members on the Convocation Committee, noted, "Rita Moreno has torn down barriers for women and the Latino community. As one of only 12 people to win all four American entertainments awards, and a recipient of the Presidential Medal of Freedom and many other lifetime achievement awards, she is a role model for all. During a time when our country is fighting political battles, struggling to fully embrace diversity, and working to find the best way forward, Moreno will inspire students to follow their dreams and tear down barriers."