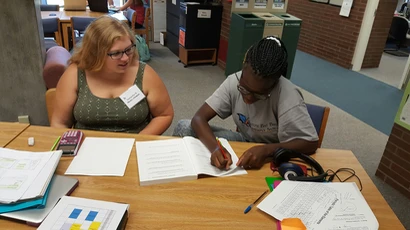 Frequently Asked Questions
Q. Do I make an appointment for tutoring?
A. Nope! You just come to the 4th Floor of the Reed Library during drop-in hours and see if a tutor is available in your subject area.
Q. Are there tutors for all subjects?
A. For most, yes. There are some secondary subjects tutors will help with outside their discipline. Check our website for more information.
Q. How do I find the tutor I need?
A. First, check the schedule to see if a tutor is available in your subject area. Next, each table has a sign showing which subject is being tutored there. Find your table and help yourself to a seat. A tutor will greet you and your session can begin.
Q. Who are the tutors?
A. Students like yourself who have been recommended by faculty and been trained. Tutors are not all-knowing oracles who can answer every question. Rather, they are successful students who are willing to share with you the techniques that they have found to work.
Q. Where is the drop-in tutoring schedule?
A. The schedule is available online. There are also hard copies available in the center that you can take with you for future reference.
Q. What does it cost to receive tutoring?
A. Nothing! It's FREE to all Fredonia students.
Q. Will my instructor know if I come in for tutoring?
A. Only if you tell your instructor. Tutoring is confidential. Taking advantage of drop-in is free choice you make. Tutoring services cannot be mandated.
Q. What is a tutoring session like?
A. Tutoring is different from teaching in that a tutoring session is based solely on where you are in understanding your course material. Since a tutoring session is based on your questions, you must have at least attempted to complete your assignment. A tutor cannot help you with something you have not tried yourself.
Q. I have a test tomorrow, can tutoring help?
A. We are not a remedial center, nor a place for students who have blown off classes all semester and need to be taught chapters and chapters of material. Although we can help you if you are in a bind, drop-in tutoring is more for keeping you out of one. Come in for drop-in tutoring before you become buried in material you do not understand.
Q. Won't I look "stupid" coming for tutoring?
A. Tutors do not judge the people that we help. In fact, many have shared that they used tutoring themselves. Each person is an individual and therefore has different needs and abilities, making every tutoring session unique. The goal of tutoring is to help you with your assignment in a way that will help you become more successful in all of your classes. Seniors as well as freshman come for tutoring; "A" students as well as "D" students come for tutoring.
Q. Can I have my own private tutor?
A. Sorry, No. Private tutoring is only available for students in designated programs. Speak to Learning Center staff with any questions.