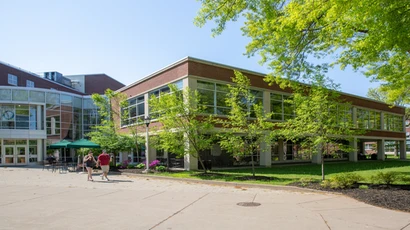 Self-Help Resources
Looking After Yourself - "The time we live in is fertile ground for training in being open-minded and open-hearted."
-Pema Chodron
Self Help Workbooks - Center for Clinical Interventions - A variety of psycho-educational workbooks are available for personal use and as a supplement to therapy. [Disclaimer]
Topics include: Anxiety, Assertiveness, Appearance Concerns, Bipolar Disorder, Body Dysmorphia, Depression, Disordered Eating, Health Anxiety, Panic, Perfectionism, Procrastination, Self-Compassion, Self-Esteem, Sleep, Social Anxiety, Tolerating Distress, Worry and Rumination.
Everyone at Fredonia has access to a free online free tool to help manage stress. Through a grant obtained through Chautauqua Tapestry, students have access to myStrength--a free online tool that teaches skills to reduce stress, improve mood, and overcome other challenges.
To access these free tools and resources, visit MYSTRENGTH.COM: click "Sign Up," and enter the access code FredoniaBlueDevil for unlimited access to personalized help, including tracking your mood, managing depressive and anxious thoughts, and to access and share inspirations.
The team at Study.com recognizes that the effects of the ongoing pandemic have compounded the stress that college students face. Mental health is an important aspect of students' overall well-being and we wanted to make sure that we were doing our part to help students recognize and deal with any stressors and mental health issues that might come up during this transitional period of their lives. That's why we have not only created a general Guide to Mental Health for College Students but also published a series of comprehensive guides to help students navigate stress and mental health.
We're all likely experiencing some emotional discomfort (or worse!)--given the spread of Covid-19 and the disruption to our lives.Grief at losing out on experiences, frustration, uncertainty—all are normal reactions at this time. The situation is new and unpredictable! And the College's precautionary change to remote learning represents a major sea-change for us all. So how do we stay emotionally well during these times, when we're separated from friends and our college "home" ?
Know that the College is committed to you: you're the reason we exist! So we're working very hard to plan carefully and ensure your studies, growth, and campus connections continue.
Be careful of Covid-19 overload. Limit the time you spend taking in Covid-19 news.It's coming at us from all directions and this can be downright overwhelming.Turn off/stop reading the news. Maybe check in once a day.
Be careful of Covid-19 misinformation. Rumors abound about what's open, what's not, what's closing, and so on.Check out rumors for yourself by going to reputable sources. Check out state and local government sites for up to date information about closings. Go to the World Health Organization (https://www.who.int/)or the Centers for Disease Control and Prevention (https://www.cdc.gov/) for correct information about the virus.
Our emotions reside in our bodies, so take good care of yours!
Maintain a regular sleep schedule—try to go to sleep and wake up at roughly the same time.
Work towards maintaining good nutrition and regular meals.
Limit alcohol intake.
Limit caffeine intake.
Get some exercise!
Spend some time outside, in nature, especially.
Practice deep breathing, relaxation, yoga, Qigong. Not sure how to do these? YouTube!!
Try taking up an activity that requires use of your body and mind, which can give you an emotional break: knitting, art, playing an instrument, etc.
Social connection is really good for us too! Maintain social distance, of course, but stay in touch with friends.You might even try the old-fashioned art of letter writing!
Maintain a schedule, just as you would if at school. Meals, classes, study time, relaxation time. Having a schedule helps us contain emotions and feel a sense of control.
Consider keeping a journal about what this experience is like for you. But be sure to end your daily entry with 3 good things about the day, however small, to help keep your spirits up.
Maintain perspective. While this is a HUGE event for all of us, remind yourself of what's good in your life and what's important: health, friends, being able to continue towards your degree, religion, and spirituality.
Spend time with your four-legged friends. Some snuggle time with your pets can make a tough day a lot easier.
Take the focus off of yourself: do something kind for someone else. If you can't visit in person, call!
Consider making use on one of the many mental health apps that are available for free and for pay. You might find this link helpful in finding something that speaks to you. https://www.psycom.net/25-best-mental-health-apps
Here are some additional wellness-related apps:
Android Market
Music & Sounds:
Relax & Sleep
Relax Melodies
Meditation, Breathing & Yoga:
Breathe 2 Relax
Other:
T2 Mood Tracker
iQuarium Virtual Fish

Apple/iTunes
Music & Sounds:
Relax Melodies
Relaxing Sounds of Nature Lite
Sleep Stream 2
Meditation, Breathing & Yoga:
Sleep Easily Meditation by Shazzie
Daily Yoga Free
Other:
Headspace
Wellscapes
PTSD Coach
Calm
If you feel you need more assistance in the form of counseling: We are able and willing to provide therapy services through Tele-services to students who reside in New York State. Please see our home page for more information.
For students who are looking to connect with an off-campus provider: We are happy to assist you in finding a local provider. We can send records with a signed release of information, which you can find under Teletherapy services on our home page.So that we can be most helpful, we encourage you to investigate the following before contacting us:
Contact your insurance provider for a list of local providers who accept your insurance.Look at your insurance card or insurance-company website for information about how to do so.
Your primary-care doctor's office may be able to provide referral suggestions to you.
Psychology Today will allow you to locate local therapists who accept your insurance.
You may want to consider online mental health services such as TalkSpace and can check with your insurance company to check if this services would be covered.
Students who remain abroad can contact the College's iSOS program for referral assistance while abroad.
211.org. Type in your zipcode for local information about Essential Needs, Crisis and Emergency, Covid-19, Service Providers, and Disaster Assistance

NYS COVID-19 Mental Health: Coping Circles - Coping Circles are free six-week support and resilience groups, held by video or phone, facilitated by licensed mental health professionals. https://rc-1.nyspi.org/surveys/?s=44YWTJMF3T

OMH Emotional Support Helpline (1-844-863-9314)- provides free and confidential support, helping callers experiencing increased anxiety due to the coronavirus emergency: https://omh.ny.gov/omhweb/covid-19-resources.html
If you're experiencing a mental health crisis:
Use the Suicide Prevention Lifeline (1-800-273-8255 or see https://suicidepreventionlifeline.org for a chat option).
Use the crisis text line: 741741
In the event of an emergency that requires assistance from the police, you should call University Police at 716-673-3333, or 911.
Go to your local hospital emergency department.
Finally, know that we, like you, are monitoring the situation and will adapt to changing circumstances.
Stay well, safe, and healthy!
--Counseling Services