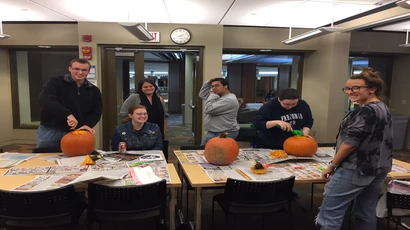 Transfer Mentoring Program
Feeling overwhelmed coming to Fredonia? There is a transfer student who knows what you are going through and is here to help you.
The Transfer Mentorship Program is here to assist Transfer Students with their transition to Fredonia! The program aims to pair incoming transfer students with current transfer students to provide guidance, knowledge, and support with their academic and social needs. Mentors will be a point-of-contact through personal emails and will encourage their mentees to attend events and meetings throughout the Fall and Spring semesters. Our goal is to provide new transfer students with the resources to comfortably adjust and immerse themselves in the campus community!
Below you will see the steps (in order) to request and receive a Transfer Student Mentor:
All Transfer Students should receive a survey email at the beginning of their first semester at Fredonia asking if they would like to be in connection with the Transfer Mentor.
If you missed the survey deadline or would like to change your answer and would like to receive a student mentor, please contact the Transfer Student Advisor, Joshua.Croxton@fredonia.edu


Sierra Mills
Pronouns: She/Her
Year in College: Senior
Major: English
Hometown: Dunkirk, NY
Hobbies: Reading, Writing, Drawing.
Campus Involvement: Chief Copy Editor - The Leader, Alma Mater Society, Jump Start Mentor, New Student Orientation Leader, Project Connect Facilitator, FREDGrows, Reed Library Student Advisory Council, Fredonia Ambassador, Senior Class Representative + Vice President
Mentoring Testimonial: I transferred from Villa Maria College after my freshman year. I started my sophomore year at Fredonia in the fall of 2021. I decided to come to Fredonia because it is close to home. I became a transfer student mentor because I want to be there for transfer student whenever they need me.
Advice for Incoming Transfer Students: Do not be afraid to join new things and step out of your comfort zone. You never know who you might meet and what opportunities will arise. Remember, you are not the only transfer student so do not be afraid to connect with other transfers.
Favorite Part of Fredonia: My favorite part of Fredonia's campus is the atmosphere and the people that are here.
Being a mentee comes with great opportunities. You can ask for help as soon as you get here! Whether you're unsure of where your classes are or which clubs to join, there is someone who is willing to help. You'll receive weekly emails from your mentor with both academic and social updates. This allows you to stay in the loop on what Fredonia's many clubs are offering. When the semester is over, you'll have another familiar face to make Fredonia feel like home.