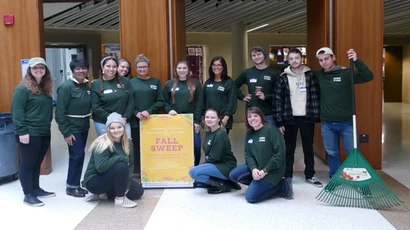 Volunteer & Community Services
Volunteer & Community Services individualized support services are currently suspended. This also includes any major programming sponsored by this office (i.e. volunteer fair, fall sweep etc.) Students are encouraged to personally reach out to organizations listed on our Volunteer Sites link for volunteer opportunities.
About Volunteer and Community Services
The Volunteer and Community Services Program provides volunteer opportunities for students to help build sustainable and meaningful partnerships in the community. This program assists students with real world experience while enriching the lives of others and enhancing their academic experience. It is dedicated to promoting volunteerism and service learning experiences in and outside the classroom.
Interaction with people from the community can help with recommendations for future jobs. There are many positive aspects to being a volunteer; especially feeling good about making a difference.
What you will gain from service
A broader concern for the welfare of others
A sense of doing something worthwhile
A feeling of satisfaction and increased self esteem
Improved Communication skills
Openness to persons different than yourself
Openness to new experiences
Personal Power
Valuable experiences related to your chosen career
Three R's to volunteering
Responsibility - A great deal of responsibility goes into volunteering. The agency needs to know when they will be able to count on you to help. It is important to have good communication with both the volunteer agency and the volunteer program. All activities and responsibilities outlined in the contract between the agency and the volunteer must be followed.
Reward is found in knowing that you are making a difference in someone's life.
Recreation is found in choosing a volunteer site that interests you.
Getting Started
Interested in Volunteering?
Below is a list of opportunity areas that may be of interest:
Tutoring
Mentoring
Literacy
Senior Citizens
Soup Kitchens
Local Schools
Day Care Centers
Hospitals
Youth Programs
Check out our Volunteer Sites for a list of some local agencies that you can reach out to who are always looking for volunteers.
Sign In Sheets:
Please complete sign in sheets after each activity and return them to the Campus Life/SA Office promptly.