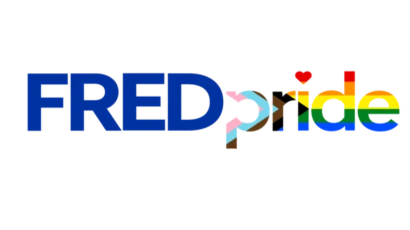 FREDpride
Welcome to FREDpride!
On our site you will find LGBTQ+ campus & community resources, educational resources, support services and events.
FREDpride is designed to create an inclusive space for campus members of the LGBTQ+ community. It is housed within the Intercultural Center. Our goal is to increase access to LGBTQ+ services on campus and in the surrounding community.
FREDpride aligns with the Intercultural Center's mission, which states:
The Intercultural Center seeks to enhance the student experience by cultivating an inclusive community, on and off campus, through support and collaboration with campus constituents, while providing students with the skill sets needed to excel and make a difference.
This is a new initiative and we are continuously updating our website with additional resources. If you would like to recommend additional resources that we haven't included on our site, please contact the Intercultural Center at intercultural.center@fredonia.edu.
Fredonia Student Group:
Our purpose is promoting unity and pride among the campus and community members of all romantic and sexual orientations, gender identities and expressions, and intersex identities; and for helping to educate, foster respect for, and to provide a safe, supportive, and relaxed environment for all.