The Rosa Parks Scholarship Competition
The 35th Annual Rosa Parks Awards Ceremony was held on Wednesday, October 25, 2023.
About the Scholarship
Is there a social injustice that you would like to discuss or expose— national, or global in scope? Would you like to teach our campus community some way in which the world could be a better place? Established in 1989 by Dr. Vivian Garcia, the Rosa Parks Scholarship was designed to give all students of The State University of New York at Fredonia an opportunity to voice their opinion on the subjects of social injustice, cultural perspective, and activism. Submissions may be entered in a number of ways but winners are generally students whose entries were provocative and original. Winning submissions take full advantage of the medium selected and have strong emotional and/or intellectual impact.
Eligibility
All currently enrolled students are eligible to participate in this competition, with the exception of previous Rosa Parks Scholarship winners and anyone who is a professional (defined as one who has been paid for any type of published work within the last five years). Awards are contingent upon the winner being able to present their entry on the day of the ceremony.
Submission Types (not limited to)
| | |
| --- | --- |
| Written | Multimedia |
| Non-Fiction | Multimedia Presentations |
| Research Papers | Films/Videos |
| Fiction | Dance |
| Short Stories | Musical Compositions |
| Poetry | Performance Art |
| Essays | Paintings |
| Sculpture | Comedy/Drama Presentations |
| Photography |   |
Guidelines
All submissions must be accompanied by a completed entry form .
All entries must include a typed statement reflecting the content of the work.
The work must focus on multiculturalism or social justice.
Written submissions must be double-spaced, typewritten and must not exceed 10 pages.
All 2D/3D work must be submitted in its original form to the Intercultural Center.
Any performance or multimedia presentations must be submitted electronically on video and must not exceed 10 minutes.
All entrants must agree to have their names publicly displayed.
Awards
Three prizes of $350 will be awarded to the competition winners. Winners will receive awards and will present their work to the Fredonia community at the annual Rosa Parks Presentation and Award Ceremony.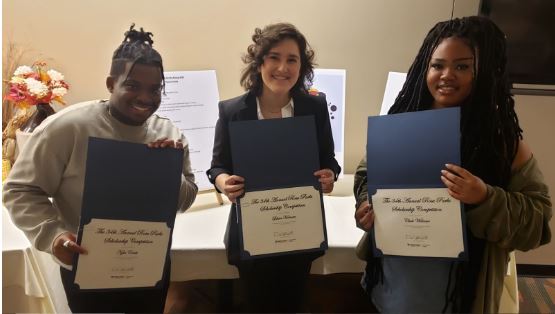 Pictured above are the 2022 Rosa Park Scholarship Winners.
From left: Nyles Emile, Lilian Holman, Chole Williams
The 2018 award winners are no exception to the standard that was built by previous recipients, who addressed the ideas of multiculturalism and pluralism in today's society.