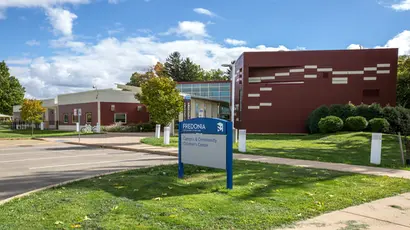 About the Center
In September 1974, the Campus and Community Children's Center (CCCC) at Fredonia opened its doors to 25 preschoolers. Today, enrollment has reached between 175-200 children each week.
The Center operates both early childhood and school age programs at three sites; the Early Care and Education Program is held in-house in a freestanding building adjacent to the campus on the corner of Brigham and Temple Roads. The School Age Program offers Before School, After School Club, Holiday Programs, and Summer Camp Program located on Church Street in Fredonia, NY. The newest addition to the CCCC family is the 3PK & 4PK programs that serve three-year-old & four-year-old children residing in the Dunkirk City School District.  The Dunkirk programs are located within School 4 in Dunkirk, New York.
Since 1974, CCCC's operation has served as a model program for all of Chautauqua County. Besides providing quality childcare, the non-profit organization is a highly successful small business and serves both the campus and the community. It is a training site for both Fredonia's student field experiences and Jamestown Community College students. CCCC partners with the local Child Care Council, and the Chautauqua County Association for the Education of Young Children.
A long-time leader in the early childhood field, CCCC was the first center in the Labor Management network and one of the first centers in the SUNY system to receive national accreditation from the National Academy of Early Childhood Programs, a division of the National Association for the Education of Young Children (NAEYC). This program was developed to ensure high standards in early childhood programs.  The CCCC programs are currently participating in QUALITYstarsNY.  
The Center operates on "blended funding." This includes parents' fees, which are the primary revenue source, and SUNY grant funds to help cover child care tuition for student families. In addition, the New York State Labor Management Child Care Advisory Committee, which represents the major NYS unions, provides support for state employees.
These funders mandate that CCCC's early care and education program serves SUNY students, faculty, and staff needs, as well as those of other state employees in its Early Care and Education Program for infants through 5-year-olds. However, about 40-50 percent of our slots serve the community at large. School age programs are available to all families on a first come, first served basis. The Dunkirk preschool program is available to all Dunkirk families.  
Campus and Community Children's Center is administered with attention to the needs of its children, parents, and staff. The programs are developmentally appropriate and are staffed by adults who understand child development and are committed to professional development.
The Center's continuous growth is credited to the extraordinary collaboration and cooperation of so many since 1974. Our growth confirms that it takes a community of caring, concerned individuals to provide the necessary support systems that allow for development.