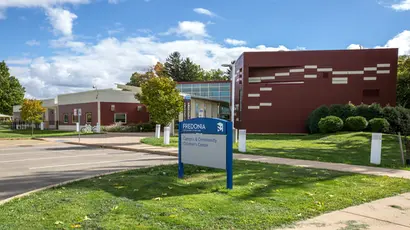 Enrollment
CAMPUS & SCHOOL AGE & DUNKIRK INFANT/TODDLER ENROLLMENT PROCESS
Steps:
1. Waiting List: Complete and submit the Waiting List Application with a $30.00 non-refundable registration fee to the Administrative Office (Corner of Brigham & Temple Roads). The application will be reviewed and the child will be placed on the waiting list. When a child care slot becomes available, the next family on the waiting list meeting the classroom criteria (child age & requested schedule) following the waiting list priority guide is contacted. You can also call and request for the waiting list application to be emailed to you.
We also periodically update the waiting list so that we have the most up to date information. Families are informed via email when we need an updated waiting list application.
2. Notification of Opening: When notified of an opening for your child submit the tuition deposit within one week of notification to secure the open slot. The tuition deposit for the first child is $200.00 and $100.00 for each additional sibling. Note: The tuition deposit will be applied to the final child care tuition bill provided at least two weeks' notice has been given before withdrawal. Families that qualify for the SUNY BLOCK grant or HHS Child Care Subsidy may have the tuition deposit waived (proof of qualification is required). The tuition deposit is also currently waived for the School Age Program.
3. Registration Paperwork: When the tuition deposit is received, a Registration Packet will be sent to you. When all paperwork has been received, an orientation, classroom visit, and start date will be scheduled.
4. Orientation: Campus & Community Children's Center policies, procedures, education philosophy, and general information will be reviewed. Key personnel will be introduced during this hour-long visit. We prefer that children do not attend this meeting.
5. Classroom Visit: You and your child will meet with the teachers and students in your classroom. This visit can last from a half an hour to an hour depending on how long your child wants to stay and play!
6. First day at your child's new school! Welcome to CCCC!
The entire enrollment process takes at least 1 week.
DUNKIRK 3PK & 4PK PROGRAM
Registration for our 3PK and 4PK classrooms is done through the Dunkirk City School District. Please reach out to them to get more information about how to enroll.
Dunkirk Public School: 716-366-9300 (Extension 2088)