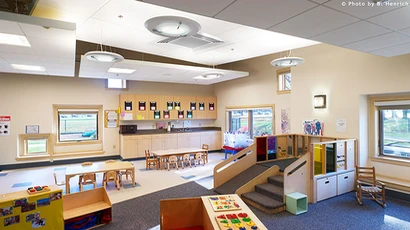 Health Policy
As parents, we encourage you to become familiar with and adhere to the center's health policies and guidelines which are as follows:
If your child gets sick:
At the Center: When a child becomes ill over the course of the day we will contact the emergency contact so that they can be picked up.
At Home: We ask that you not send a child to the center when their illness prevents them from participating comfortably in program activities. A child should not attend the center when any of the following exists:
Fever: an oral temperature 100 or greater or (axillary 99 degrees or greater). Children may return to the daycare with an absence of fever without medication for 24 hours.
Diarrhea: an increase in the number for stools compared to the child's normal pattern, with an increase in water and/or decrease in form that is not contained by a diaper or toilet use.
Vomiting: vomiting two or more times in the previous 24 hours unless the vomiting is determined to be due to a non-communicable condition and the child is not in danger of dehydration.
Mouth Sores: mouth sores associated with an inability of the child to control his or her saliva unless the child's physician states that the child is non-infectious.
Rash: any rash associated with fever, signs of illness, or behavior change until the physician has determined the rash does not represent a communicable illness or condition.
Conjunctivitis: pink or red-rimmed eyes with white or yellow discharge, often with matted eyelids of skin surrounding the eye until examined by a physician and approved for readmission.
Impetigo: infected skin sores. The child should not return to the center until 24 hours after treatment had been administered.
Chicken Pox: a disease that often affects children and that causes a fever and red spots on the skin. The child should not return to the center until the sixth day after the onset of the rash or all the lesions has dried and crushed.
Head Lice: may cause a child's scalp to become itchy and irritated. The child should not return to the center until the morning after the first treatment.
Scabies: a contagious skin disease marked by itching and small raised red spots on the skin. A child should not return to the center until after the treatment has been completed (verification that the diagnosis has been made.)
If your child gets injured at the center:
Ouch Slips: If a child receives a minor injury while at the center (scrape, bump, bruise), your child's teacher will fill out an 'Ouch Slip". A copy will be given to you and one will be put in their permanent file.
Accident Reports: If a child receives an injury to the head, neck, back or more serious injury, you will be notified and an Accident Report will be completed by the child's teacher and signed by the center's director. A copy of the report will be given to the parent and a copy will be placed in your child's permanent file.
Administering Medication at the center:
Medication Policy: We only administer prescribed medicine to children with written approval from a parent\guardian and and a doctor. This includes oral over-the-counter medications, medicated patches, and eye, ear, or nasal drops or sprays. We must have a signed copy of OCFS Medication Consent Form (OCFS-LDSS-7022). Only MAT certified personnel are permitted to administer any medication.
Non-Medication Policy: A parent may consent to having over-the-counter products administered to their child. These products include, but are not limited to: topical ointments, lotions and creams, sprays, sunscreen products and topically applied insect repellant. We must have a signed copy of OCFS Non-Medication Consent Form (OCFS-6010).
Physicals & Immunizations:
Medical Examinations: All children attending the CCCC programs are required to have a DDS approved current (within one year) physical examination form and immunization on file at the administration office. OCFS requires the form OCFS-LDSS-4433 be used.
Child Care During Covid-19
All Campus & Community Children's Center program sites are open and serving children.
NYS Department of Health and CDC health and safety protocols are followed daily. For more information, call the main office at 716-673-4662.