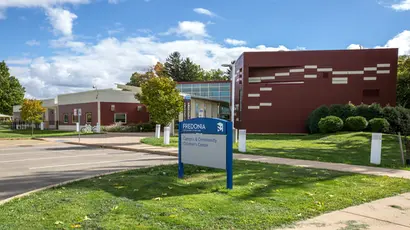 Employment Opportunities- CCCC
The CCCC provides great career opportunities for creative, dedicated, and responsible professionals. We offer benefits and a friendly atmosphere where you can be part of caring and skilled team of professionals.
For more information or if you have questions about employment at CCCC you can call: 716-673-4662
To be considered for a classroom or substitute position, all candidates must submit the following:
1. Completed Application & Availability
2. Resume & Cover Letter
3. References (at least 2 professional and 1 personal reference with e-mail contact information)
Completed information can be e-mailed to cccc@fredonia.edu or dropped off at the Center (Corner of Brigham & Temple Roads).
Current Job Openings:
This individual will have the following responsibilities:
Follow all OCFS licensing regulations and guidelines.
Provide competent supervision including awareness of and responsibility for the ongoing activity of each child in your care.
Maintain a safe, healthy, nurturing, and orderly physical environment conducive to optimal growth and development of children.
Actively assist the teacher in engaging children in inquiry and play based learning, social-emotional development, problem solving and conflict resolution, hands-on activities and outdoor play.
Establish and maintain positive relationships with children and families.
Work cooperatively with other members of the CCCC team for the wellbeing of the children and the Center.
This individual will have the following requirements:
Education:
Minimum: High School Diploma or equivalent and relevant experience working with young children.
*Minimum educational requirements subject to change based on regulations and licensing
requirements.

Other Requirements:
Must available for any and all shifts during CCCC Work hours between 7 AM and 5:30 PM.
Must be able to obtain and maintain a NYS SCR Child Abuse and criminal conviction clearance.
Must be able to obtain initial health physical including TB test.
Must be in good physical and mental health and have the energy and emotional stability to fulfill the responsibilities of the position.
Must be able to provide consistent, even-tempered customer service at all times.
Must be able to lift up to 30 lbs. without any lifting restrictions.
This individual will have the following qualifications:
possess a minimum of a high school diploma
have experience working in a licensed childcare facility
be at least 18 years of age
be able to pass a criminal background check and child abuse clearance.