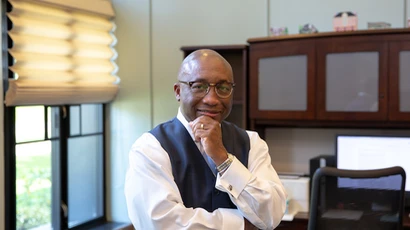 President Kolison Bio
Dr. Stephen H. Kolison, Jr. was unanimously appointed by the Board of Trustees of the State University of New York on June 29, 2020 as the 14th President of the State University of New York at Fredonia.  He began his role as President on August 17, 2020.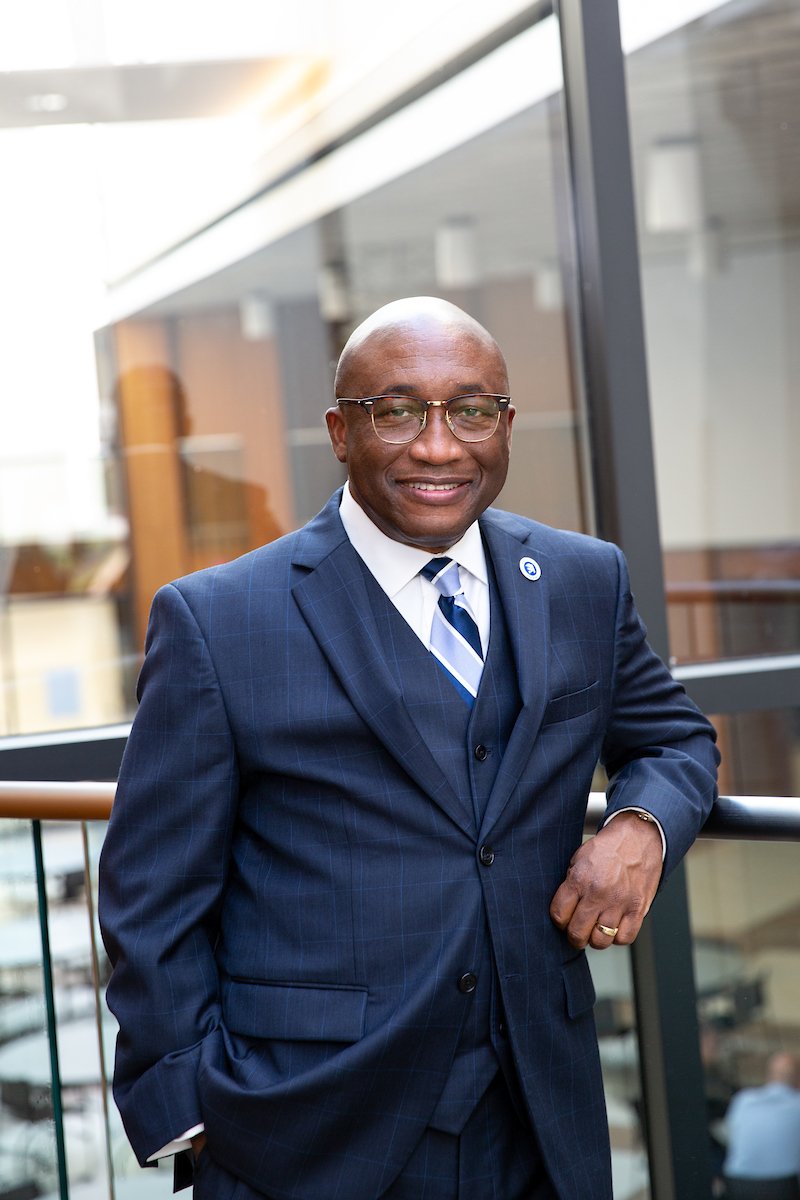 Dr. Kolison has a distinguished record of serving in faculty and leadership roles at various types of higher education institutions.  Prior to his presidency at Fredonia, he was Executive Vice President and Provost, and Professor of Biology for the University of Indianapolis (UIndy) from April 2017 to August 2020.  In that capacity, he had a wide range of responsibilities including providing leadership for achieving the academic mission of the University.  Under his leadership as Chief Academic Officer, UIndy conferred its first degrees in Industrial and System Engineering, Mechanical Engineering, and Software Engineering.  He worked with the faculty to plan and offer 10 new degree programs (four undergraduate and six graduate) including Electrical Engineering, General Engineering, and Data Analytics.  He secured overwhelming faculty and Board support to establish three new types of faculty tracks (teaching intensive; research intensive; professors of practice) in response to the needs of faculty across the university.  
While serving as Executive Vice President and Provost, UIndy achieved the Carnegie classification of National Doctoral/Professional University from a Regional Masters Large University.  Additionally, the UIndy's status as a Carnegie Community Engagement University was restored during his tenure.  He planned, completed the development of an intellectual life vision and an academic master plan for the University.  It the onset of COVID-19 pandemic, he provided leadership to ensure timely and effective academic continuity.  
He held a cabinet level position as the Associate Vice President for Academic Programs, Education Innovation, and Governance for the University of Wisconsin System from October 2008 to March 2017.  His responsibilities at the University of Wisconsin System Administration (UWSA) included developing and implementing policies related to academic degree planning, assessing the productivity of the System's academic degree array, and approving requests from institutions within the System to plan new degree programs.  In addition, he had oversight for the System's Applied Research Grant Program aimed at advancing economic development in the state of Wisconsin, faculty and instructional development, and international engagement.  In August 2011, Dr. Kolison served as Acting Senior Vice President for Academic Affairs for the University of Wisconsin System.  His accomplishments at UWSA included advocating for,and developing guidelines that were adopted by the Board of Regents that allowed for the establishment of professional doctorates at any of the 11 UW comprehensive universities.  He worked with the provosts across the system to obtain the System's and Board of Regents approval for the establishment of more than 100 new degree programs across the system.
From 1998 to 2008, Dr. Kolison served Tennessee State University (TSU) as Research Director of the Cooperative Agricultural Program and founding Dean of the Institute of Agricultural and Environmental Research.  Among his achievements at Tennessee State University included the establishment of the research faculty track, and envisioning and planning the state-of-the-art center for agricultural biotechnology and biosecurity.  He played a leading role in obtaining (for the first time in the history of Tennessee) legislative and gubernatorial approval of $4.1 million in annual appropriation to match federal Evans-Allen annual appropriation to support agricultural research and extension programs at TSU.  While at TSU, he concurrently served as Chair and Chief Executive Officer of the Association of Research Directors, Inc.  In that role he championed and served as the chief advocate for the advancement of agricultural research and development, at both the federal and state levels, for eighteen public Historically Black Land Grant Universities.
Dr. Kolison began his professional career in 1990 when he joined Tuskegee University in Alabama as an Assistant Professor and Coordinator of the Forest Resources Program.  While at Tuskegee University, he achieved the ranks of Associate Professor and full Professor.  Under his leadership of the Forest Resources Program, Tuskegee University conferred its first Bachelor of Science in Forestry.  
Dr. Kolison's international experiences include research and other professional activities carried out in Belgium, Brazil, Canada, China, Finland, Germany, Ghana, Jamaica, the Netherlands, the Republic of Trinidad and Tobago, and the United Kingdom.  He has an extensive track record of attracting million of dollars grants and is the author of many scientific papers in the field of forestry and forest economics.  He is a recipient of several awards recognizing his contributions to teaching, research, and public service.  These recognitions include the "Certificate of Meritorious Service" for the Board of Regents of the University of Wisconsin; the "Faculty Advocate Award" from Tennessee State University, the "Faculty Achievement Award" from Tuskegee University (Tuskegee University's highest academic award), and the first "B.D. Mayberry Young Scientist Award" from the Association of Research Directors, Inc.
Dr. Kolison obtained his Bachelor of Science in General Forestry (with a minor in General Agriculture) from the University of Liberia.  He earned his M.S. degree in Forest Economics and Marketing and Ph.D. degree in Forest Economics from Iowa State University.  He is a graduate of the American Academic Leadership Institute where his Professional Experiential Plan covered the Operation of University Foundations, and Strategic Enrollment Management.  He holds four postdoctoral certificates from Harvard University: (1) Negotiations and Leadership – Harvard Law School; (2) Crisis Leadership in Higher Education – John F. Kennedy School of Government; (3) Educational Management – Graduate School of Education; and (4) Risk Communication Challenges – Center for Risk Analysis.  He earned a certificate in Public Policy and Executive Leadership in Higher Education from Nova Southeastern University and a certificate in Global Trade Analysis from the Institute of Agricultural Economics in The Hague, Netherlands.
Stephen is married to Valeria R. Kolison, MS, MBA, RD, and is a father of three children – Ophelia, Stephen III, and Samuel.  He enjoys hiking, biking, and cooking.  He believes that possessing quality higher education is among the most reliable vehicles to success in life.  He believes that when individuals obtain excellent higher education, they increase their chances of experiencing a higher quality of life and lay the foundation for their children, family members, or loved ones to also become better-off socioeconomically.  This is why he is devoted to increasing access to higher education and to the success of students.