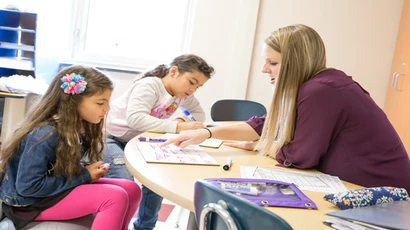 Literacy Education: Birth to Grade 12 (Online) Master's Program at Fredonia
Why study Literacy Education at Fredonia? According to the Bureau of Labor Statistics, employment of instructional coordinators is projected to grow 7% from 2014 to 2024. Employment growth is expected as schools focus on evaluating and improving curriculums and teachers' effectiveness, and the need for schools to meet new standards in education. Students entering the Literacy program at Fredonia will be eligible for professional certification in their content area and professional certification in Literacy Education, increasing their marketability to schools.
The Fredonia Difference
Fredonia's Literacy program is intended for initially certified teachers interested in an advanced degree in teaching literacy to children from birth to grade 12. The courses in the Literacy Education: Grades 5-12 degree program strengthens the candidates' knowledge of the Four Pillars of Understanding -- Knowledge, Pedagogy, Diversity, and Professionalism; these Pillars support the educational process of effective planning, instructing, reflecting, and responding. Course work and instruction are rooted in a strong foundation of research-based practices and strategies, contextual factors that influence instruction, and standards for teaching and learning.
Career Opportunities for Literacy Education: Birth to Grade 12 (Online)
Literacy Specialist
Early Childhood Educator
Elementary Teacher
Secondary Teacher
Special Educator
Sample Courses
EDU 552 Introduction to Literacy Assessment
The course investigates the nature and process of literacy assessment, with an eye to the diagnosis of literacy difficulties. The course requires Candidates to develop competence in using a wide variety of literacy assessments and analyzing data in order to identify reading and writing problems.
EDU 579 Foundations of Literacy
The course encourages and prepares literacy educators to be sensitive to cultural and social needs of their diverse pupil population by studying relevant literature and case studies. In the course, literacy educators investigate the language-specific issues of sociology that permeate all social interactions in school and school-related environments whether spoken, non-verbal, or written.
EDU 628 Reading Specialist Practicum
The course is a field-based practicum taken at the same time as the Multicultural Children's Literature and Technology course. It provides Candidates with a minimum of 25 hours of practicum as reading specialist, literacy coach and program leader with classroom teachers and parents.
Program Additional Links
What does a Graduate Degree in Literacy Education: Birth to Grade 12 look like?
What does an example degree look like?