Guest Speakers
Guest speakers extend their music industry expertise by offering valuable knowledge and advice to interested students. At Fredonia, speakers interact with students to provide them with realistic perspectives on the music industry including its successes, downfalls, and potential careers. Listed below are some of the guest speakers that the Fredonia Music Industry Program has hosted.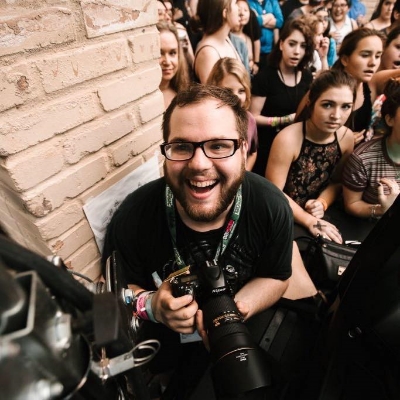 Nick Karp
Nick Karp, a Fredonia alum, is an event photographer specializing in music based out of New York City. He has been published in Rolling Stone, The New York Times, Vice, Spin Media, AV Club, Alternative Press, and more. Some notable artists that Nick has shot over the years include Kanye West, Ed Sheeran, Cage The Elephant, and Shawn Mendes.
---

John James Ryan Jr.
John Ryan works in a series of different positions in the music industry. On top of playing saxophone and touring with his band, Keep Flying, he manages bands such as Four Year Strong, Light Years, Transit, Handguns, and more. John has also worked tour and merchandise management for The Wonder Years, Streetlight Manifesto, Four Year Strong, and Set Your Goals. When he isn't on the road with a band, John works a number of festivals such as Riot Fest and the Vans Warped Tour.
---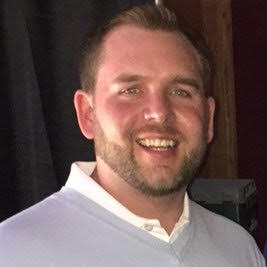 Chris Ring
Chris Ring is an entrepreneur hailing from Buffalo, NY. Working in the music business for nearly 20 years, Chris has hands-on knowledge of the industry. As owner and president of After Dark Entertainment, Inc., he currently books and produces over 200 concerts a year throughout Western NY. Chris Ring has given many students the opportunity to intern at his merchandising company, Tour City, Inc., which specializes in the needs of touring musicians.
---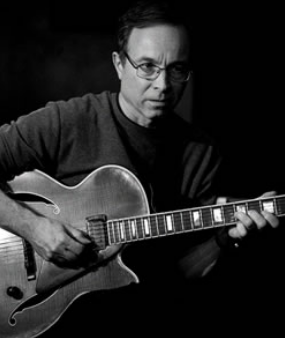 Tom Rizzo
Tom Rizzo is an LA-based guitarist and composer who plays music from BeBop to funk, folk, and pop. An exercised member of the Doc Severinsen and Maynard Ferguson bands, Rizzo was also a member of the Tonight Show Band in its final Carson years, where he composed and arranged much of the music heard on the show during his tenure. Rizzo is one of the leading guitarists working in the business today, in frequent demand as a recording artist, as well as a composer for a wide variety of projects for major motion pictures and Grammy-winning songs.
---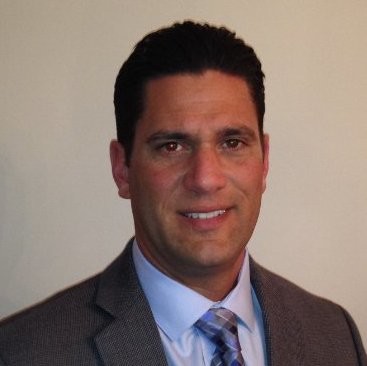 Anthony Caucci
President, Concord Atlantic. Anthony Caucci is a New Jersey Licensed Professional Engineer specializing in the design of commercial, energy conservation, education, public sector, and casino/hospitality projects. Mr. Caucci has been with Concord Atlantic Engineers since 1998.
As Vice President and Director of Mechanical Engineering, Mr. Caucci's overall responsibilities and duties include client proposals, the order of magnitude cost estimates, managing client relationships, client liaison, and contract administration. He is also responsible for the design, management, and coordination of the various disciplines necessary to provide efficient, cost-effective and state-of-the-art mechanical solutions for the client; facilitating all in accordance with CAE standards. Mr. Caucci holds a BS in Mechanical Engineering from Drexel University
---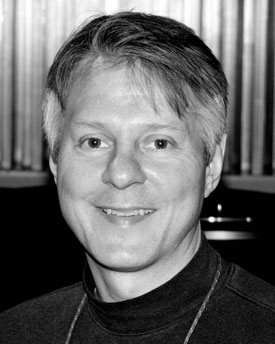 Vic Anesini
Vic Anesini is one of the premier catalog mastering engineers in the world. For the past 27 years, he has been a Senior Mastering Engineer at Sony Music Entertainment, where he has brought his talents to master and mix music legends such as Aerosmith, Bob Dylan, Simon & Garfunkel, Janis Joplin, Santana, Elvis Presley, Sly & the Family Stone, The Byrds and Stevie Ray Vaughan, Cheap Trick, Lou Reed, Hall & Oates, Jeff Buckley, and James Taylor .
Vic joined Sony during the exponential growth of the Compact Disc. This gave him the opportunity to apply his skills to the reissue of hundreds of catalog albums and newer box sets; making him an expert in utilizing digital technology to deliver authentic sound. This recognition propelled him to be an in-demand mastering engineer for a broad range of current artists.
---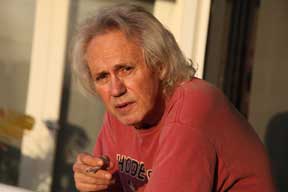 Artie Kornfeld
Artie Kornfeld, songwriter, co-creator of the Woodstock Music Festival and the youngest Vice President of Capitol Records has promoted over 100 platinum records, working with artists such as Tracy Chapman, Pink Floyd, Aerosmith, and Bruce Springsteen. He collaborated on an academy award-winning documentary about the Woodstock Music Festival, and elaborates on his experiences and achievements in his book, The Pied Piper of Woodstock.
---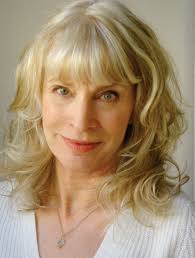 Chris O'Dell
Chris O'Dell worked with The Beatles at the height of their fame, assisted The Rolling Stones through their Exile on Main Street tour, and road-managed Bob Dylan's Rolling Thunder Review. Considered royalty in the inner circles of music, O'Dell recently published her tell-all novel titled, "Miss O'Dell: My Hard Days And Long Nights With The Beatles, The Stones, Bob Dylan, Eric Clapton, and The Women They Loved," describing her life and unique stories working with legends of rock.
---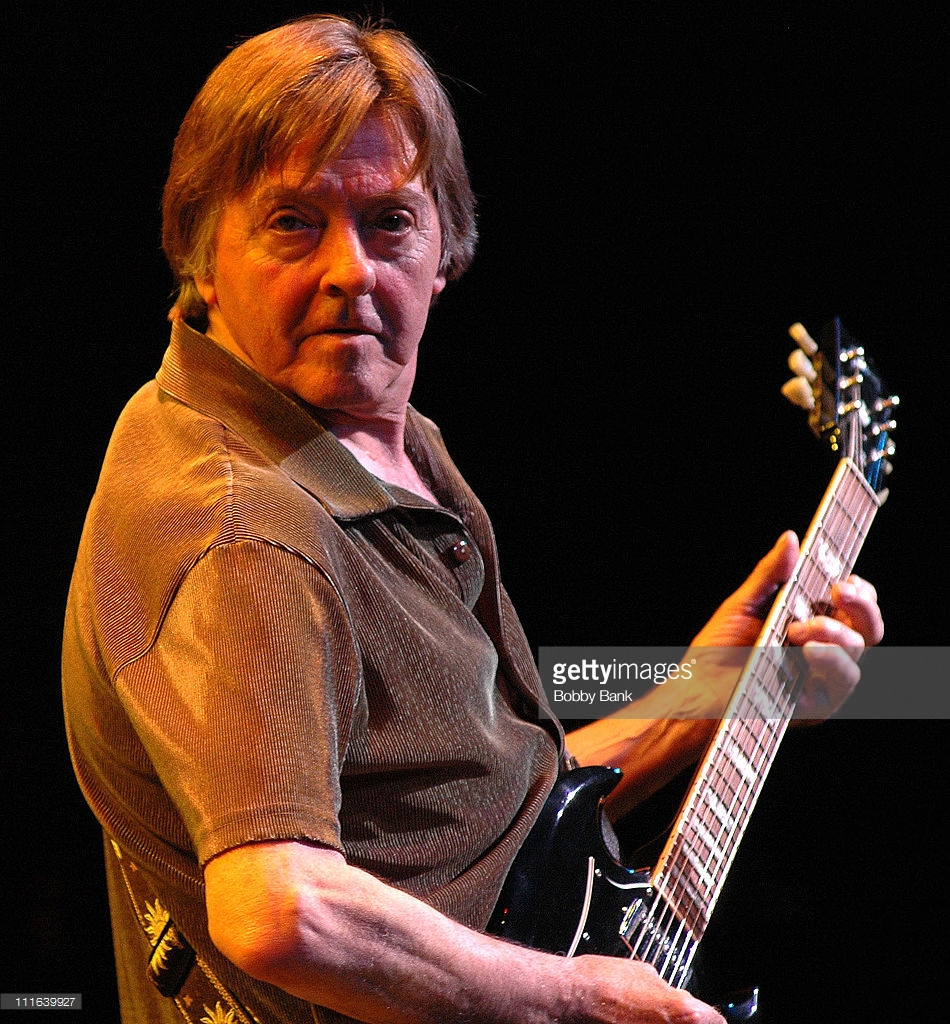 Joey Molland
Liverpool, England has been the home to some of Rock and Roll's best-known acts. Liverpool native Joey Molland pushed through the music industry to become one of those greats. Molland came to Fredonia in February of 2013 to lecture and perform for the campus and community.
Growing up working on the docks, having a paper run, and playing music was only the tip of the iceberg for Molland. Joey's tenacity, dedication, and passion for music led him to join the band Badfinger in 1969, and begin a lifetime of touring and writing hit songs. Listen to Joey discuss his life experiences with members of The Beatles, Badfinger, and Allen Klein.
---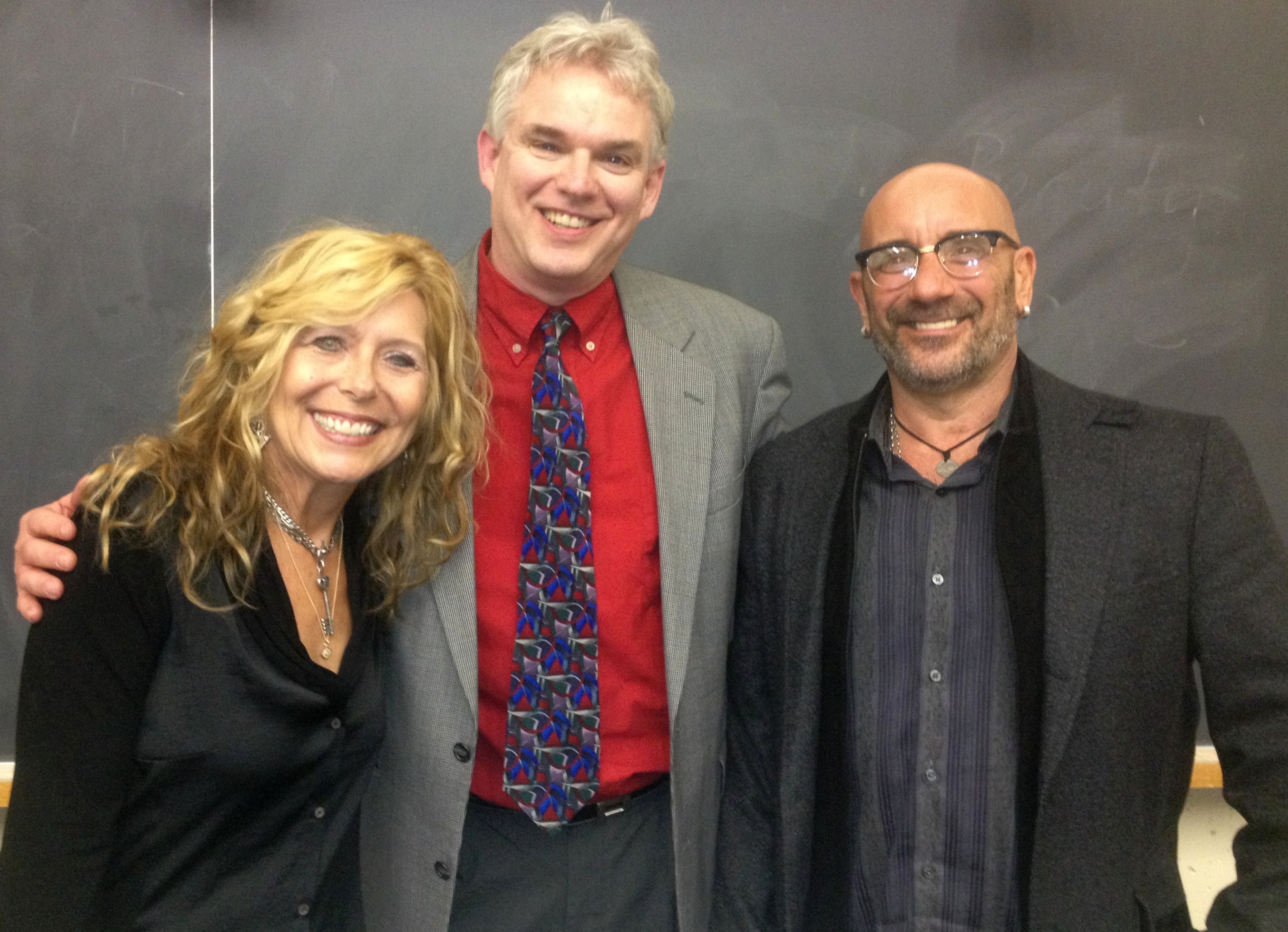 Jon and Linda Weiss
The New Buffalo Shirt Factory was founded in 1940 by Sam and Belle Weiss and was later handed down to their grandson Jon Weiss in 1987. Jon revolutionized the t-shirt industry when he started manual silk screen printing. With the help of an M&R printing machine, the company expanded to new heights. NBSF became one of the leading shirt designers and manufacturers in the world working with musicians like The Rolling Stones, KISS, and Madonna as well as winning numerous awards and accolades.
---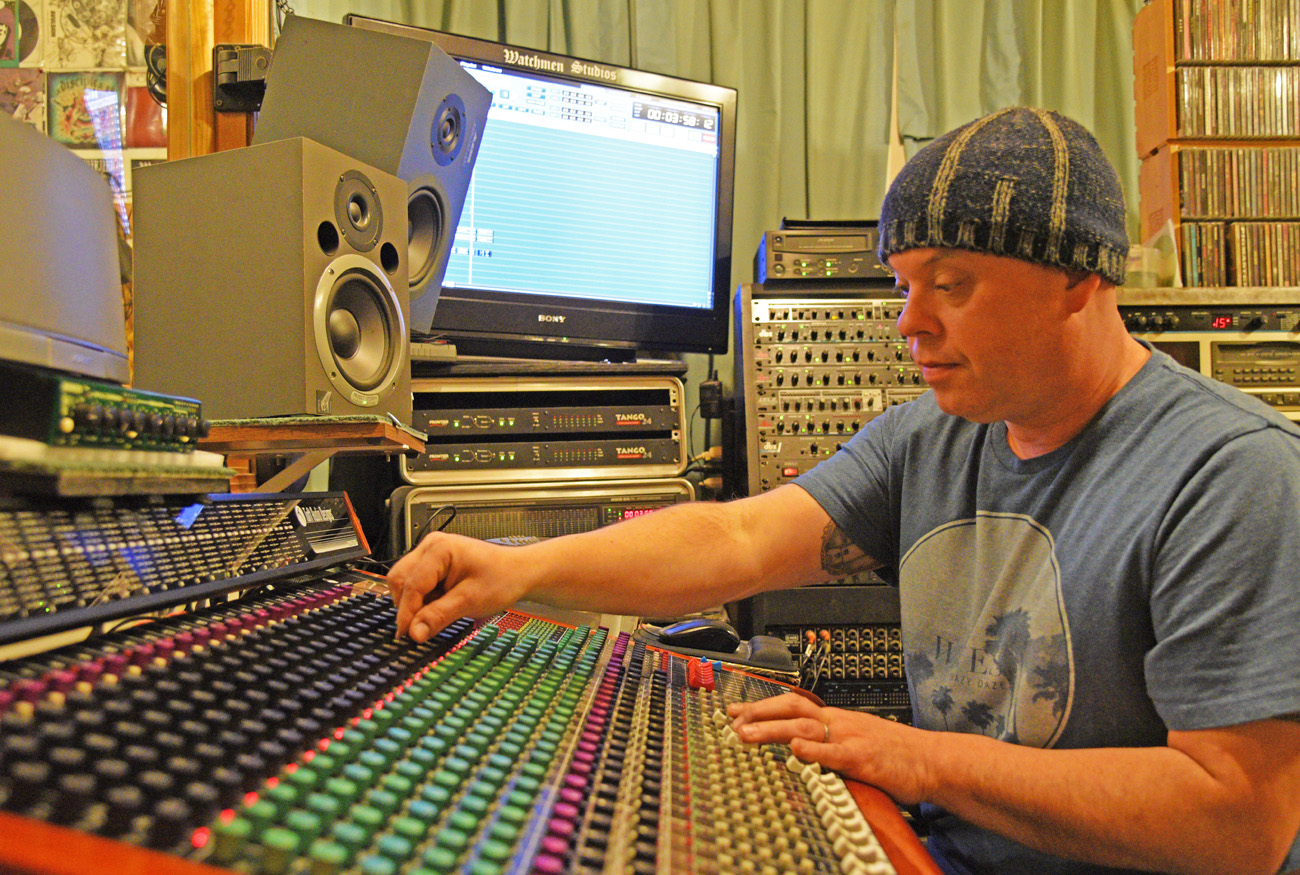 Doug White
As the Owner of Watchmen Studios and guitarist in the local indie/rock band, Makaras Pen, Doug White is experienced in recording all styles of music, producing over 4,000 albums over the past decade. He opened Watchmen Studios in 1995 and has developed an extensive list of clients, including Gym Class Heroes and Cute Is What We Aim For. Doug's presentation included advice on becoming a successful studio operator.
---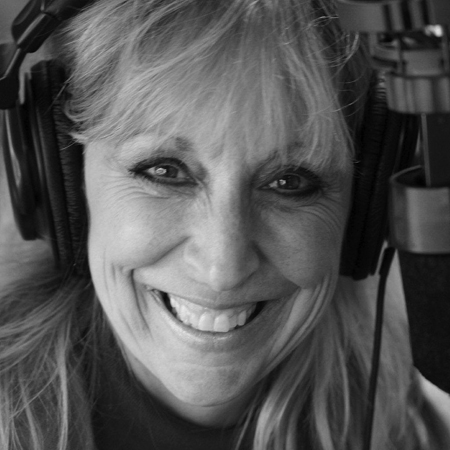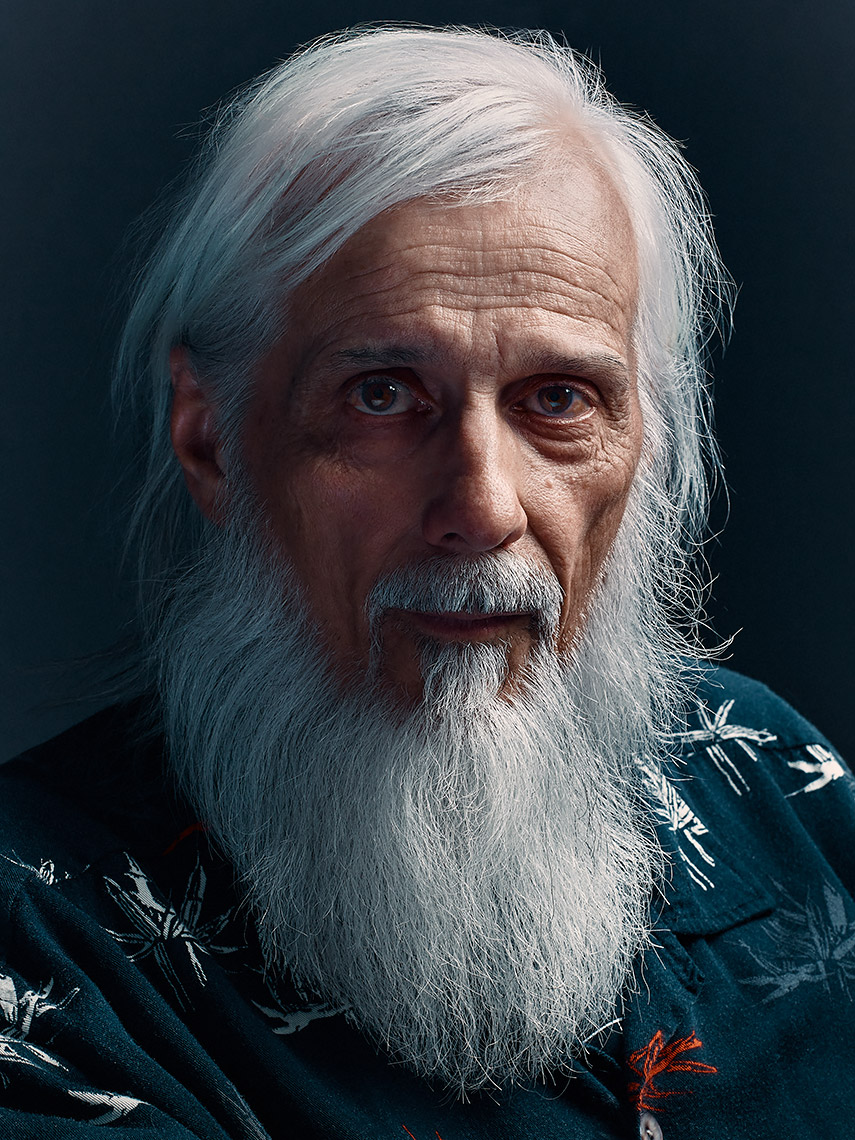 Anita West and Bruce Moser
Bruce Moser began his career after college working as a distributor for a record company. During one of his presentations, he began talking about how so much has changed in the industry. When he started, record companies gave bands "tour support", meaning that they would pay them to do shows and get them air play on radio stations.
As a Pioneer to women within the radio industry, Anita West started her current job at 97 Rock in 1988. She got involved in her college radio station and went into radio right after graduation. She quickly realized that she wanted to be a radio personality, which was much more popular at the time.
---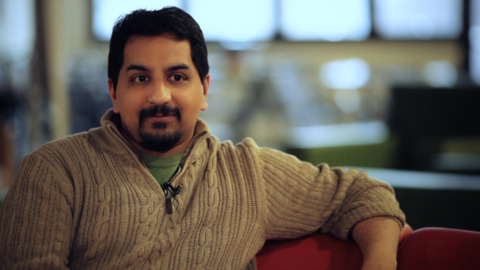 Karthik Bala
As CEO and co-founder of video game development company, Vicarious Visions, Karthik Bala has designed numerous commercially successful games including the Guitar Hero series. Vicarious Visions was originally formed as a product of a university incubator, similar to Fredonia's Technology Incubator, at Bala's Alma Mater. Bala's presentation focused on the patience and determination required in achieving goals and becoming successful.
---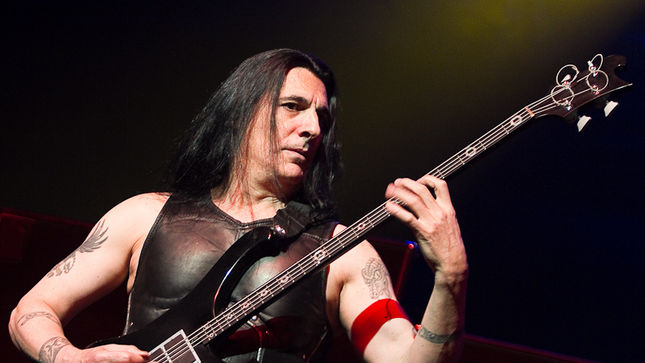 Joey DeMaio
Award-winning bass guitarist for the heavy metal band Manowar, Joey DeMaio founded the entertainment group, Magic Circle Music. DeMaio lectured about the importance of merchandising, the relevance of large festivals in today's music industry, and his work with Magic Circle Music.
---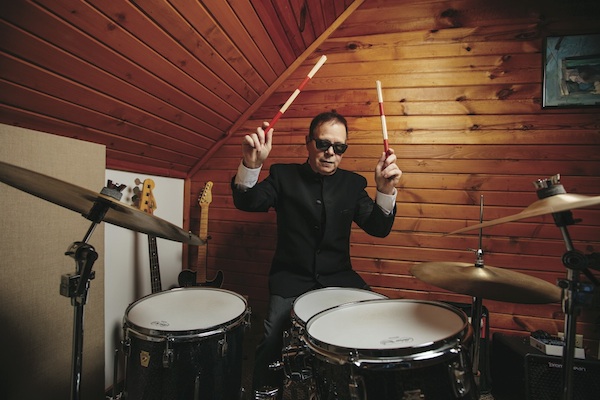 Victor DeLorenzo
Victor DeLorenzo, the former drummer of the Violent Femmes, currently plays with the jazz trio, A Free Society, and owns Joe's Real Recording Studio. DeLorenzo shared his musical experiences as a member of the Violent Femmes, including the lifestyle of a professional musician and his present work as a producer.
---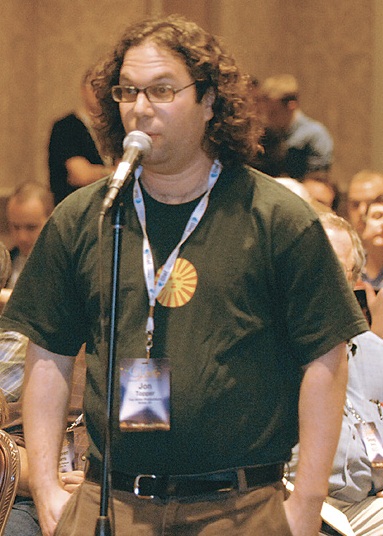 Jon Topper
Manager of the international hit band, moe., Jon Topper began his involvement with the group as a college student. Topper also heads The Live Music Summit, an annual music conference in Niagara Falls, Ontario. Topper lectured about the importance of networking and seizing opportunities as they are presented, two factors that played a pivotal role in moe.'s management.
---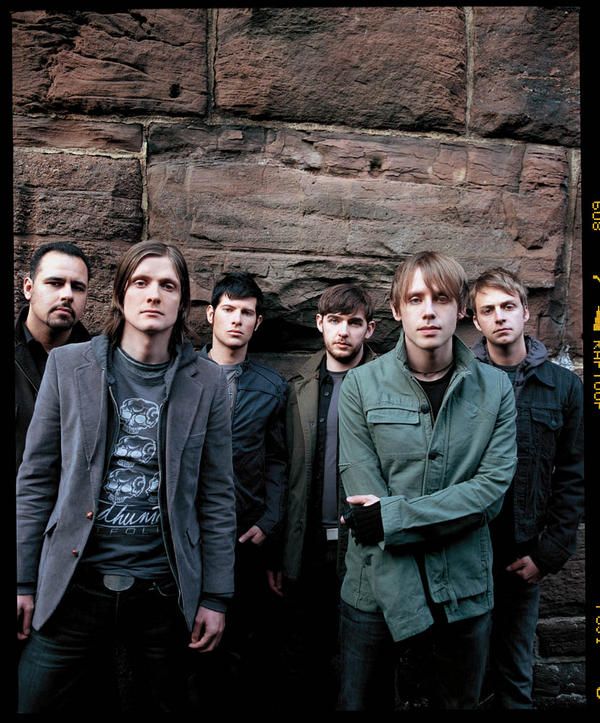 Thursday
A significant player in the early twenty-first century's post-hardcore scene, Thursday formed in 1997 and has released six full-length albums to date.
Thursday spoke about their experiences as an independent band and discussed the prevalent business practices in today's music industry.
---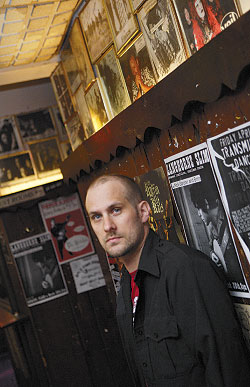 Artie Kwitchoff
Formerly a concert promoter for Clear Channel, Artie Kwitchoff now owns and operates The Town Ballroom, a prominent concert venue in Buffalo, New York. The Town Ballroom has hosted many national touring acts such as Yellowcard, New Found Glory, and Anthrax, to name a few. Kwitchoff lectured about his career in booking and promoting musical acts for a privately owned venue.
---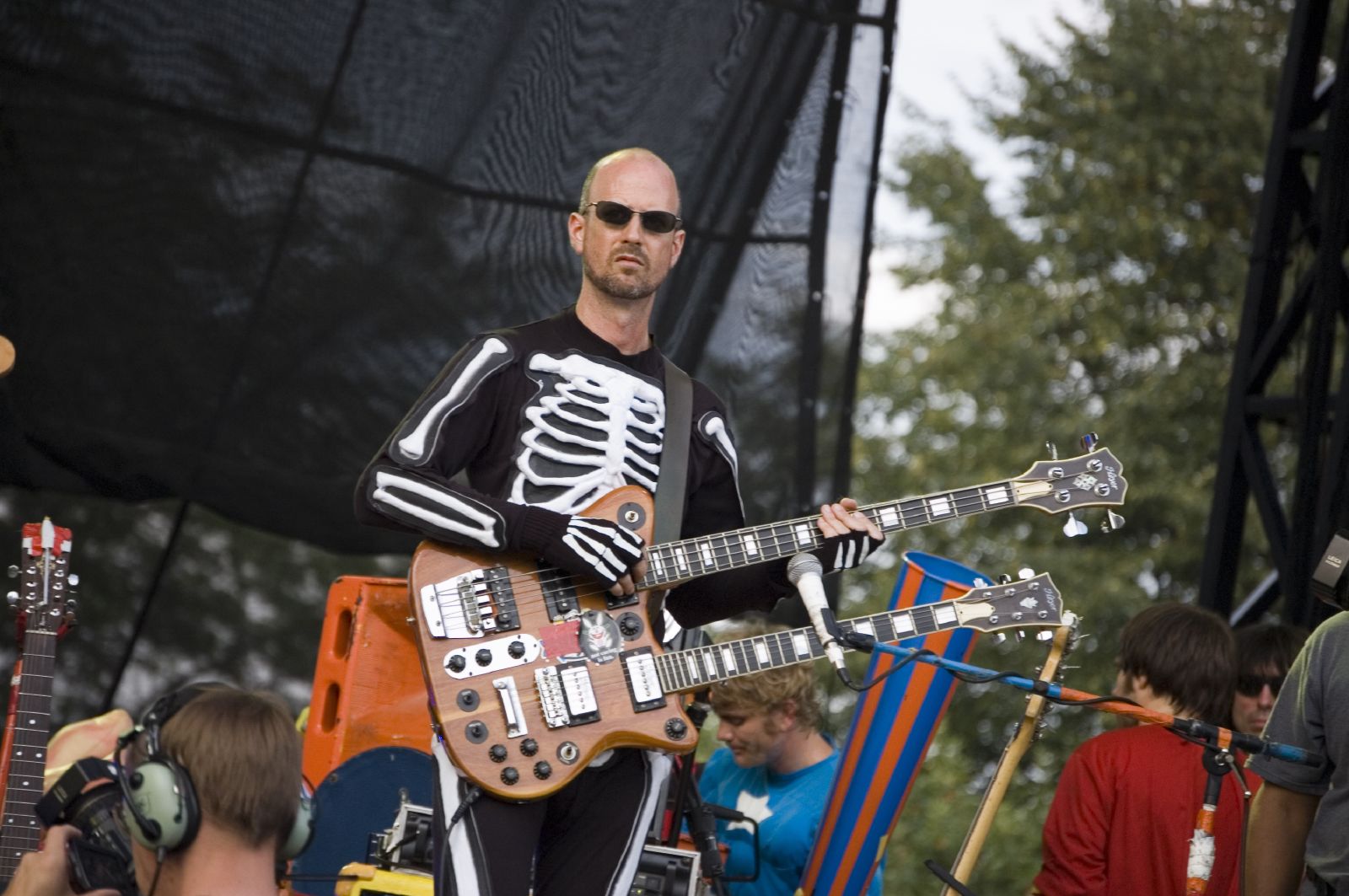 Michael Ivins
Michael Ivins is a founding member and bassist for the rock band, The Flaming Lips.
Ivins discussed the transformation of the Flaming Lips from a small independent band in the 1980's to a famed, major-label group.
---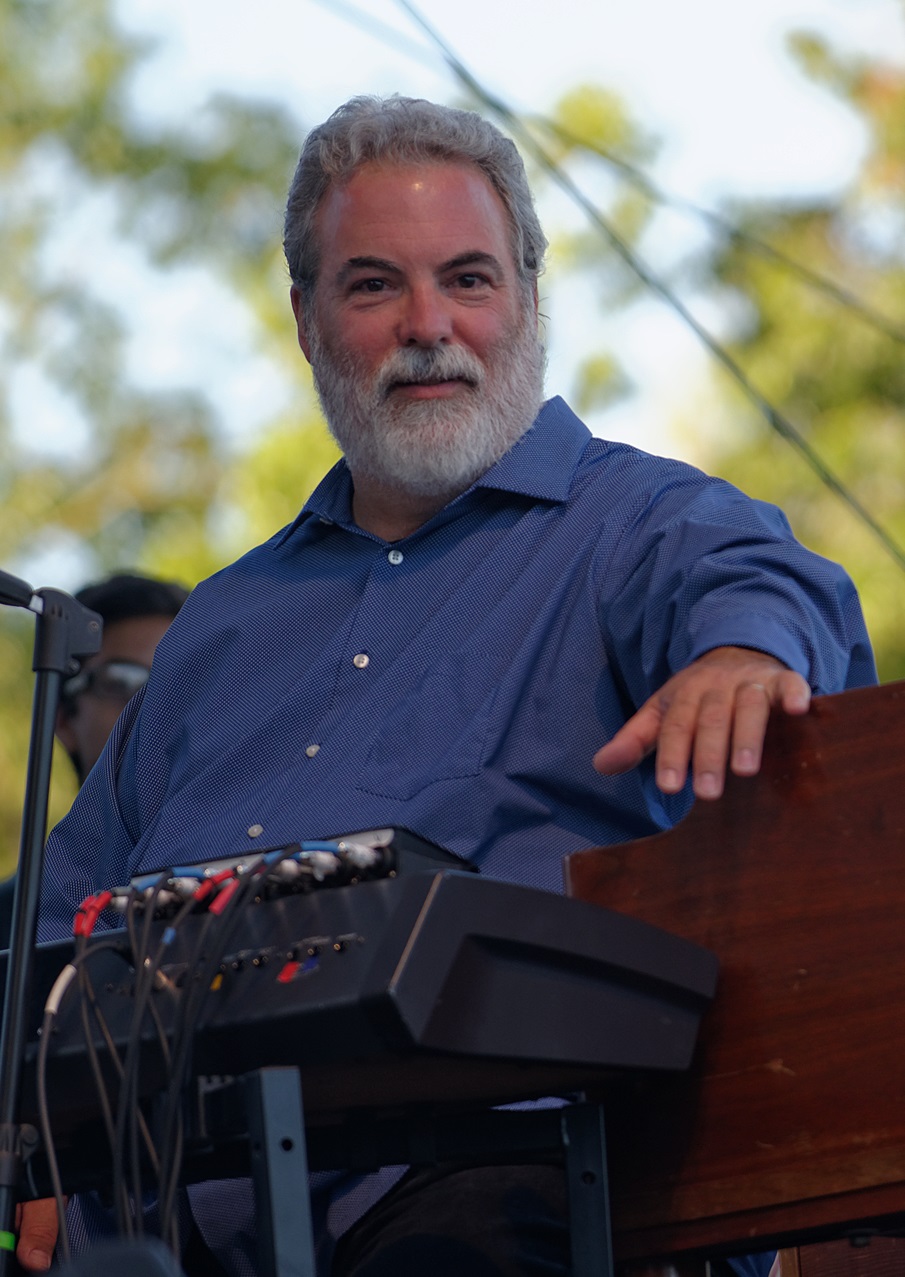 Dennis Drew
Keyboard player and founding member of the Ten Thousand Maniacs, Dennis Drew is currently the general manager of WRFA: Radio for the Arts, a low-power radio station based in Jamestown, New York. Drew spoke about his career in a multi-platinum selling band and his interaction with industry professionals throughout the band's lifetime.
---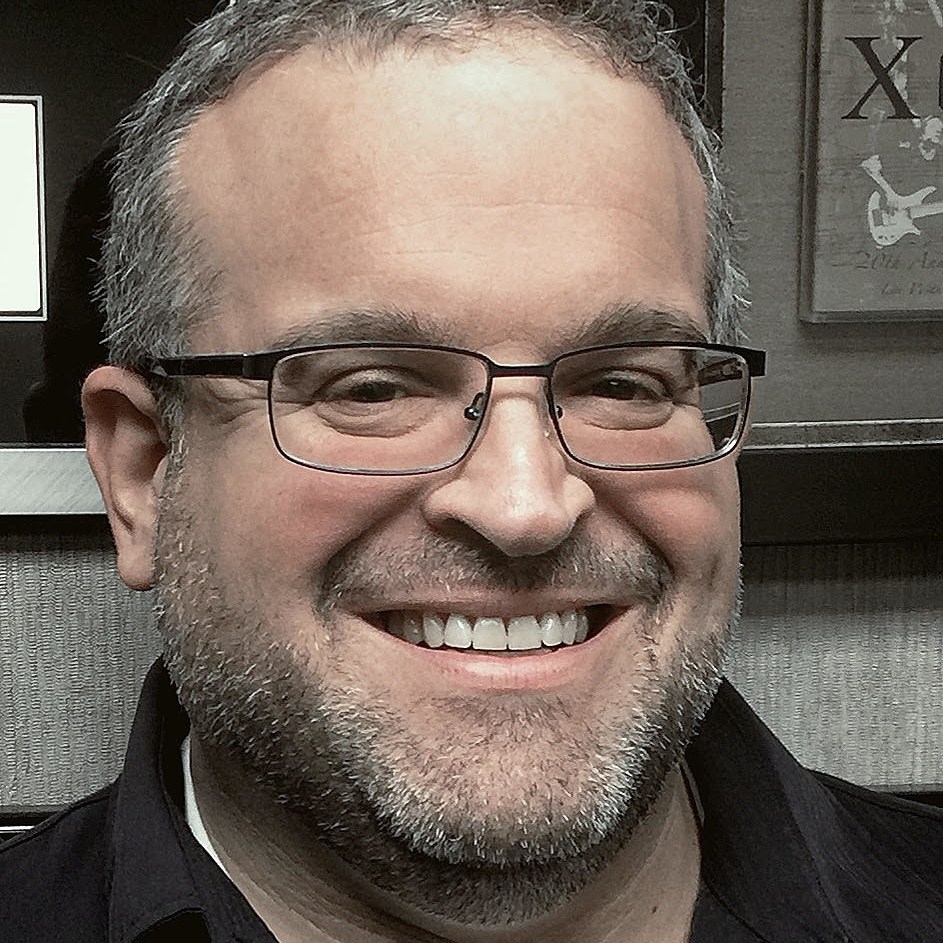 Andy Karp
Andy Karp is the former Vice President of A&R at Lava/Atlantic in New York. The acts he has worked with include KidRock (his first major success with Lava) and Uncle Kracker. Karp lectured on the politics of major record label contracts and the future of the music industry.
---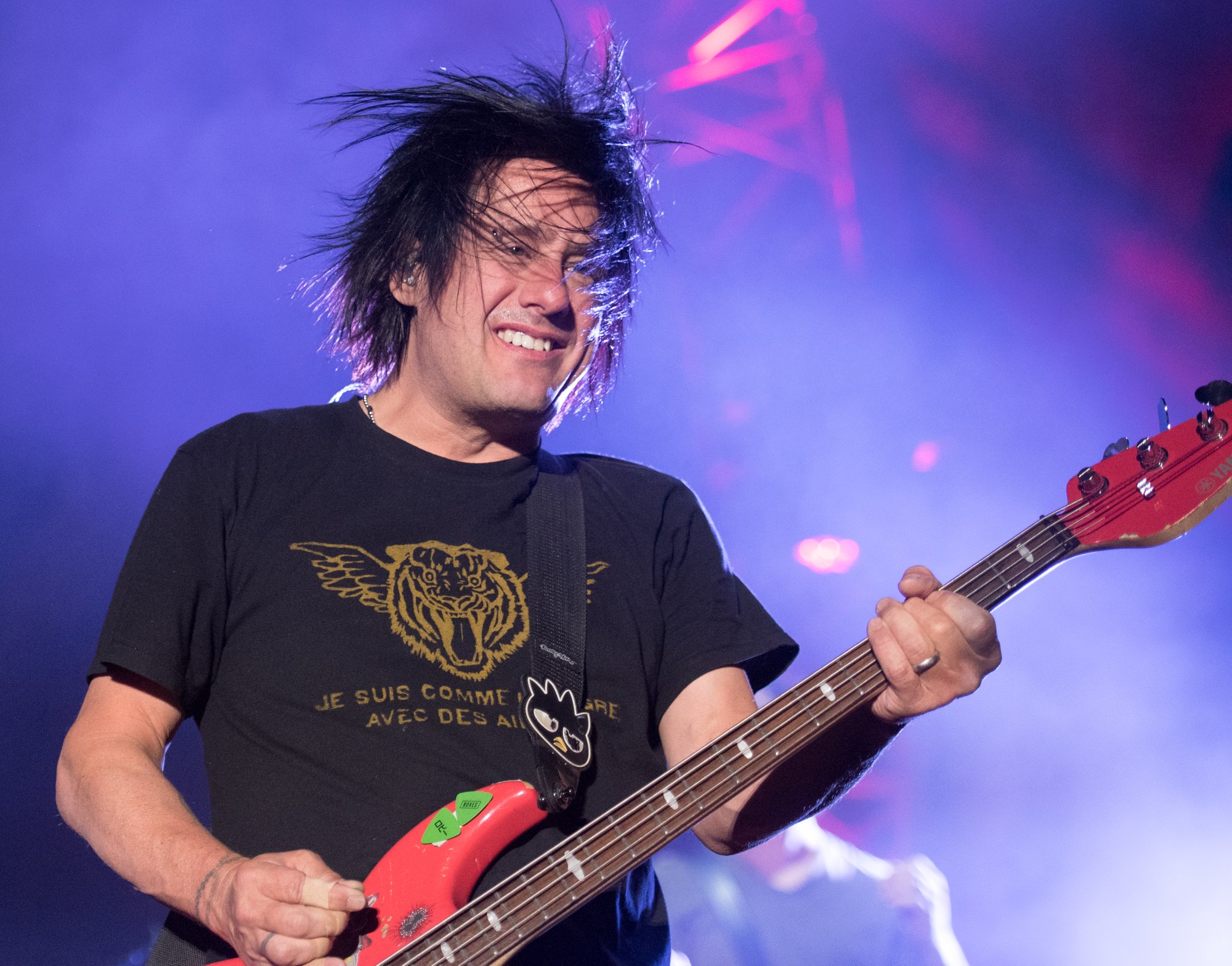 Robbie Takac
Bass guitarist, songwriter, and vocalist for the Goo Goo Dolls, Robbie Takac currently chairs the non-profit organization, Music is Art, and owns Good Charamel Records. Takac spoke with students about his use of his celebrity-level status in launching and benefiting charity organizations.
---