Robert Jordan Piano Festival
The Robert Jordan Piano Festival, named in memory of our prestigious emeritus piano faculty member, will take place online this year with three virtual events focusing on a theme of solo and collaborative piano music written by underrepresented composers.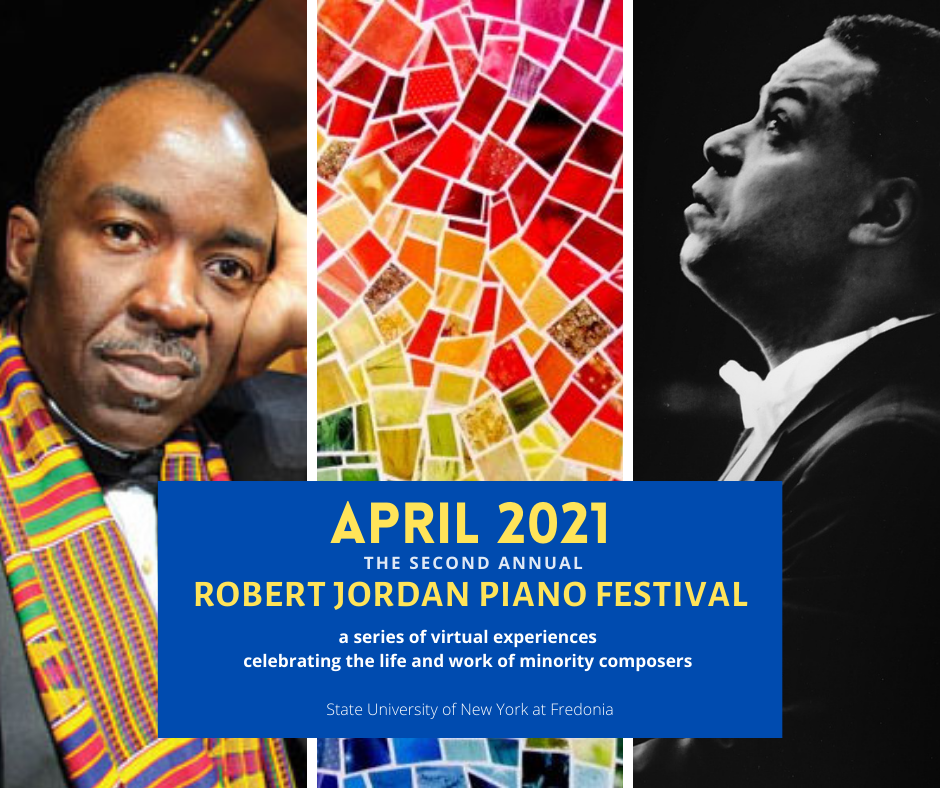 All events are FREE and open to the public, thanks to generous support from The Robert Jordan Piano Scholarship and Distinguished Lectureship Endowment, held at the Fredonia College Foundation.
Festival Schedule:
All events are FREE and will take place online. Sign-up to receive event links.
Monday, April 12, 7:00pm (EST)
Special Guest: William Chapman Nyaho
In and Out of Africa: Exploring Piano Music of Africa and its Diaspora
William Chapman Nyaho will discuss the diversity of styles of piano music, the influences of traditional musical forms, dance, jazz and blues as well as Western European compositional practices on compositions in Africa and the African diaspora. Must register by 3PM on Monday, April 12 to attend and receive the event link.
Saturday, April 17, 7:00pm (EST)
#PianoShortsRJPF
Fredonia students, faculty, and special guests will present a piece of their choosing by an underrepresented composer that they are passionate about, with the objective of introducing new repertoire to a wider audience. All presentations will be uploaded to our YouTube library and shared with the public.
Thursday, April 22, 8:00pm (EST)
RJPF Celebration Concert
Live streamed performance of the Fredonia piano area featuring music by minority composers.
This year's Robert Jordan Piano Festival theme is solo and collaborative piano music written by underrepresented composers. The Fredonia Piano Area has embarked on a journey this semester to explore the vast and inspiring body of work written by these composers and find ways to make it more known amongst pianists and audiences alike. 
This exploration has led to the creation of the Heid Fund, a fund dedicated to the purchasing of scores and promoting performances of music by minority composers, and the creation of a special collection in the Fredonia library of these works. We have also been compiling our own database of these works to help students explore this repertoire. 2020 has shown us that there is still much to be done in terms of creating balance and equality in the canon of classical music. We invite you to join us as we work to create positive change in this way.