Advising Study Abroad Students
Studying abroad is hugely beneficial for student's cognitive, social, and personal development.  Living independently in another country, interacting with different cultures, and gaining knowledge of the world are integral in their success during and after college.  To support students going abroad, faculty advisors and department chairs should use this page to find out more about the study abroad process, the role of the advisor, and the course approval process.
Debunking Myths
Study Abroad Basics
Academic Advisor's Role
The Course Approval Process
Today, students believe that study abroad is too costly, will delay their graduation, and will interfere with their extracurricular obligations at Fredonia.  As members of the SUNY system, however, Fredonia students have access to more than 1,000 study abroad programs in over 70 countries around the world: these programs can accommodate different budgets, majors/minors, and time frames that students have.  Working in the SUNY system is truly an advantage for students, as they have more choices than other students across the United States.
Additionally, Fredonia students that study abroad have higher graduation rates than non-study abroad students.  Of the students that entered Fredonia as new Freshmen, 73% of study abroad students graduated early or on time compared to about 47% for all other students; 89% of study abroad students graduated within 6 years compared to 67% of all other students.*
Students that study abroad are often able to use their financial aid award toward their program, even if they study on a non-Fredonia study abroad program.  Additionally, the Office of International Education (OIE) offers study abroad scholarships and resources for finding funding, including scholarship workshops.
Fredonia students have access to a great many resources to help them plan their study abroad experience effectively.  So how can faculty advisors help support students as they prepare to go?
Fredonia students that study abroad have access to SUNY's 1,000+ study abroad programs.  To begin finding programs that match their desired location, budget, major, or term abroad, students can use the SUNY Study Abroad Database.  Additionally, students should attend Study Abroad 101 sessions or meet with OIE to begin the process of finding programs.
Courses that students take abroad can count for general elective, major, minor, or CCC/Fredonia Foundation credits.  After students have been accepted to a program, they will work with Department Chair to determine course equivalencies.  As long as students and Department Chairs complete the Overseas Course Approval Form, courses taken abroad will transfer back seamlessly and count toward a student's GPA.  Approved courses will also appear on their transcript and Degree Evaluation.  More information on this process can be found below.
When it comes to study abroad, Advisors and OIE can work collaboratively to ensure student success.  Advising can begin before a student has selected or been accepted to a study abroad program.  Use the figure below to follow students through the study abroad process.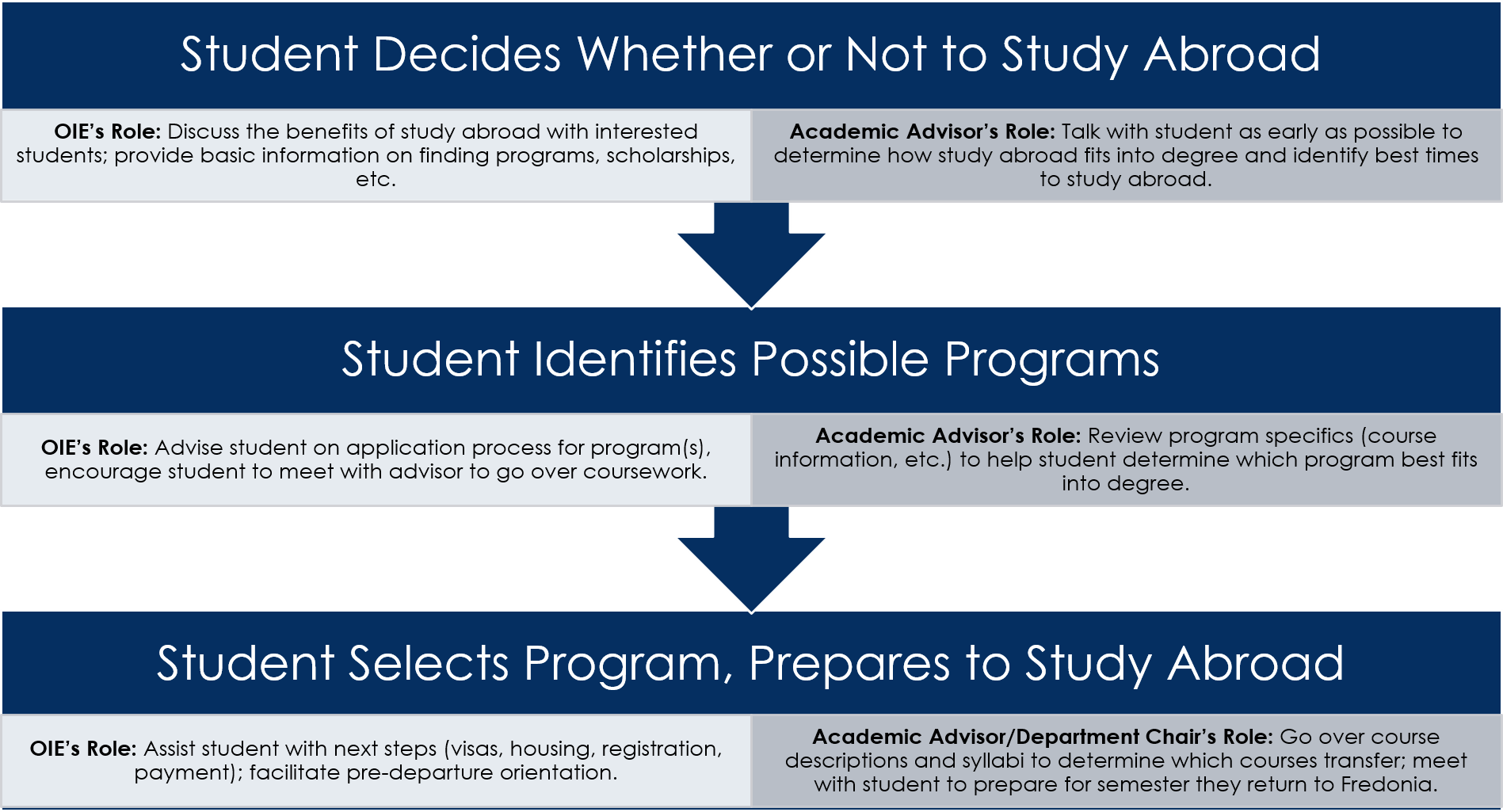 Any student can study abroad with good planning, and as an advisor, you are crucial to helping students plan successfully.  When it comes to planning, the earlier a student can begin, the better.  Freshmen and Sophomores have more flexibility in their schedules than Juniors and Seniors, which is why it is important to get students thinking about study abroad as early as possible.  As a general rule, students that can save general or major/minor electives for their study abroad will have the easiest time bringing classes from abroad toward their degree.  
As an advisor, your role is to:
Advise students to save general and major/minor electives for their study abroad experience
Determine the best term for advisees to study abroad
Advise on coursework that can be taken at Fredonia and abroad
Help students plan remaining semesters at Fredonia after their study abroad experience
Still have questions about your role as an advisor?  Refer to the Advisor FAQ handout.
After students have been accepted into a study abroad program, they can work with Department Chairs to get coursework approved to count toward their degree.  Students should look over course options available through the study abroad program they are participating in and determine if there are any equivalencies with Fredonia classes.  After picking out 8-10 courses, students should fill out the Overseas Course Approval Form with major, minor, and CCC/Fredonia Foundation Department Chairs (please note that this is different than a Transfer Credit Approval form).  When asking for approval of courses, students should bring course descriptions, syllabi, etc. to Department Chairs so that they may determine the true equivalency of courses.
Department Chairs should only approve coursework that falls under their department and have the right to deny course equivalencies if there is not sufficient proof of matching curriculum.  Students wishing to get CCC/Fredonia Foundation approvals should work with the Department Chair that oversees a specific CCC/Fredonia Foundation course; if the Department Chairs approve the equivalency, students must get final approval from the Associate Provost for Curriculum, Assessment, and Academic Support (809 Maytum Hall).
*Based on student participation in OIE programs from 2002-2014 and Fredonia Student Right to Know data.
Resources for Advisors