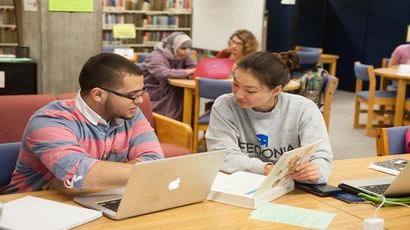 Becoming A Tutor
Tutoring Services hires undergraduate students who have demonstrated a high level of achievement in their areas of study and have a strong desire to support student success at Fredonia.
Tutors are paid to work a regularly scheduled number of drop-in hours and may also work one-to-one with students in our partner programs (DSS, EDP, and FOP). Training is provided.
In addition to a paycheck, students report that being a tutor has helped reinforce and enhance their own learning and that it has helped them gain experience and skills that set them apart when seeking employment and/or admission to graduate schools.
Applications are available during the Spring semester for the following academic year. Please contact our office for more information.
We hire tutors in most subject areas, including (but not limited to):
Accounting/Business
Biology
Chemistry
Computer Science
Economics
English/Writing*
Modern Language
Mathematics
Music
Physics
Psychology
Sociology
Statistics
*Applicants are required to take WRTG 455. For more information, contact Tutoring Services.