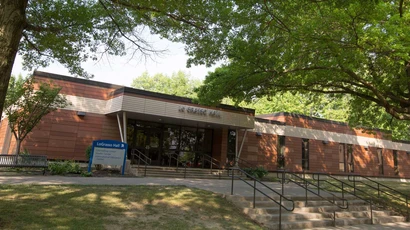 About the Student Health Center
Student Health Center Mission Statement:
In support of Fredonia's Strategic Plan and Institutional Learning Goals, the mission of the Student Health Center is to enhance the educational process and personal development of the Fredonia student by providing quality health care and promoting an optimal level of health and wellness in a caring atmosphere that respects their unique qualities as an individual.
Vision:
Promoting a campus culture focused on health and wellness.
Skilled: The Student Health Center is committed to providing competent, confidential, quality and accessible health care through continue education and coordination of care with specialists and primary care providers.

Connected: The Student Health Center fosters a collaborative environment that stresses open communication and consultation among all staff within the center, Student Affairs, Academic Affairs, the University and the broader community.

Creative: The Student Health Center is committed to the efficient delivery of high-quality healthcare, consistently striving to exceed the expectations and changing needs of our students and community partners.

Responsible: The Student Health Center is an advocate, at all times and in all venues of the campus and community, for the physical, psychological, emotional and social health and well-being of our students.
Core Values:
Student Centered – We are committed to providing competent, confidential healthcare in a student-centered environment that is respectful, open, friendly and trusting. This is done by placing the person we serve at the center of care, and providing clinical programs that deliver high quality, compassionate, effective care centered on the needs of the individual.

Excellence – We ensure students to receive high-quality accessible healthcare through continued education programs for our staff and coordination of care with specialists and primary care providers

Compassion – We advocate, at all times for the physical, psychological, emotional and social health and well-being of our students.

Accessibility and Responsiveness – We promote equity and inclusion and believe everyone should receive the highest quality of care. We are committed to providing programs and services that are economically, physically and culturally accessible and responsive to the changing needs of our campus community.

Collaboration – We embrace working collaboratively with students, campus, and local providers using the strengths of a multidisciplinary approach stressing open communication and consultation while also maintaining student confidentiality.

Social Responsibility – We educate students on how to become independent healthcare consumers through wellness promotion and guidance on health issues, both during visits to the student health center as well as through outreach programming.

Diversity – We understand that college students come from diverse ethnic and cultural backgrounds, and will work with each student as an individual ensuring that their health care needs are understood and cared for.
Diversity and Inclusion:
The Student Health Center values diversity and welcomes students from diverse backgrounds. The Student Health Center does not discriminate on the basis of race, color, sex, sexual orientation, gender identity, religion, creed, national or ethnic origin, citizenship status, age, disability, veteran status or any other legally protected class status in its services.
Scope of Services:
The Student Health Center's primary responsibility is to provide the highest quality nursing and medical care for the Fredonia student. For the purposes of receiving health services, SUNY Fredonia considers students engaged in non-credit programs (e.g.. Pathway Programs) to be enrolled.
Services at the Student Health Center will be:
Integrated into the strategic plan of the institution
Intentional and coherent
Guided by theories and knowledge of learning and development
Reflective of development and demographic profiles of the student population
Responsive to the individual student.
It is our mission to make every effort to have a positive impact on the health care experiences of the Fredonia student while creating a culture in which they can make informed and responsible decisions regarding their personal health and wellness. Services available include health promotion and disease prevention as well as diagnosis and treatment of acute illness and injury with education for healthy lifestyles and disease prevention, in a caring, supportive and confidential environment. The services provided by the Student Health Center includes, but are not limited to:
Acute/urgent care for illness and injury

Sexual health visits for STI testing, birth control, etc

Emergency Contraception - purchase for $15

Home Pregnancy Test - purchase for $5

Telemedicine

Physical exams

Pharmacy

Laboratory Services

Urinalysis, Quick Strep, Monospot, COVID, Flu, HIV, Pregnancy

Gonorrhea and Chlamydia Testing - outside lab fee $35

Tuberculosis (PPD) testing - cost $15

Campus Food Pantry
Physician/Nurse Practitioner services are available to the student on a daily basis Monday through Friday during the academic year. During the eight weeks of summer session, the Student Health Center is staffed with a Registered Nurse to perform nursing duties only. There is no medical provider available during this eight week period of summer session.
Medical conditions that require continuous care, specialized or surgical, are handled either by referral or a return to the primary care physician at the student's expense. Medical Records are strictly confidential and are released only with a student's written consent. An authorization for release of medical records form is available on our Student Health Center website at www.fredonia.edu/student-life/health-center/forms
Learning Outcomes:
Students who engage in services provided by the Student Health Center will be able to manage their physical health so they can achieve their academic and personal goals (Learning Domains: PD, PS)

Students who engage in services provided by the Student Health Center will be able to demonstrate an increased understanding of medical information, including one's own medical diagnosis and treatment plan (Learning Domains: PD, PS)

Students who engage in Student Health Center activities and programs will demonstrate skills in accessing and utilizing healthcare resources on campus and in the community. (Learning Domains: PD, PS)