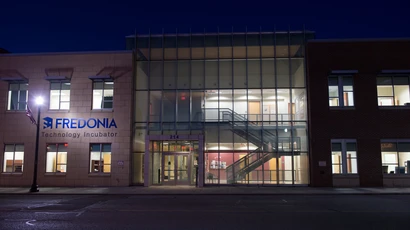 About the CIED
Center for Innovation & Economic Development (CIED)
Located in the City of Dunkirk's central business district, the Center for Innovation & Economic Development (CIED) is an economic development program of the State University of New York at Fredonia.  Formerly known as the Fredonia Technology Incubator (FTI), the CIED works with external partners to promote economic growth by supporting entrepreneurship and the development of new, innovative companies into successful business ventures.  This takes place in an environment that fosters creativity, technology development, commercialization, and successful business management practices. With a focus on arts, food and technology-based startups, the Incubator provides administrative and business services, mentoring, networking, professional consulting, educational opportunities, and access to capital and work ready space. The CIED combines these resources and those of the SUNY Fredonia state and local government, area businesses, and the community to develop businesses that are financially viable and freestanding.
---
Message from the Director
The Center for Innovation & Economic Development (CIED) is a significant community engagement and economic development program of SUNY Fredonia. Since its founding in 2007, the CIED has assisted many entrepreneurs, which have created new opportunities in the region. The CIED also serves as an economic development hub, a StartUP NY location, and is a Certified NYS Incubator. We are proud members of the WNY Incubator Network (WIN), the Business Incubator Association of New York State (BIA/NYS) and the International Business Innovation Association (InBIA). The Incubator is also a member of the Chautauqua County Partnership for Economic Growth (CCPEG).
The CIED promotes economic growth through community partnerships and collaboration. We welcome your interest and involvement as we strive to enhance economic impact and cultivate an entrepreneurial spirit in our community.
-Chuck Cornell
---
About the Director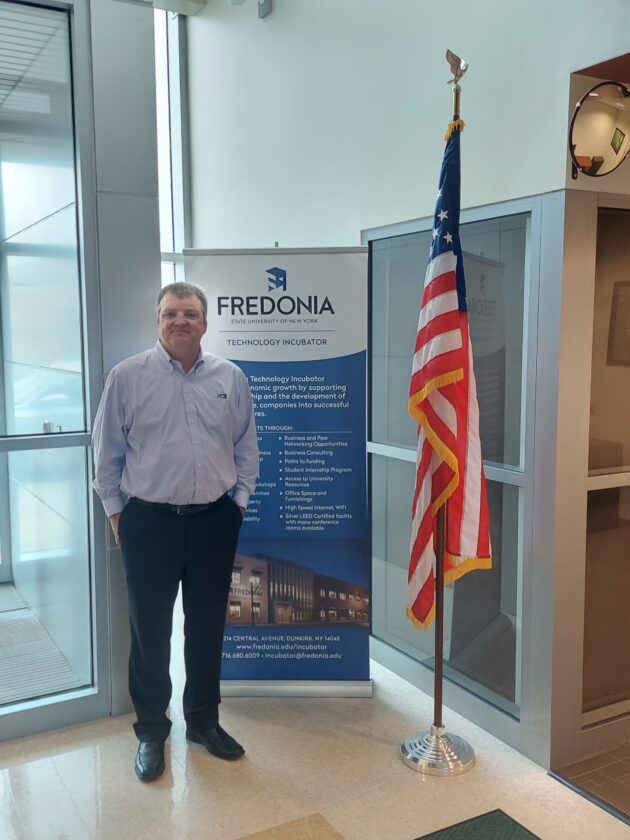 A Certified Business Incubator Manager, Chuck Cornell has led the Fredonia Technology Incubator at the State University of New York at Fredonia since 2014. Prior to his appointment as Director of the Incubator, he served as the Director of the Center for Regional Advancement (CRA) at SUNY Fredonia (2008-2014) where he directed projects that enhanced regional economic vitality through community engagement. In 2019, Cornell was assigned oversight of Fredonia's economic development programs, including StartUp NY. 
Cornell currently serves on the Chautauqua County Land Bank Board of Directors. He was Chairman of the Jamestown Board of Public Utilities and was also on the board of the Dunkirk Local Development Corporation (DLDC). He is a member of the Chautauqua Leadership Network (CLN) Class of 2014. Cornell has also served on the boards of the Chautauqua County Housing and Neighborhood Revitalization Task Force, the Greater Jamestown Empire Zone, the Manufacturing Technology Institute, the Chautauqua County Industrial Development Agency (CCIDA), and the Chautauqua County Parks Commission. He was an ex-officio member of Northside PRIDE, a grassroots neighborhood revitalization group in Jamestown that he founded. Cornell served as a mentor to finalists in New York State's 76 West Clean Energy Business Competition from 2016-2019. He was also a member of the Chautauqua County Growing Food Connections Steering Committee. Serving two terms in the Chautauqua County Legislature representing the City of Jamestown's north side, Cornell served as Chair of the Planning and Economic Development Committee, a member of the Audit and Control Committee, and Majority Leader. Prior to his election he served as Clerk of the Chautauqua County Legislature. While living in Washington, D.C., he was on the staff of U.S. Senator Carl Levin of Michigan and U.S. Representative Paul Kanjorski of Scranton/Wilkes-Barre, Pa.
Cornell earned his Master's Degree in Public Administration from the Nelson A. Rockefeller College of Public Affairs and Policy at SUNY Albany. Following his graduate work, Cornell was selected to serve in the New York State Senate Postgraduate Fellowship program. He is a graduate of SUNY Geneseo with a Bachelor's Degree in Management. He earned an Associate's Degree in Business Administration from Jamestown Community College. He earned his Business Incubation Management Certificate from the International Business Innovation Association (InBIA). As an adjunct faculty member of Fredonia and Jamestown Community College, he has instructed courses in Professional Business Selling, Public Speaking, American Politics, Interpersonal Communications, Business Pathways to Success, Business Communications, Media and Politics, New York Government, and Environmental Policy. Cornell serves on Fredonia's StartUp NY Committee and American Democracy Project. He also served as co-chair of Fredonia's Carnegie Classification Task Force. Cornell resides in Bemus Point NY with his wife, Lori, and sons Ben, Nate, Zach and Nick.