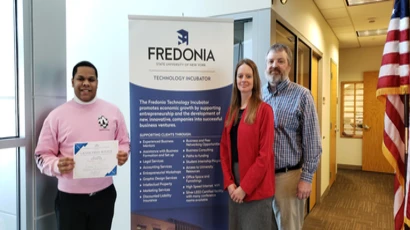 Student Business Competition
SUNY Fredonia is tapping into the entrepreneurial spirit of its students by providing an opportunity to develop an idea for a new business, generate a business model, and conduct an investor focused pitch.
Students who participate in the SUNY Fredonia Student Business Pitch Competition are eligible to earn one academic credit hour (optional) by completing forty hours of relevant activities (see below for more information).

The winner of the contest will be selected by a panel of independent judges based on a business pitch presentation in December.
Participants will compete for a cash prize, business mentoring, and other incentives to support the development of a student business (see below for more information*).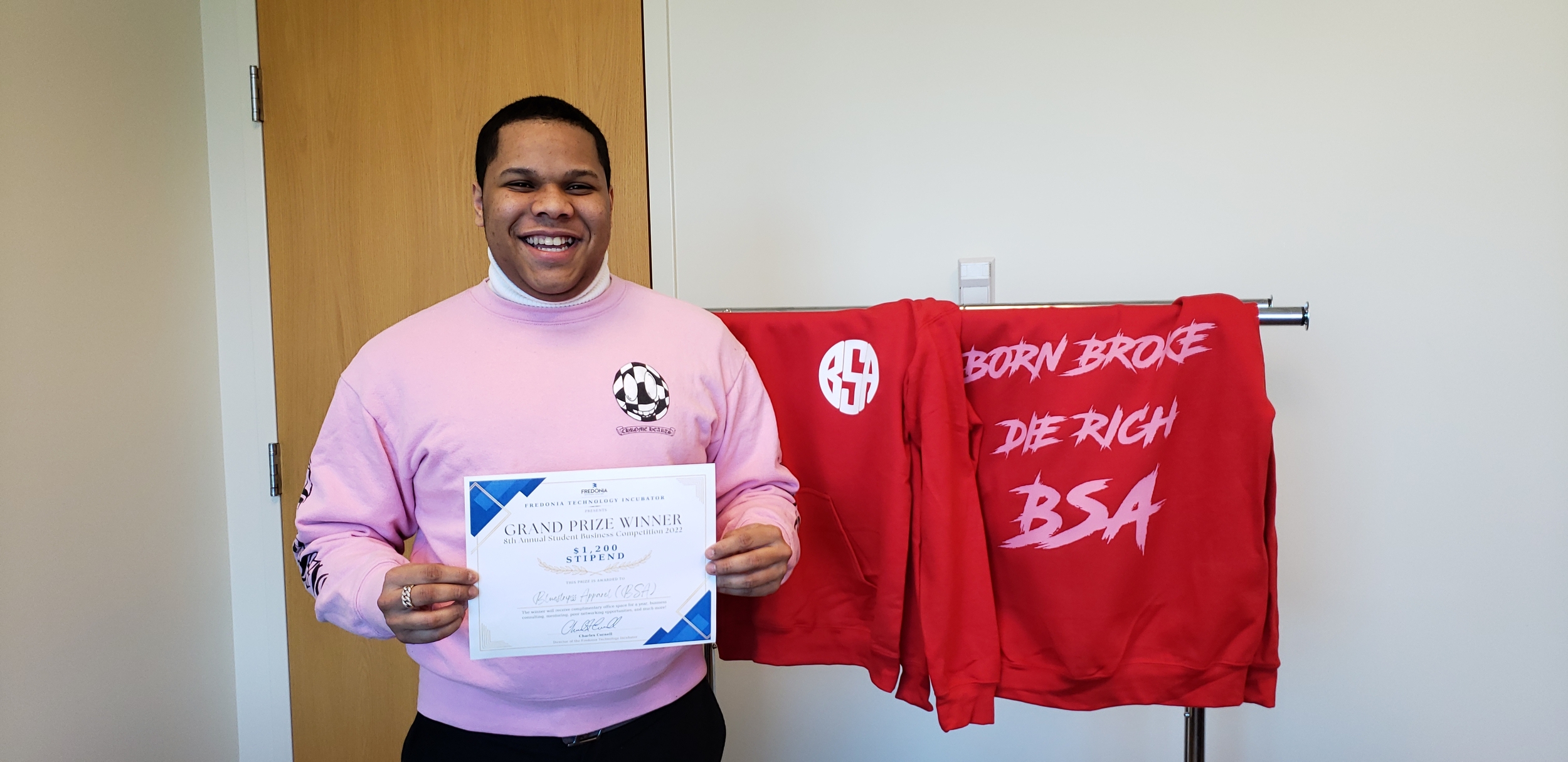 Student Business Competition Application
Coursework (totaling 40 hours) includes:
*Participants in the SUNY Fredonia Student Business Competition will have access to:
Resources
Preparing Your Pitch
Fall Semester
Jeremy Casso-Garcia - Bluestripss Apparel (BSA): Bluestripss Apparel is a startup clothing brand with a focus on creating awareness pertaining to the comfortability individuals have within themselves. BLUESTRIPSS APPAREL CEO'S mission is to create apparel for all. Apparel in which every individual will have the opportunity to style the product in their own unique manner. Bluestripss Apparel offers a large range of fashionable products that attract individuals from different demographic backgrounds.

Cierra Vasquez - Late Night Bites: We are a mobile breakfast food truck that brings late night food options to the local Fredonia/ Dunkirk area. For late night dining, we pride ourselves on quality food and minimal wait times.

Brandon Ortiz Fernandez - Sky Studio:
Spring Semester
Jasmine Winns - I'd like to drop my own apparel line and to extend my current business on Instagram. My brand is based off the word "motivation" and my vision is to have it spelt in Bulgarian and have it spelt across the hoodies and whether I change the font, have puffy paint, 3D imprints, etc. I have all ideas written down. I'd also like to include satin inside the hoodies I'll be releasing because I know a lot of people care about their hair.

Olivia Gates, Brooke Strawder, Shainee Islam, Matthew Hill - E-commerce website for Fredonia students, community and alumni. As an already established 501(c)3 our goal is to connect students with experiential learning opportunities allowing them to obtain real world business experience before leaving school.

Rhiannon Evans - Rhi Rhi's Rings: Creating custom jewelry with natural gemstone, pearl, and wire.

Shania Brown - Creation of a digital marketing company

Josue Petion - Video Production company/studio
Spring
Shania Brown - Graphic Design & Screen-Printing Shop: I have a graphic design business on social media that has just been used as freelance work. I want to make this an actual business and obtain an LLC. As well as, in the future open a screen-printing shop.

Tyler Walsh, Alexander Aultman, Eric Najewski - Forest Entertainment: An independent record label that plants a tree for every album sale.

Dani Redeye & Kyle Johnson - Design & Print Shop & Service: to take the things that I am most passionate about and apply them to a career that I am willing and so excited to dedicate my entire life to.

Tamia Simmons - Zenith Threads: Designing fashion apparel that can remind my customers that they are always greater than they would like to believe, even at their worst.

David Neish - ModernEyes: B2B business that will provide effective options for businesses and entrepreneurs to grow the online presence of their business.
Spring
Mohamed Kone - Love over Loyalty: Creating a clothing line

Lindsey Bowman, Sam Rowley, Benjamin Marcial, Arianna Silva and Shannon Lynch - Hot Bun: Creating an animation film and media creative hub

Khris Dunn and Fay Patterson - Energy Society: Creating a collective through apparel

Olivia Soto and Niklas Dahlen - Lessons Learned: a performing arts school and Taylor Gates with the creation of an online source for students looking for music or dance lessons
Spring
Anais Cantres - This is my art Kickstarter. I want to offer my creative skills to locals in the area. I will offer artistic commissions, such as but not limited to, short animations (digital and or traditional), illustrations, editorial illustrative projects, paint parties and or caricature art sit ins to locals, small businesses and personal requests.

Rebecca Avorkliyah - An American food spot in Ghana

Ebenezer Johnson & Jordan Andrews - TheEbJoShow: Ebenezer and Jordan are two upcoming entertainers who have a joint Instagram page and YouTube channel where we post comedic videos. Also, we host different events and shows all over. We create films and want to keep on doing so as a way for us to get noticed so that we could feature in different television shows and/or movies. A goal is to have our own television show together one day.

Justice Nauden - NATRILL: A high-end, streetwear fashion company.

Johar Snella - My business would operate as an entertainment company for upcoming artists and creatives. We would publish/distribute music, sound recording,music production, music video direct, sell clothing as well as consult for artists by helping them follow the right footsteps in their career to succeed.

Tyler Walsh (team leader), Andrew Lerman - Our business is a record label that's mission statement is to give power back to the artists by providing them with the proper tools and resources to make their passion a career. With the rise of technology and free music platforms, such as Soundcloud, artists have gained more control, more now than ever. Our business drives to be the leading artist-friendly label by allowing the artist to retain the copyright to their music, taking low royalty cuts, and analyzing current trends and technology to find new innovative way to grow as a company.
Spring
John McIvor - WEIRDNESS:

Justice Nauden - Just Cold as Ice:

Stephen Sacco - Brumelia:

Abdullah Yusuf - JBN: Jiggy by Nature:

Madison Breslin - Makunema Productions:
Brandon Flores - Food Waste App:

Alex Czechowski & Nate Winn - Nexnest:

Jodie White - Sassy Brass Cleanings:

Nicole Haynes&Tanneh Senneh - Catered and Cultured:

Kermit Mitchell III - Resumaze:

Sara Kibbler - Comic book service:

Elizabeth Ring - Bridal Dress Rentals:

Aidan Licker - Last Call Entertainment:
Ryan Alonge - Children's Play Museum

Michael Gonzalez-Kelly, Virginia Croft, Ariel Arellano - ArcAtlas Records

Joshua Kuber - Truck Service Station