The Claudette Sorel Piano Competition & Piano Fellows Program
2020 Application will be available soon ... stay tuned!
SAVE THE DATES:
Sunday, November 8, 2020
5th Annual Claudette Sorel Piano Competition LIVE Final Round
Saturday, November 7 - Sunday, November 8, 2020
2nd Annual Piano Fellows Program
The Claudette Sorel Piano Competition and NEW Piano Fellows Program are open to talented young pianists, ages 15-18, of all nationalities, and we are unique. We are looking for talented young pianists with great artistic vision who are passionate about piano performance and repertoire ... is that you? This is your time to shine.
---
2019 COMPETITION
Competition Live Final Round: Sunday, November 3, 2019
Juliet J. Rosch Recital Hall
State University of New York at Fredonia

FIRST PRIZE:
$2,500 cash award

recording of live performance

copy of judges' written notes
An additional $1,250 cash awards will be awarded at the discretion of judges. (Past awards have included: Artistic Excellence Award, Best Chopin Award, Best Bach Award). All Finalists will receive a recording of the live performance, and a copy of the judges' written notes.

Now in its fourth year, we have intentionally designed our competition to be a uniquely positive and welcoming experience, creating a space for participants to present their creative passion and vision in a nurturing environment.
COMPETITION JUDGES: Eliran Avni, Mary Cobb, Fr. Sean Duggan, Anne Kissel, and Tony Caramia.
---
PIANO FELLOWS PROGRAM
Friday, November 1 - Sunday, November 3, 2019
State University of New York at Fredonia
Invited Fellows will attend on full scholarship. (personal/travel expenses not included)

New this year, the Piano Fellows program will be held in conjunction with the piano competition and is designed for talented pianists (ages 15-18) who are serious about their craft and are looking for an intensive musical experience, but who may not yet be ready for the competition circuit. Highlights: evening concert, individual lesson, master class, perform on Fellows recital, behind-the-scenes competition experience, and more. It is also an excellent way to prepare for college/conservatory auditions.
---
APPLICATION REQUIREMENTS:
a high-quality video of a performance of a piece you are passionate about (7-10 minutes). Video and audio quality matters; please submit the highest quality video possible. All music must be performed from memory. (note: competitors may choose different repertoire for the video and recital rounds.). Competitors are strongly encouraged to submit two contrasting works (style, tempi, mood, etc). [NOTE: If selected as a Finalist, competitors will present a fifteen-minute recital. The repertoire for this stage, as in previous competitions, is left to the discretion of the competitors but should show a thematic connection or idea, such as a favorite composer, period, thematic connection, etc.]
a short biography (100 word limit), which may be used in competition promotions and/or printed program.
answers to three short questions: Why are you passionate about the piano? Why did you choose this recital program? What composers do you like to perform?
Headshot (does not need to be professional, but WILL be used in publicity materials)

Photo/video release form
*NOTE: Students currently enrolled at the State University of New York at Fredonia are ineligible to apply.
*NOTE: Previous Claudette Sorel Piano Competition First Prize Winners are ineligible to apply.
*NOTE: International applicants should ensure the Visa process in their country of origin can be completed within the following timeframe: Finalists will be notified by October 1, 2019. LIVE Final Round will take place on November 3, 2019. Please contact us with any questions or concerns.
Application Deadline: September 15, 2019
(note: applications are processed through GetAcceptd.com)

Questions? Email Dr. Eliran Avni, competition director (eliran.avni@fredonia.edu)
---
ABOUT THE CLAUDETTE SOREL PIANO COMPETITION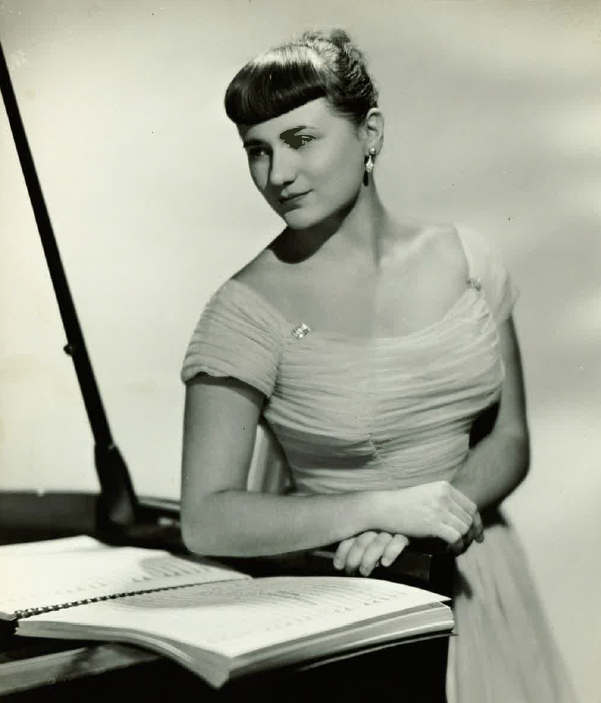 The competition is named for pianist and SUNY Distinguished Professor Claudette Sorel and is supported by a foundation she founded. The Sorel Organization intends to create opportunities for women in composition, conducting, piano, voice and film scoring and to keep musical excellence alive while expanding the boundaries for women in music.
---
SPONSORS