The Claudette Sorel Piano Competition & Piano Fellows Program
Save the Date:
7th Annual Claudette Sorel Piano Competition
Sunday, November 6, 2022
Application opens June 15, 2022
Be the first to know when the application goes LIVE, plus get updates about prizes, jury members, and more!
The Claudette Sorel Piano Competition and Piano Fellows Program are open to talented high school pianists of all nationalities. We are looking for talented young pianists with great artistic vision who are passionate about piano performance and repertoire ... is that you? This is your time to shine.
**COVID-19 Update: We look forward to hosting a LIVE, IN-PERSON event in November 2022. This page will be updated regularly with guidelines regarding vaccine requirements, masking, and other safety measures, in accordance with the State University of New York.
---
APPLICATION REQUIREMENTS for Competition AND Fellows Program:
all applicants must currently be in high school, with a minimum age of 15 and maximum age of 18 AT THE TIME OF COMPETITION FINALS.
high-quality video/s of a performance/s of a piece/s you are passionate about totaling no less than 7 minutes and no longer than 10 minutes. [You can submit, for ex., minutes 2:00-7:00 of piece A and minutes 4:00-9:00 of piece B. The total will still be ten minutes.] Competitors are strongly encouraged to submit two contrasting works (style, tempi, mood, etc).
video and audio quality matters; please submit the highest quality video possible.
all music must be performed from memory. 
a short biography (100 word limit), which may be used in competition promotions and/or printed program.
answers to three short questions: Why are you passionate about the piano? Why did you choose this recital program? What composers do you like to perform?
Headshot (does not need to be professional, but WILL be used in publicity materials)
Photo/video release form
acknowledgement of COVID safety guidelines & requirements
one-time $30 application fee
*NOTE:
Students currently enrolled at the State University of New York at Fredonia are ineligible to apply.
Previous Claudette Sorel Piano Competition First Prize Winners are ineligible to apply.
Individuals with professional management and active performance careers are ineligible to apply.
Anyone enrolled/attending conservatory/college/university is ineligible to apply (even if they meet age criteria).
Application Deadline: September 15
(note: applications are processed through GetAcceptd.com)
Questions? Email Dr. Eliran Avni, competition director (eliran.avni@fredonia.edu) 
---
ABOUT THE CLAUDETTE SOREL PIANO COMPETITION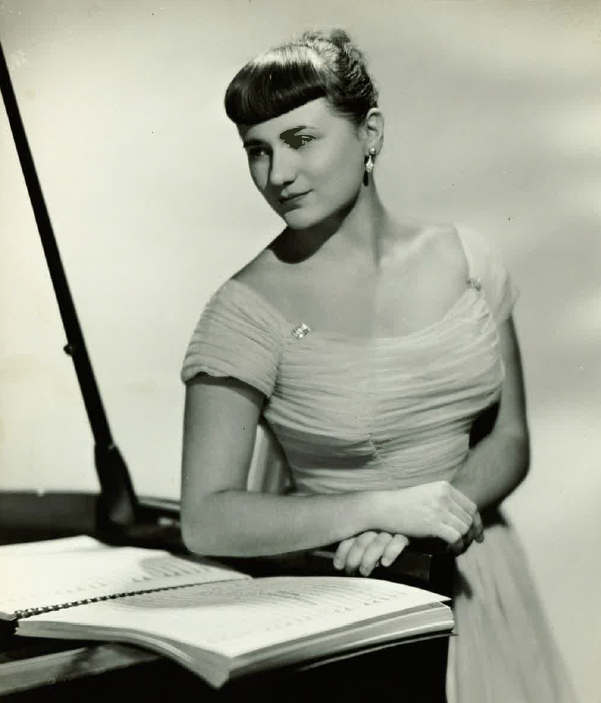 The competition is named for pianist and SUNY Distinguished Professor Claudette Sorel and is supported by a foundation she founded. The Sorel Organization intends to create opportunities for women in composition, conducting, piano, voice and film scoring and to keep musical excellence alive while expanding the boundaries for women in music.
---
SPONSORS

Congratulations to our 2021 Winners:
First Prize Co-Winners:
Hyeonuk Park(16) of Lexington, MA
Jonathan Zheng (15) of Northeast Bellevue, WA
Special Prize Winners:
Emma Tio (16) of San Gabriel, CA received the Special Bach Award
Celine Chen (17) of Valencia, CA received the Special Debussy Award
Ian Cannon (16) received the Audience Choice Award
2021 Finalists (in alphabetical order):
Ian Cannon (16) from Texas
Celine Chen (17) from California
Julian Frank (17) from Washington
Matan Gur Nelson (15) from Israel
Anthony Lee (16) from Massachusetts
Sammi Li (17) from New Jersey
Angelina Ning (17) from Florida
Hyeonuk Park (16) from Massachusetts
Emma Tio (16) from California
Kevin Wang (16) from Canada
Yuka Yang (16) from Tennessee
Maria Adele Zampa (17) from Switzerland
Jonathan Zheng (15) from Washington
2021 Fellows (in alphabetical order):
Sergio Acelas, 17 (FL)
Brody Ajemian, 16 (NY)
Andrew Allen, 15 (OK)
Elías Betancourt Taborda, 17 (Colombia)
Samuel Burnitz, 16 (FL)
Jose Manuel Carrera Grammatikos, 18 (México)
Matthew Chen, 16 (NY)
Mehana Ellis, 16 (CA)
Ellen Foreman, 16 (TX)
Isaac Goldstein, 14 (WA)
Nelyam Gutierrez Mustelier, 17 (Spain)
Tristen Guzman, 16 (IL)
Gabrielle Hrung, 17 (NJ)
Anna Hsu, 16 (NY)
Mia Ionov, 15 (CA)
Anirudh Iyer, 16 (CA)
Sean Li, 17 (NY)
Rohan Malik, 16 (NY)
Spencer McKee, 16 (FL)
Inez Meraz-Lerma, 17 (CA)
Liam Noronha, 16 (Canada)
Giselle Pedraza, 17 (TX)
Alexander Pepi, 15 (TX)
Makayla Press, 17 (NY)
Owen Reyda, 15 (NY)
Zev Roytburd-Sharlot, 15 (NJ)
Johnathan Sun, 17 (MD)
Alvin Wang, 15 (CA)
Salem Wang, 16 (MI)
Kate Wexell, 17 (IL)
Ziyue Zeng, 15 (CA)
Mofei Zhu, 14 (NY)
Claudette Sorel Piano Competition & Fellows Program