The Claudette Sorel Piano Competition & Piano Fellows Program
2021 Application is now closed.
The Claudette Sorel Piano Competition and Piano Fellows Program are open to talented young pianists, ages 15-18, of all nationalities. We are looking for talented young pianists with great artistic vision who are passionate about piano performance and repertoire ... is that you? This is your time to shine.
**COVID-19 Update: We look forward to returning to a LIVE, In-Person Final Round this year! Please note: We are required to follow any/all guidelines and restrictions pertaining to COVID-19, including (but not limited to): masks, social distancing, and vaccination status. We will update this page regularly and communicate with all applicants as more information becomes available.
The application is now closed.

Top Ten Finalists will be notified by October 1

LIVE Final Round 

will be held on Sunday, November 7, 2021
FIRST PRIZE:
$2,500 cash award
copy of judges' written notes
An additional $1,250 cash awards will be awarded at the discretion of judges. (Past awards have included: Artistic Excellence Award, Best Chopin Award, Best Programming Award, Best Contemporary Piece Performance Award).

Now in its 6th year, we have intentionally designed our competition to be a uniquely positive and welcoming experience, creating a space for participants to present their creative passion and vision in a nurturing environment.
COMPETITION JUDGES: Dr. Eliran Avni, Fr. Sean Duggan, Dr. Anne Kissel, Dr. Nick Weiser.  Additional judges may be added.
Application Deadline: September 15, 2021
---
PIANO FELLOWS PROGRAM
Saturday, November 6 - Sunday, November 7, 2021
State University of New York at Fredonia
*NOTE: Fellows Program applicants may apply for either the In-Person Fellows Program, or the Online Fellows Program.
Just Announced: The James Horbett Memorial Piano Fellows Scholarship will be awarded to a Piano Fellow participant. This $2,500 scholarship is to enroll at SUNY Fredonia as a piano student. 

We are excited to offer the Piano Fellows program in both an In-Person and Online format this year.  Held in conjunction with the piano competition, the Fellows Program is designed for talented pianists (ages 15-18) who are serious about their craft and are looking for an intensive musical experience, but who may not yet be ready for the competition circuit. It is also an excellent way to prepare for a college/conservatory audition. There is NO FEE to participate as a Piano Fellow.
In-Person Fellows will have an individual lesson with our faculty/competition judges, attend afternoon workshops and master classes, perform in a Fellows Recital, have a behind-the-scenes experience at the Sorel Competition, and be invited to be part of the ongoing online Fellows community. 
Online Fellows will attend afternoon workshops and master classes via Zoom, watch the Fellows Recital livestream, watch the Sorel Competition livestream, and be invited to be part of the ongoing online Fellows community.
---
APPLICATION REQUIREMENTS for Competition AND Fellows Program:
high-quality video/s of a performance/s of a piece/s you are passionate about totaling no less than 7 minutes and no longer 10 minutes. [You can submit, for ex., minutes 2:00-7:00 of piece A and minutes 4:00-9:00 of piece B. The total will still be ten minutes.] Competitors are strongly encouraged to submit two contrasting works (style, tempi, mood, etc).
video and audio quality matters; please submit the highest quality video possible.
all music must be performed from memory. 
a short biography (100 word limit), which may be used in competition promotions and/or printed program.
answers to three short questions: Why are you passionate about the piano? Why did you choose this recital program? What composers do you like to perform?
Headshot (does not need to be professional, but WILL be used in publicity materials)
Photo/video release form
one-time $30 application fee
*NOTE:
Students currently enrolled at the State University of New York at Fredonia are ineligible to apply.
Previous Claudette Sorel Piano Competition First Prize Winners are ineligible to apply.
Individuals with professional management and active performance careers are ineligible to apply.
Anyone enrolled/attending conservatory/college/university is ineligible to apply (even if they meet age criteria).
Application Deadline: September 15, 2021
(note: applications are processed through GetAcceptd.com)
Questions? Email Dr. Eliran Avni, competition director (eliran.avni@fredonia.edu) 
---
ABOUT THE CLAUDETTE SOREL PIANO COMPETITION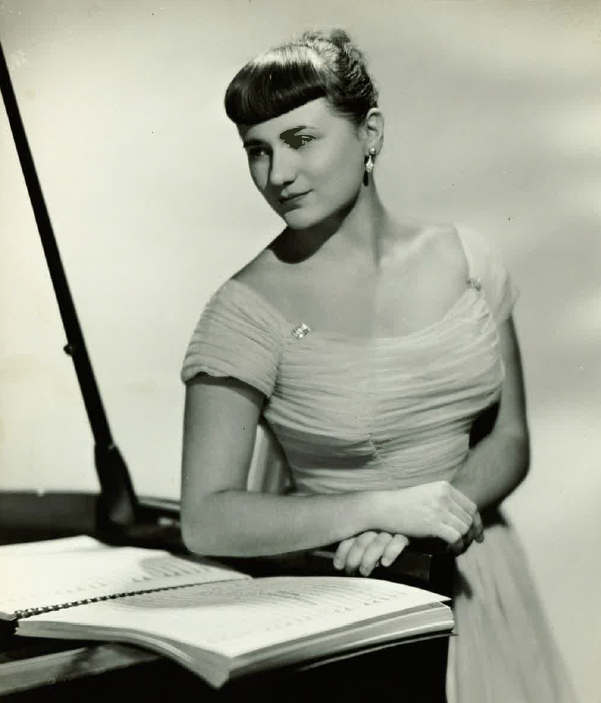 The competition is named for pianist and SUNY Distinguished Professor Claudette Sorel and is supported by a foundation she founded. The Sorel Organization intends to create opportunities for women in composition, conducting, piano, voice and film scoring and to keep musical excellence alive while expanding the boundaries for women in music.
---
SPONSORS