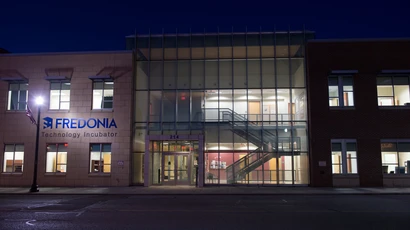 Frequently-Asked Questions (FAQs) about the Center for Innovation & Economic Development
What is an incubator?
A business incubator is a company that helps new and startup companies and/or entrepreneurs to develop their business by providing services such as management training or office space.
---
What is the Center for Innovation & Economic Development (CIED)?
Located in Dunkirk, NY, the Center for Innovation & Economic Development (CIED) is an economic development project of the State University of New York at Fredonia designed to support job creation in Western New York. Housed in a 22,000 square foot LEED-certified building, the incubator provides a wide range of support services to business startups. FTI is home to the Chautauqua County's Industrial Development Agency (CCIDA) and Planning and Economic Development Department, serving as an economic development hub for Northern Chautauqua County. For more information, please visit the 'About Us' page!
---
What type of company should consider an incubator?
As a mixed-use incubator, we encourage all interested entrepreneurs to consider FTI. With a focus on arts and technology-based companies around the STEAM (Science, Technology, Engineering, Arts, and Math) academic disciplines, FTI provides a unique set of services and a diverse mix of business clients.
---
Why should I become an incubator client?
Research demonstrates that business startups in an incubator program have a higher chance of success. At FTI, we offer a range of services including a business mentoring program, consultations for accounting, legal, and business formation and discounted professional services. As a university sponsored incubator, we also provide unique access to university programs, students, and faculty.
---
How do I become a client/tenant of the Incubator?
If you are interested in becoming a client of the Center for Innovation & Economic Development (CIED) you can apply online or contact FTI staff by emailing incubator@fredonia.edu, or by calling 716-680-6009. After an initial contact, a formal application review process will begin.
---
How many businesses are at CIED?
11 businesses operate out of the Incubator as of March 1st, 2023.
---
Who can use the facility?
Anyone can use the facility. Community members can rent out any of our conference rooms, big or small, for their events for a small fee. Email FTI staff incubator@fredonia.edu or call 716-680-6009 to rent a room today!
---
Why is Dunkirk an attractive location for a business incubator?
FTI is located on the shore of Lake Erie in close proximity to the major industrial areas and markets of the Northeast United States as well as Canada. The Incubator is close to the State University of New York at Fredonia's main campus. The city has modern infrastructure and amenities including a boardwalk, lakefront trail, parks, and beaches. Please visit the 'Around the Area' page for more information!
---
What facilities and services do clients share?
FTI Clients share a large smart conference room, meeting rooms, video conferencing room, limited office equipment and a full-service kitchen. Clients have shared access to workshops, networking events, and other presentations. See the 'Our Facility' tab for more information!
---
Who do you serve?
FTI serves all of Chautauqua County, but more specifically the Dunkirk/Fredonia area. We provide services for our in-house clients, such as mentoring and business services. For our community members, we host many free events throughout the year.
---
How do I apply to be an intern?
Click the 'Apply for Student Internship at the FTI' under 'Student Opportunities' or email incubator@fredonia.edu with your resume and cover letter.