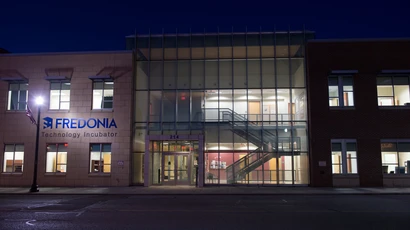 Our Area @ Technology Incubator
Located in scenic western New York, on the shores of Lake Erie, the Fredonia Technology Incubator is located in the City of Dunkirk's Downtown Waterfront Business District. With a low cost of living, Dunkirk is strategically located along Lake Erie, 50 miles southwest of Buffalo, NY and within a three hour drive of Toronto, Canada via Interstate 90. The city is easily accessible by land, water and air and the region offers your business timely connections to all major metropolitan areas in the eastern United States and Canada.
Dunkirk is a marine community providing access to Lake Erie for boaters, bikers, birders, romantics, historians and fishermen. Located in the northern part of Chautauqua County, the city is surrounded by agricultural farms and vineyards and is one of the largest grape growing region outside of California. Miles of Great Lakes waterfront are complimented by Chautauqua Lake, western New York's largest inland lake as well as the world renowned Chautauqua Institution and the 1891 Fredonia Opera House.