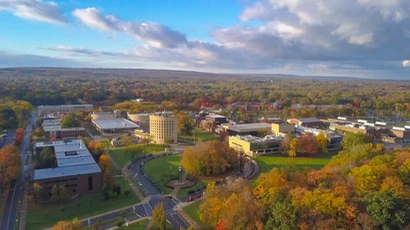 Facilities Services Employee Recognition
Facilities Services is fortunate to have many wonderful, dedicated employees. It is with great pleasure that we recognize and thank our employees for the work they perform each day to help the department provide high-quality service to the campus. Please join us in thanking all of the staff for their commitment and service to the University. Highlighted below are staff recognized for their hard work in recent years.
Years of Service Awards
These awards recognize employees who have completed 5, 10, 15, 20, 25, 30, and 35years of continuous service to the University. Recipients are notified in the spring that they will receive recognition and are announced at the annual President's Award for Excellence Luncheon.
---
Facilities Services - Custodial Services Awards
Custodial Incentive Awards-2018
Proper Lamp Storage
Gregory Hall - Hector Figueroa; Linda Saletta; Kathy Stempkowski
No Chocked Doors
Proper Chemical Labeling and Storage
Science Center - Chris Brunecz; Jeff Deering; Wayne Seabolt; Jean Worosz

Custodial Incentive Awards-2017
Proper Lamp Storage
Maytum Hall - Iris Rosa; Jack Anderson
No Chocked Doors
Hemingway Hall - MaryAnn Wykstra; Linda Saletta; Sara Jagoda
Proper Chemical Labeling and Storage
McGinnies Hall - Charles Miller; Sue Michalak; Tracy Lorenzo
Chancellor's Award for Excellence in Classified Service
Tony Pagano - 2023
Darlene Burchett - 2017 Retired
Brent Kawski - 2015 Retired
Steve Siragusa - 2014 Retired
Timothy McGraw - 2009 Retired
---
Chancellor's Award for Excellence in Professional Service
Michael Jackino - 2014 Retired
Kevin Cloos - 2003
---
President's Award for Excellence
Brent Kawski - 2014 Retired
Darlene Burchett - 2013 Retired
Timothy McGraw - 2008 Retired
Michael Wygant - 2007 Retired
Jacqueline Grant - 2005 Retired
Marie Zambotti - 2004 Retired
Gene Bouquin - 2000 Retired
Steve Peterson - 1999 Retired
---
Outstanding Administrative Services Awards
2023
Jim O'Connor - Trades
David Racker - Custodial
2022
Gary Hardy - Trades
Erin Ransom - Custodial
2021
Steve Gromala - Trades
Hector Figueroa - Retired Custodial
2020
Randy Grant - Trades
Elizabeth Goblirsch - Custodial
2019
Natalio Matias - Retired Trades
Sara Jagoda - Retired Custodial

2018
Rodney Hayes - Trades
Linda Nixon - Retired Custodial
2017
Nelson White - Trades
Nick Valentine - Custodial
2016
Shannon Mckoon - Secretarial/Clerical
Don Dillenburg - Retired Trades
Robert Miller - Custodial
2015
John Schmidt - Trades
Iris Rosa - Retired Custodial
2014
Herb Farner - Trades
Sue Valentine - Custodial
2013
James Kuras - Trades
Jorge Rosa - Retired Custodial
2012
Larry Pelz - Retired Trades
Gladys Lockett - Retired Custodial
2011
Paul Siebert - Retired Trades
Susan Smith - Retired Custodial
2010
Joe Fabritius - Retired Trades
Randy Goodemote - Retired Custodial
2009
Steve Siragusa - Retired Trades
Lee Szalkowski - Custodial
2008
Joel Polito - Retired Trades
Darlene Miller - Custodial
2007
Mike Jackino - Retired Professional
Brent Kawski - Retired Trades
Mary Leckliter - Retired Custodial
2006
Timothy McGraw - Retired Trades
Daniel Pleszewski - Retired Custodial
2005
Daniel Chapman - Retired Trades
Vincenzo Chillemi - Retired Custodial
2004
Paul Agle - Retired Trades
Mary Abers - Retired Custodial
2003
Darlene Burchett - Retired Trades
Dave Renckens - Retired Custodial