Schlicker Pipe Organ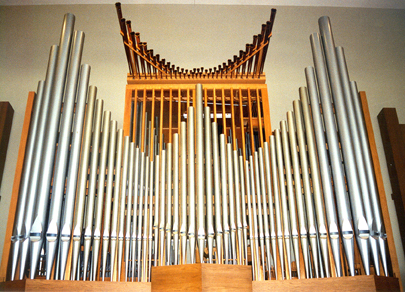 Originally located at the old Fredonia Normal School in the village of Fredonia, the Schlicker Organ has been the pride of Fredonia and Rockefeller Arts Center since 1969.
The instrument was designed and temporarily installed in January 1961 in the "Old Main" auditorium on Temple Street by the Schlicker Organ Company, Inc. of Buffalo, NY.
It was relocated in its present position during the spring of 1969. It is the largest college pipe organ in Western New York, with 2,459 pipes. It tips the scales at over eight tons.
Following its move to King Concert Hall, the organ was dedicated with a series of concerts during the 1969-70 academic year.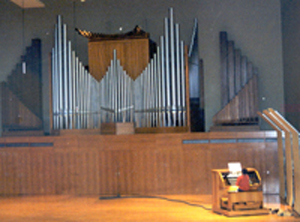 Performances included:
• John Hoffman, Oct. 22, 1969
• David Craighead, Jan. 29, 1970
• Marilyn Mason (left), Feb. 20, 1970
• John Hoffmann and assisting artists, April 27, 1970.
Marilyn Mason was the third performer in the Dedication Series. Her program consisted of Edmund Haines' "Suite for Organ," "Magnificat du 8.em ton en sol Majeur" by LeClerc, J.S. Bach's "Toccata, Adagio and Fugue in C," "Variations on a Recitative, Opus 40," by Arnold Schoenberg and pieces by Marcel Dupre and Anthon van der Horst.
The instrument has undergone two major renovations in the last 15 years. In the summer of 2012, major repairs were done, thanks to a generous gift made by friends of Fredonia. The prior repair work was done in the 2000, at a cost of $10,000 paid by the campus. The Trompeta Real (Regal Trumpet, also called "Spanish Trumpets," at the very top of the instrument) was the personal gift of the builder, Herman L. Schlicker, and was given in memory of Dr. Herbert Douglas, the first Dean of Men at the college.
SPECIFICATIONS

SPECIFICATIONS

Great Organ

16' Quintadena
8' Principal
8' Spitzfloete
4' Octave
4' Hohlfloete
2' Octave - V Mixture -
8' Trompeta Real*
16' Swell to Great
8' Swell to Great
4' Swell to Great
16' Positive to Great
8' Positive to Great

Swell Organ (Enclosed)

8' Rohrfloete
8' Viola
8' Celeste T.C.
4' Gemshorn
2 2/3' Nazard
2' Blockfloete
1 3/5 Tierce T.C.

IV Mixture
16' Bassoon
8' Trumpet - Tremolo -
16' Swell to Swell -
4' Swell to Swell

Pedal Organ

32' Untersatz (12 pipes)*
16' Principal - 16' Subbass
8' Octave (12 pipes)
8' Gedeckt (12 pipes)
4' Choral Bass-
2' Nachthorn*

III Mixture*
32' Kontra-Fagott (12 pipes)*
16' Posaune
16' Bassoon (SW)
8' Trumpet (12 pipes)
4' Schalmei*
8' Great to Pedal
8' Swell to Pedal
8' Positiv to Pedal

Positiv Organ

8' Gedeckt*
4' Rohrfloete*
2' Principal *
1 1/3' Larigot
1' Siffloete*

IV Scharf*
8' Krummhorn*
Tremolo*
8' Swell to Positive*
4' Swell to Positive*
*The asterisks identify the tonal resources added during the 1969 re-installation and move from "old main" to King Concert Hall.
The Schlicker organ receives regular tunings and maintenance.
King Concert Hall can be rented for recitals and exhibitions. Dates are limited.
Please call Rockefeller Arts Center Operations Manager and Technical Director Eric Hadley 716-673-3218 for more information.