Oboe Day
REGISTRATION IS OPEN!
VIRTUAL Oboe Day at Fredonia
November 1, 2020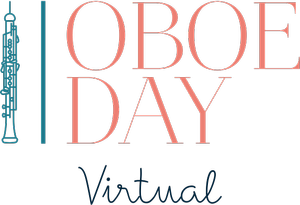 Registration fee: $10
Deadline to register: October 30
(please note: registration fee is non-refundable)
CTLE credit is available!
Welcome to the Fredonia Oboe Studio's Virtual Oboe Day with special guest Broadway oboist Keve Wilson! 
This day will feature the fabulous Fredonia Oboe Studio in recital and giving classes on the basics of oboe playing and reeds, how to prepare for All-State, and repertoire for oboe by diverse composers.  Oboe studio alumni will come back to give great advice on careers in music, and Oboe Day participants can apply to perform in a solo masterclass with Fredonia oboe professor, Dr. Sarah Hamilton.  Guest oboist Keve Wilson will give two exciting and engaging presentations on how to succeed freelancing as a classical musician. 
Jim Mason of Jimboe Products (https://www.jimboe.ca/) will have a chat room available all day, and videos of himself playing the instruments he has for sale.
[Watch Jim Mason introduce the instruments and products he has available during Fredonia Oboe Day 2020!]
---
Schedule (subject to change):
MORNING SESSION (classes are 50 minutes each)
9:30AM: Reed Hacks/Warm-up Exercises -  for everyone
(Dr. Hamilton, SUNY Fredonia oboe professor)
Bring your reeds and your instrument and be ready to play for this session for everyone on how to figure out what's up with your reed, and how to warm up your embouchure and fingers
10:30AM: Preparing for Solo Festivals - for everyone
(Margaret Maxwell and Allison Dana, SUNY Fredonia oboe students)
Learn valuable preparation tips that can be applied to solo festivals, auditions, or any upcoming performances.
11:30AM: The Band Room to Broadway - for grades 4-10
(Keve Wilson, Broadway oboist)  The Band Room to Broadway
Oboist Keve Wilson re-defines the role of a classical musician, combining memories of her high school practice room with stories of life in a Broadway orchestra pit—and the struggles and successes in between.
< 12:30-1:30pm Lunch Break >
AFTERNOON SESSION (classes are 50 minutes each)
1:30PM:

So you want to be a Freelancer….Creating a Life in Music - for grade 11 through University


(Keve Wilson)  So you want to be a freelancer


A workshop empowering musicians on networking, communication, and entrepreneurial skills. Along with personal tales from Los Angeles recording studios and Broadway pits, Keve inspires students to discover how they can be the best advocates for their careers post-college. 
2:30-3:00PM: The Fredonia oboe studio In Concert.  Enjoy a livestream concert featuring works by diverse composers
3:00PM: Careers in Music: Fredonia oboe alumni talk about their career paths - for grade 11 through university
Imoni Cole-Palmer: audio engineer and lighting designer, concert curator, and production manager  
Dr. Ann Fronckowiak: Associate Professor of Oboe and Music Theory Texas A&M University-Kingsville
Dan Hayes:  Ward Melville High School Band director, Three Village Schools
Mateo Mendez: Master's in Performance student at Peabody Conservatory
TJ Mudd:  Instrumental Music Teacher, Director of Orchestras in the Buffalo Public Schools Frederick Law Olmsted School #64 and #156   
Stephanie Patterson: Brand Specialist - Fox Products / Owner Operator - Reeds by Stephanie
Matthew Pellegrino: Doctoral Candidate in Composition at Peabody Conservatory, Instrumental lesson teacher at Park School of Baltimore 
Chey Rain Eagle: Music Therapist-Board Certified at Spectrum Creative Arts in Rochester
Dr. Amy Selkirk:  Freelance musician
4:00PM: Works by Diverse Composers for Oboe - for grade 11 through university
(Allison Dana, Margaret Maxwell, and guest composer and bassoonist Jamie Sampson)
Explore an array of oboe works by diverse composers, including Ruth Gipps, Alyssa Morris, and Makoto Shinohara, as well as delve into the importance of programming works by underrepresented composers.
5:00PM: Repertoire Masterclass - for everyone
(Dr. Hamilton and the Fredonia Oboe Studio)
To be considered to perform, please submit a recording/video 3-5 minutes in length of the music you would like to play no later than a week before the event (October 26th) to Dr. Hamilton (hamilton@fredonia.edu)
**NOTE: Zoom links to all sessions, concert, and Jim Mason's chat room will be sent a day or two before the event.
---
QUESTIONS? Email Dr. Hamilton: Sarah.Hamilton@fredonia.edu
Fredonia Oboe Studio Gallery