FREDscholar
Fredonia's Scholarship Matching Program
Starting mid-December each year, Fredonia students may use Fredonia's FREDscholar system to match to donor funded scholarships available through Fredonia College Foundation. Students may also use the system to match to vetted external scholarships managed through Scholarship Universe.
Current and newly-admitted Fredonia students are eligible to apply/be matched for scholarships. Students must have been admitted to Fredonia and have an active E-Services account to be able to log into the matching system and apply.
Please review the submission deadline under each scholarship. The majority of scholarships will open for matching each year mid-December and have a submission deadline of early March. Check your account often as new opportunities may fall outside the typical deadline dates above.
Merit based, financial need based, major based and activity based scholarships are available.
24/7 Access, FREDscholar (ScholarshipUniverse) application process can be completed anywhere, anytime. Match with scholarships in minutes. Your dashboard is tailored to you. Upload and store documents only once to use in applying for scholarships, such as your resume and letters of recommendations.
Questions? Email scholarships@fredonia.edu
Search and apply for scholarships today!
Search Opportunities in FREDScholar
FREDScholar login to begin matching
Additional information
Scholarship offerings and criteria are reviewed on an annual basis and are subject to change.
Scholarship funding is limited and meeting qualifications is not a guarantee of an award.
Fredonia follows NCAA policies; therefore, no consideration of athletic ability or athletic accomplishments will be considered in determining student scholarship eligibility.
Some scholarships require application with essay and recommendations. The system will walk you through these steps if you match to that particular scholarship.
The system is set-up so the first several blocks of questions are directly associated with matching to Fredonia's internal scholarships. The more questions you answer the more opportunities you will be matched to.
The majority of Fredonia scholarships are direct award. This means you do not need to apply, you just need to answer the block of questions to be sure you are included in the direct award matching process.
Both current continuing and newly-admitted, deposited Fredonia students are eligible to use FREDscholar matching system to apply for scholarships.
If you have applied for admission, but not yet received an admission decision, you must wait until you are fully admitted; however, you can still search FREDscholar for opportunities you may be eligible for.
You do not need to set up a separate user account for FREDScholar. Current Fredonia students may log into FREDScholar using their E-Services credentials. Chrome browser works best to access FREDScholar. You may use your mobile phone, tablet, laptop, or desktop computer to search and match to scholarships.
If you are newly-admitted or a continuing Fredonia student and are not sure what your E-Services ID is you may find instructions here: E-Services Assistance
* Note newly-admitted students will need to have their deposit paid before they can begin to match to opportunities through the system.
Step 1: Login to your account using your Fredonia E-Services credentials. If you are already logged into your Fredonia E-Services account you will automatically be logged into the Scholarship Management program and will not be shown a login screen. Current students and newly-admitted, with deposit paid, can login and begin submissions when scholarships are open.  Prospective students may search scholarship opportunities but cannot submit until admitted and deposit is paid.  
Step 2: Once logged in, you will see your student dashboard where you will view  scholarships you may be eligible for.  Note: If this is your first time accessing the system, you will have the option to provide your phone number to receive SMS text message updates regarding upcoming deadlines and other important information from FREDScholar. To use the system for the first time, click "I'm Ready" to begin answering questions. If you have used FREDscholar before you will be directed to your dashboard.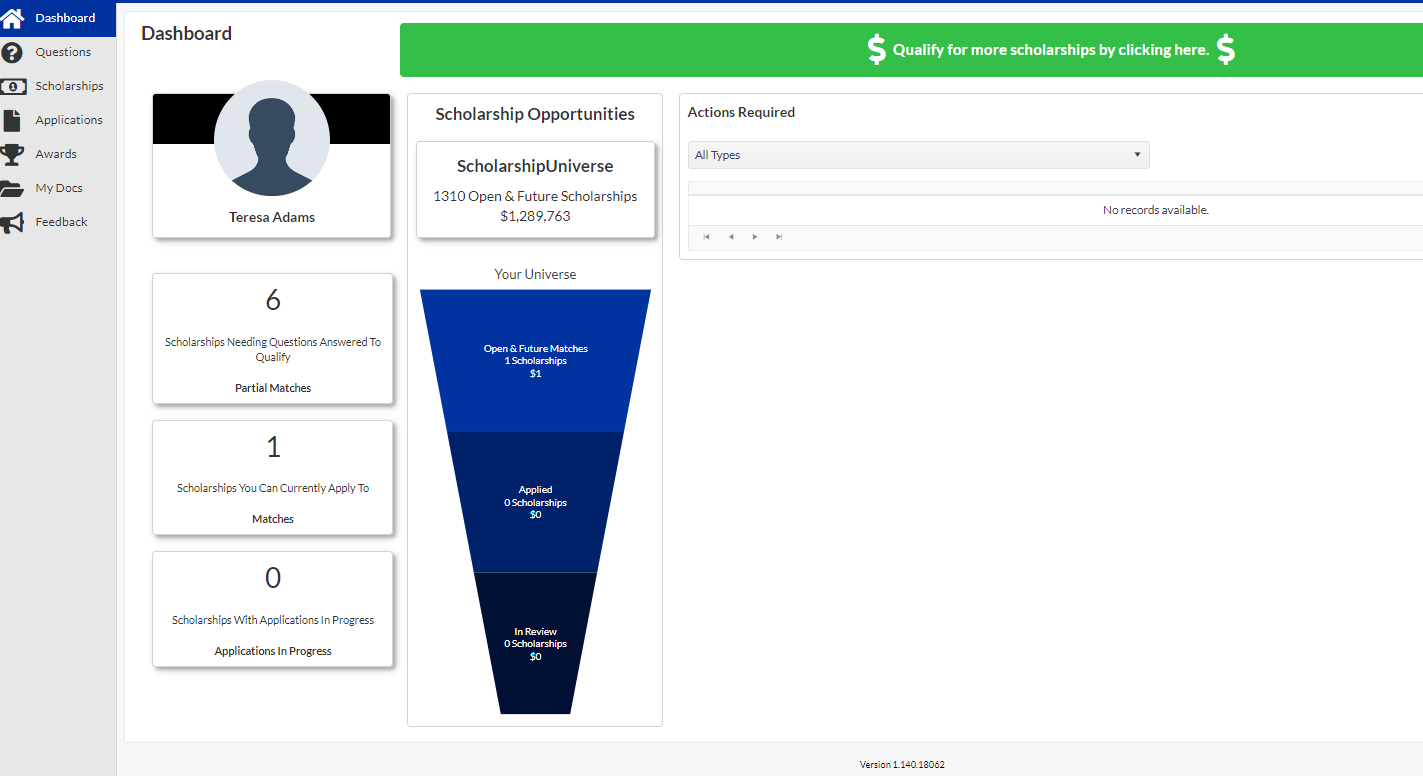 FREDScholar system (ScholarshipUniverse) already knows some things about you, like your major, GPA, and financial information you used when completing the Free Application for Federal Student Aid (FAFSA). Your response to questions in the system will determine what scholarships you qualify for. The more questions you answer, the better chance you have at finding scholarships you qualify for.
The left hand side will allow you to navigate through the different areas within the system.
Clicking questions on the left hand side navigation menu will show details on questions you match to and will allow you to answer more questions.  As you answer more questions the system will show more scholarships you may be eligible for.

Clicking Scholarships on the left hand side navigation menu will show details and allow you to apply for any open scholarships you are eligible for.  This will include outside sourced scholarships and they will be labeled external. 
The scholarship screen has several tabs that you may view - see the circled tabs and description of each.

Matches - Shows a list of scholarships that you have matched the requirements.
Pinned - Shows a list of scholarships that you have pinned to your account.
Partial Matches - Shows list of scholarships that you have met at least one of the matching requirements.
Application Submitted - Shows a list of scholarships you have applied for.
Awarded - Shows a list of scholarships you have been awarded.
Non-Matches - Shows a list of scholarships that you do not match the requirements.
Not Interested - Shows a list of scholarships you have marked as not interested in.
Step 3: Apply for Scholarships
To apply for a scholarship, select the apply button on the lower right of that scholarships listing.  This will open the application for that scholarship.  Many scholarships are direct award and you will just be asked to answer matching questions to be matched to the available direct award scholarships and they will not show an apply button.  
Once you start the apply process for scholarship, the apply button will change to continue in case you exit the application.
Once you start or complete an application, the application will appear in the application screen.  You can find that on the left navigation menu. 
You cannot edit once you submit so be sure all information is as you wish it to be reviewed.  Clicking continue will save until you are fully ready to submit for review.
Application tab on the left hand side navigation menu will:
Show you scholarships you have started, but have not yet completed. They will be listed in the progress section.
If you have completed scholarships, they will be listed in the submitted section.
Uploading and Viewing Student Documents for your Applications
Click on My Docs on the left hand side navigation menu.  You will have two (2) tabs showing document status.
Active: Documents that the student has uploaded or created in their account and are currently available to use while answering questions or submitting applications.
Inactive: Documents that the student has removed from their account. Documents that have been removed by a student are still stored as they could be in use by applications. Documents that are inactive are not currently available to use while answering questions or submitting applications.
Document Details:
Name: The given display name of the student's document.
Document Type: Type of document the student uploaded or created within FREDscholar.
Last Modified: The date the document was last modified/uploaded/created.
Adding a Document:
Click the add button at the top right of the add+ document screen.

Enter a name for the new document in the text box. This name will be the display name for the file in FREDscholar - Scholarship Universe.
Select the document type then upload or compose your document.  
Request is used to request a recommendation letter. This option allows FREDScholar/Scholarship Universe to send your requestee a notification and allows them to accept or deny the request.   Once a letter of recommendation is requested, it will show on the my document page as pending.  Once the requestee completes the recommendation the document will no longer show as pending in your list of documents.  If the requestee declines, the document will be removed from your list of documents.
No. Although the Majority of Scholarships through FREDscholar are donor funded scholarships held by Fredonia College Foundation, there are other campus scholarship opportunities not through FREDscholar. Students are encouraged to contact their corresponding academic departments for any additional assistance. Questions on scholarships through FREDscholar should be emailed to scholarships@fredonia.edu.
Fredonia begins accepting submission mid-December each year for the next academic year cycle. We recommend that you take note of individual scholarship deadlines that you have been matched to via your FREDscholar dashboard. Most scholarships have a deadline of early March, but specific deadlines do vary. We encourage you to check back often for any new opportunities.
No. Once an application is submitted, you cannot go back and edit any responses. We suggest you do not press submit until you are confident that your answers are the way you wish for them to be reviewed. You can click continue in order to save your work without submitting the application.
You will find your applications within your FREDscholar dashboard.
Ready to start: Applications in this tab are all Fredonia applications that you qualify to fill out.
In Progress: Applications in this tab will be ones that you have started, but have not finished. Pressing continue will save your answers.
Submitted: Applications in this tab are ones that you have completed and submitted in order to begin the review process.
*Note not all scholarships will have an application. Many scholarship you will be direct matched based on the questions you answer. The more questions you answer the more possible opportunities to be matched to.
Fredonia's Scholarship Committees will review applications and matching criteria and choose scholarship recipients starting at the end of February each year for the upcoming academic year. If you are selected to receive a scholarship, you will receive an email through FREDscholar notifying you and instructing you to log into Fredscholar for complete steps to finish the awarding cycle of the scholarship. Many scholarships will require you to complete a thank you letter to the benefactor of the scholarship. The system will walk you through each process you must complete before the scholarship is posted to your account.
Congratulations! If you have been selected as the recipient of Fredonia Scholarship through FREDscholar, the scholarship should be added to your account within 72 hours, from receipt of your email and you completing any additional task required to receive the scholarship.
Many scholarship awards require that you complete a thank you note for the donor of the scholarship you received. Tips for Thank You Note
If your scholarship is not showing on your account within a week of completing all the requirements, please send an email to scholarships@fredonia.edu for assistance. Please include your full name, student ID number (F#) and the name of the scholarship missing rom your award in your email.
FREDscholar includes a search for scholarships that are fully vetted and managed by organizations that are not affiliated with Fredonia, but directly through Scholarship Universe. When you log into FREDscholar, you will see a personalized list of external scholarships for which you meet the basic eligibility criteria. You are responsible for reviewing and verifying the accuracy of all the information that is provided to you before deciding whether to apply for any of the external scholarship opportunities. Many will have links to their website for you to use in order to research and gather more information to help you make the an informed decision.
You may also review scholarship at is the largest and most complete scholarship search on the Internet, Fastweb. It provides access to a searchable database of over 400,000 private sector scholarships, fellowships, grants, and student loans. Used by colleges across the United States, fastWEB is now available to you FREE through the World Wide Web, courtesy of Fredonia and fastWEB.com, L.L.C.
We recommend you contact the specific academic department listed with the scholarship to discuss any other questions you may have about the scholarship. If the academic department was not able to assist you, you may contact Fredonia's Scholarship Committee at scholarships@fredonia.edu for further assistance.
Feedback - The feedback option within ScholarshipUniverse does NOT provide feedback to Fredonia's Scholarship Committee. If you have suggestions or questions, please email scholarships@fredonia.edu.
Some scholarships require a resume, essay and other activities. Follow tips below when submitting these documents into FREDscholar. When applying for scholarships, it is important to use this time to brag about yourself and all your accomplishments.
Resumes should include:
Education and academic achievements
Training and employment
Honors, awards, memberships
Leadership abilities and roles, life experiences and community service
Career goal statement
Essays should have:
Remember an essay is your chance to describe yourself and connect with the selection committee. It should have an intro, body and conclusion. Follow the instructions as some essays have a specific topic. In general, it is important to show your passion and personality and cover:
What makes you who you are?
What is important to you?
What are your career goals?- what are they, why did you select this path, how do you plan to accomplish your goals?
References and Recommendations:
Follow the specific instructions for that particular scholarship. When requesting a reference or recommendation letter, be sure to let the selected person know what it is for and if there are any special instructions included for them. You can make the request directly within FREDscholar.
Thank You Note:
You received a scholarship and now a thank you note is required.
Tips to express your gratitude: How to Write a Scholarship Thank You Note