Fredonia American Democracy Project (ADP)

Tuesday, February 18, 2020: Jason Eastman, a partnership specialist with the U.S. Census Bureau, will explain the significance of the census.
---
Fall 2019 Monthly Table Topics
November 11-12, 2019: "NYS Excelsior Scholarship"
October 23-24, 2019: "Criminal Justice Reform"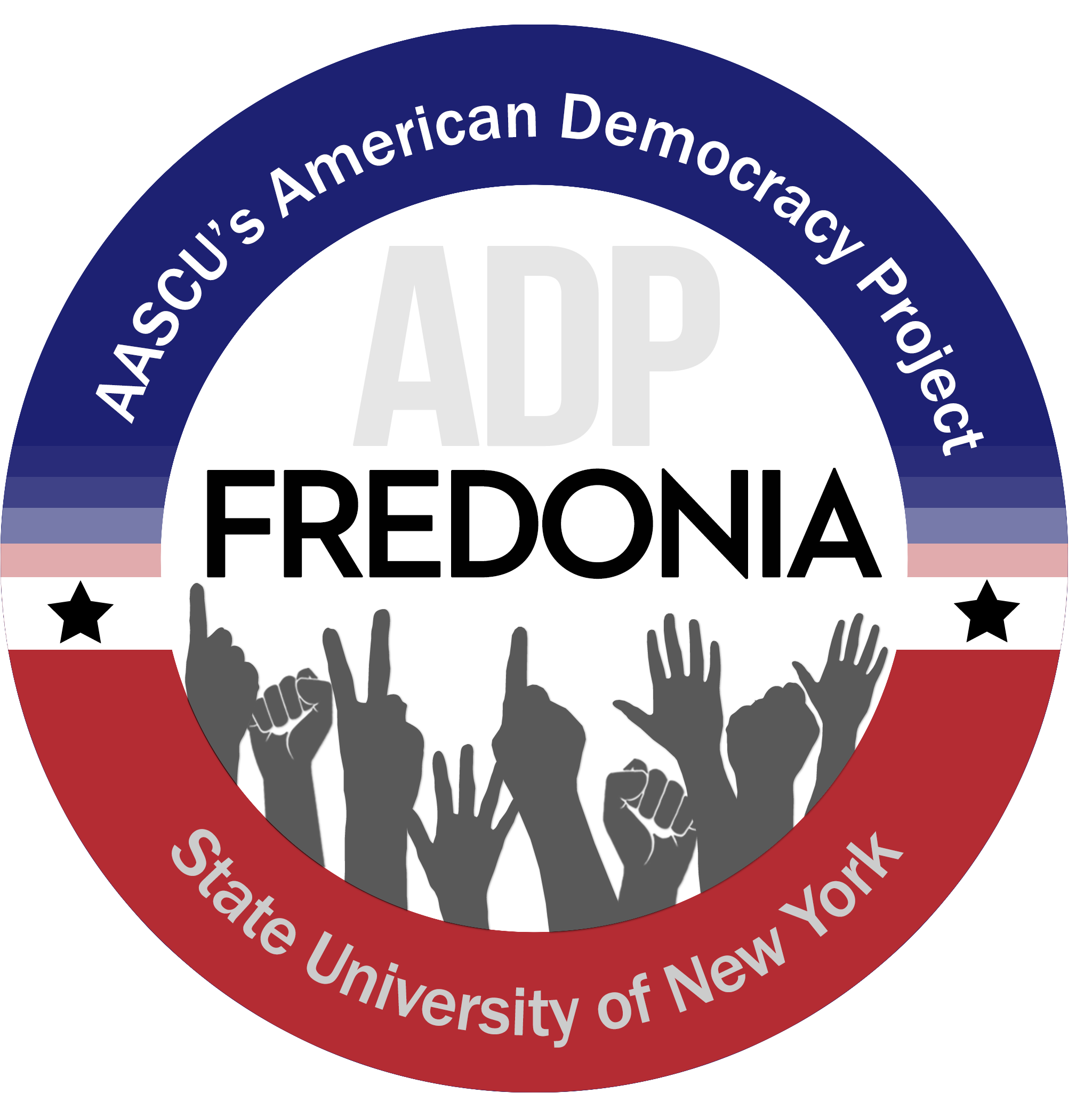 Fredonia's American Democracy Project co-sponsors these events with the student group, Fredonia Democracy Initiative (FDI). Students, faculty, and staff are invited to drop by their table in McEwen Hall to write a postcard to their local legislators. This is not only an opportunity for students to voice their opinions, but for them to sign up and become members of the FDI which works closely with Fredonia's American Democracy Project in a variety of ways to make students aware of the importance of the issues in government and becoming more civic-minded individuals. Close to 50 postcards were sent.
---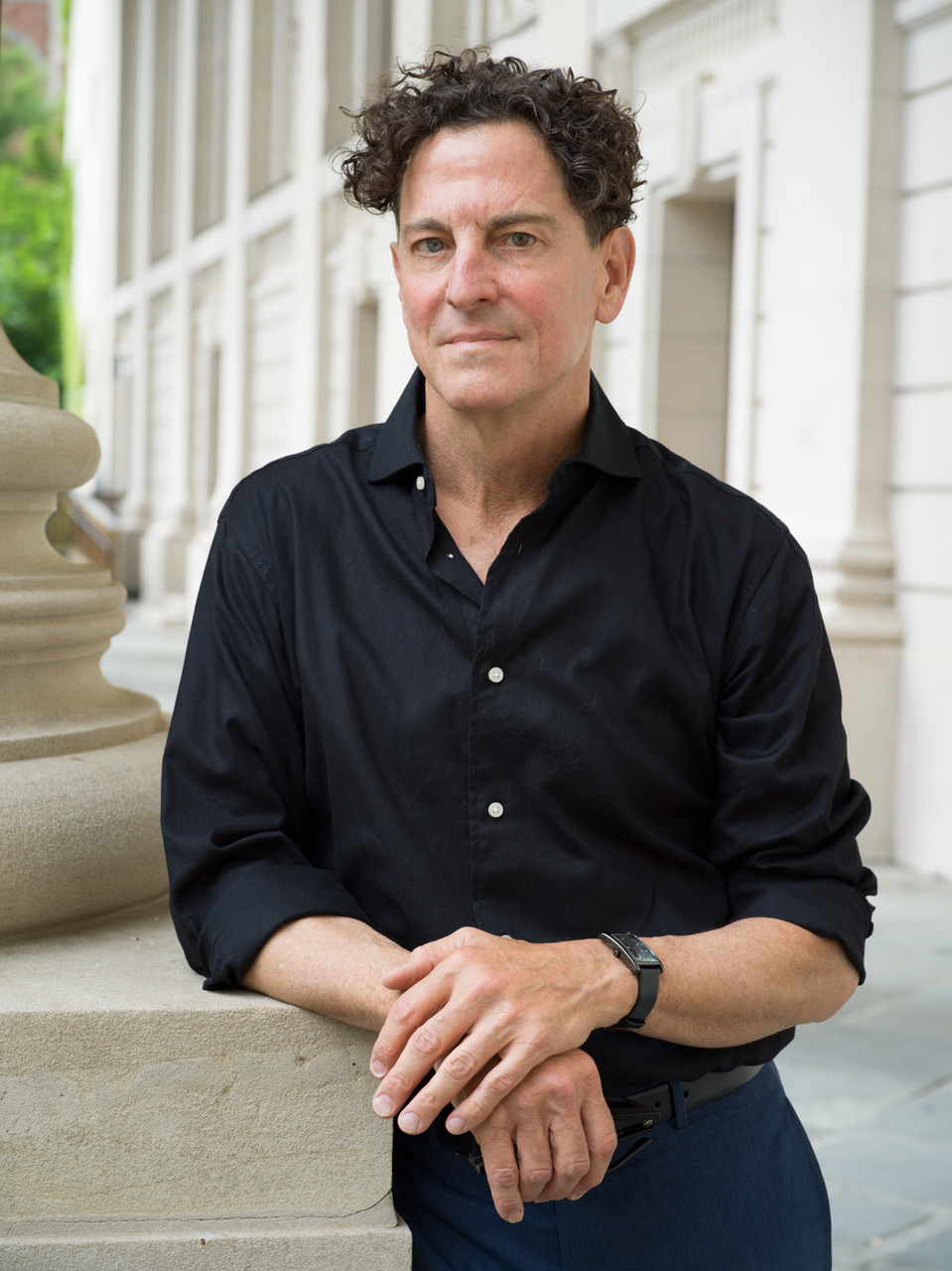 Visiting Professor, Dr. Edward Ball, lectured to a full house of over 120 students, faculty, and staff on October 2, 2019 in the Williams Center on his book, Life of a Klansman. His book explores the life of an ordinary carpenter who joined the movement of the Ku Klux Klan in New Orleans during the years after the Civil War. This talk was part history and part family memoir as the carpenter and white supremacist was a member of his own family. One of Balls' five non-fiction books, Slaves in the Family, won the National Book Award for non-fiction and became a New York Times bestseller. Dr. Ball, who currently teaches at Radcliffe Institute for Advanced Study at Harvard University as well as part-time at Yale Univerity, has been featured on national NPR broadcasts, major television networks, and appeared on Oprah. This event was supported by the Williams Visiting Professorship Endowment in the Fredonia College Foundation and co-sponsored by Fredonia's American Democracy Project.
---
Constitution Day - Tuesday, September 17, 2019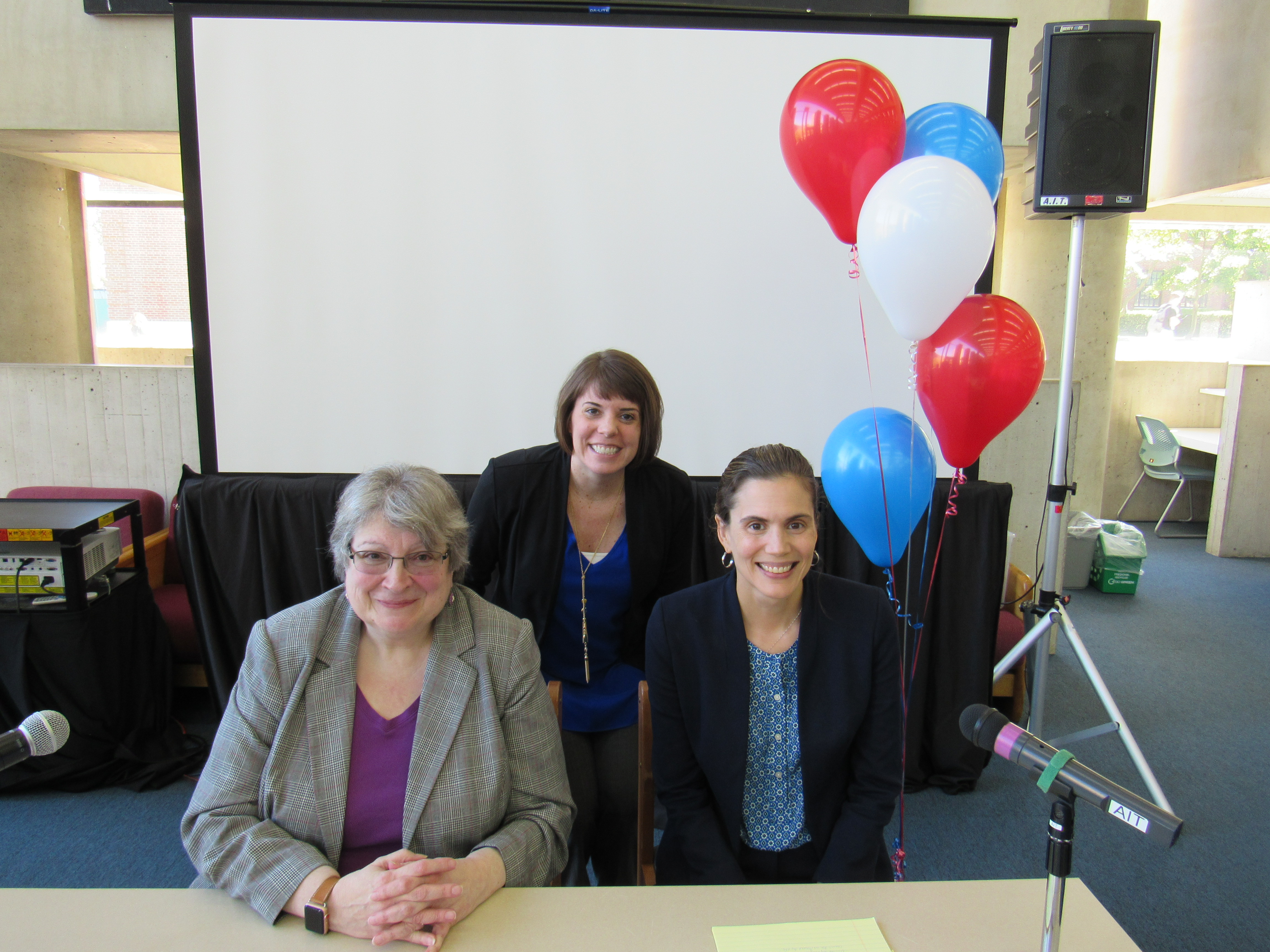 Fredonia's American Democracy Project hosted a panel in the Garden Room at Reed which was comprised of lawyers from the Chautauqua County Women's Bar Association (CCWBA). They discussed "Checks and Balances of Government as outlined in Articles I, II, and III" and the "Impeachment Clause in Articles I and II". Following the panel discussion, there were "open office hours" from 12:30 p.m. to 1:30 p.m. to allow students to stop in and ask questions on a variety of law-related topics while grabbing light refreshments. Along the route from the entrance of Reed Library to the Garden Room, each Amendment was displayed on its own large easel for easy reading along with an opportunity for everyone to write comments on why a specific Amendment matters most to them and if they feel it should be amended, and why. Constitution booklets and voter registration forms were available.
---
Voter Registration Drive - May 1st (Law Day)
The Fredonia ADP co-hosted this voter registration drive with the Chautauqua County Women's Bar Association in the Williams Center on May 1st. Representatives were on hand to answer student questions and to collect voter registration forms. This was another great event to bring awareness to the importance of voting and that "Your Voice Matters!"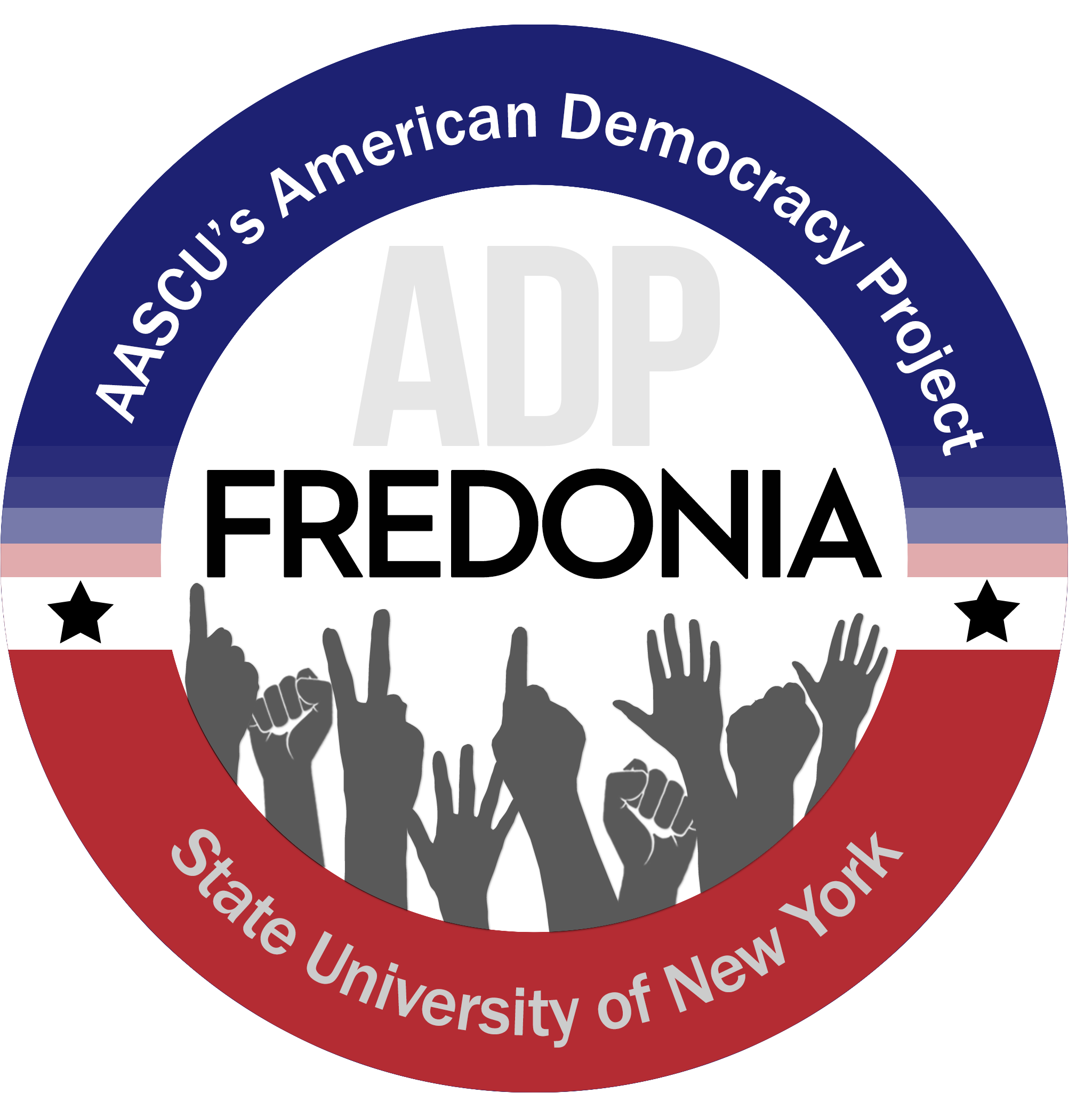 ---
April's Monthly Table Topic: "Environmental Issues" Gets response from Assemblyman Andrew Goodell
For the second month, the Fredonia ADP has sponsored a table with over 35 students submitting postcards to their local Legislators regarding environmental concerns. Students are eventually becoming familiar with the process and feeling comfortable in writing about their concerns. Click to read Assemblyman Andrew Goodell's response.
---
---

---
CONSTITUTION DAY LECTURE
"Why the U.S. Constitution Matters in our Everyday Lives"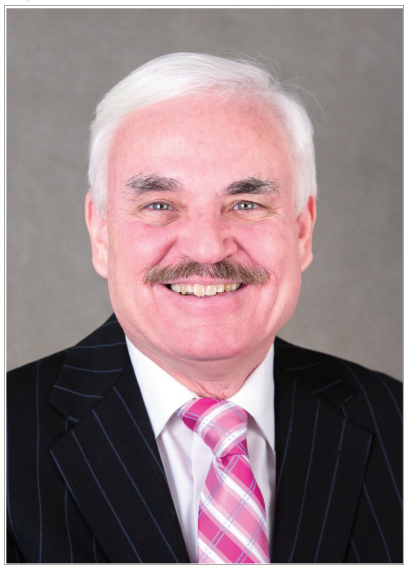 Monday, September 17
2:00-3:00 p.m.
In the Garden at Reed Library
Mike Igoe, J.D.
Assistant Professor of Communication
Guest speaker, Mike Igoe, J.D., will lecture for our Constitution Day event speaking on how the Constitution affects our everyday lives. He is currently an Assistant Professor of Communication at Fredonia in addition to being an attorney admitted to the New York State Bar, and an award-winning former TV news reporter for 30 years. His area of research is first amendment rights and the media. Mike has taught international journalism for three years in China, lectured in Hong Kong and Turkey, as well as authored multiple books.
Please join us for this interesting lecture at 2:00 p.m. with a chance for questions at the end.
Refreshments will be served.
» Download the poster
This event is co-sponsored by the Division of Advancement, Engagement, and Economic Development and the Fredonia American Democracy Project.
Remember to vote in the primary election on Thursday, September 13th!
If you haven't registered to vote yet, you can still register to vote in time for the General Election on November 6th. Registration forms can be downloaded from the county Board of Elections website (in the county that you reside in). For Chautauqua County, it is votechautauqua.com.
Staying up-to-date with today's issues is very important and we need to be aware of how these issues will have an impact on us or our families. For more information on how you can register to vote and make a difference, please see the information in this link: 2018 Voters Guide: Part I-Facts for Voters which the League of Women Voters of New York State has compiled.
"Your Vote Matters!"
If you have not registered yet, you can register to vote in Chautauqua County as a college student who has lived here for 30 days before the election. » Learn more

More about the ADP
The Fredonia American Democracy Project (ADP) committee was formed with the goal of educating students to become engaged and interested in civic issues through participatory democracy as well as to encourage students to become well-informed voters and to appreciate the impact that voter participation can have.
Fredonia was a 2003 founding campus of the American Democracy Project. ADP is a network of more than 250 state colleges and universities focused on public higher education's role in preparing the next generation of informed, engaged citizens for our democracy. The goal of ADP is to produce college graduates who are equipped with the knowledge, skills, attitudes, and experiences they need to be informed, engaged members of their communities.
We are excited to work on ADP's current initiatives including building student civic and information literacy in online spaces, involving students in considering solutions for addressing economic inequality, educating and preparing students to be globally competent citizens, advancing democratic and electoral engagement, and helping faculty and educators with classroom strategies for teaching students about stewardship of public lands.
We invite you to help Fredonia achieve ADP's action initiatives. Interested faculty and staff should email Dr. Angela McGowan, Chair of ADP committee, at mcgowan@fredonia.edu. She will be in touch to speak with you about the committee and service opportunities.
» Learn more about the American Democracy Project
Committee Members:
Angela McGowan
(Chair), Kevin Kearns, Tracy Collingwood, Charles Cornell, Rachel Martin, Heather McEntarfer, David Phillips, Jessica Finkeldey, Karen Begier
Student Reps
: Aliah Hanai, Thomas Sheffield