Animation & Illustration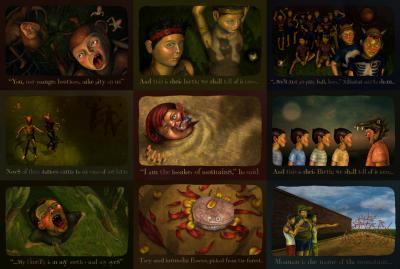 Illustration series by Jorge Mendez for Animation & Illustration Capstone.
The animation and illustration program integrates both disciplines in a unified curriculum where students participate in intro and intermediate courses for each area utilizing analog and digital media, a combined 3D modeling & animation class, advanced directed projects and a capstone illustrated series or senior independent animation. The program focuses on drawing skills, concept development, experimentation, mixed media processes, narrative storytelling, historical research, and critical thinking. While students may choose to concentrate in either of the two disciplines during their senior year, often students consider the possibilities that each field contributes to the other and incorporate both in their final work. In addition to the department's foundation area and their core curriculum, students are required to take a course in life drawing, figure modeling, drawing/painting, and photography. It is the philosophy of the program that experimentation with various media and collaboration with other program areas within the visual arts and new media department through electives encourages a unique artistic vision.

The Rockefeller Arts Center provides individual studio spaces for intermediate and senior illustration students and individual stop motion projects. The animation/illustration and media arts areas share a 900-sq. ft. computer lab in McEwen Hall comprised of 21 Mac Pros, 3 scanners, 2 inkjet printers, 1 laser printer, 2 animation stands, and 3 HD video decks. All computers are equipped with Intuos Wacom tablets, the Adobe production suite, Cinema 4D, Final Cut Pro, Corel Painter, and several copies of Zbrush. The lab is fully updated on a triennial cycle with student access 7 days per week.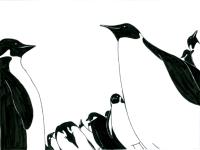 Animation still by Lindsay Holmes
for Introduction to Animation.

Internships, study abroad and freelance experiences are strongly encouraged for all students in the program. Previous internships have occurred through Marvel Entertainment in NYC, Animotion in Syracuse, IBC Digital, and Squeaky Wheel Media Center in Buffalo. Freelance opportunities arise during the semester where students have provided 3D models, illustrations or animation work for local businesses. Each student in the capstone class is required to submit work to at least one professional competition or animation/film festival such as the annual Society of Illustrators Student Competition, 3x3 Magazine, 3D Total's Digital Art Competition, Communication Arts, the Finger Lakes Film Festival, the SoDak Animation Festival, the SUNYwide Film Festival, and the Ottawa Animation Festival. The capstone course also strives to prepare students for life beyond the undergraduate level through graduate school review and application process, professional practices and promotional materials. Several students have consequently continued on to prestigious graduate programs, established themselves as freelance or independent artists, or pursue work in publishing or the animation industry.