Woodwind Quintet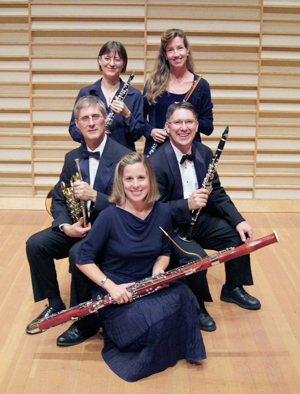 About the Quintet
As one of the faculty ensembles in residence from the School of Music of the State University of New York at Fredonia, the FWQ's tours of New York take them to all corners of the state, playing community concerts and giving educational performances and workshops. The quintet has developed many imaginative educational programs both for community organizations and for public schools in partnership with the Arts Council for Chautauqua County Arts-in-Education program and the Western New York Institute for Arts-in-Education. In many cases, these programs have involved cooperative program development with classes in social studies, language arts and science, as well as music.
Ensemble members are Susan Royal, flute; Andrew Seigel, clarinet; Sarah Hamilton, oboe; Marc Guy, horn; Laura Koepke, bassoon.
Listen to the Fredonia Woodwind Quintet perform Charles Gounod's Petite Symphonie with their students.