Fredonia Job & Internship Expo
The State University of New York at Fredonia

Job & Internship Expo
Wednesday, March 4, 2020
1:00 p.m. - 4:00 p.m.
Williams Center
Did you know...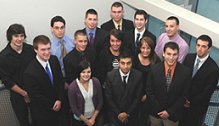 Fredonia has over 4,600 undergraduate and graduate students in more than 90 academic majors including business, communication, humanities, science, education, and fine arts.
Approximately half of our students are from Western New York.
Fredonia was ranked 12th among top public universities in the North by U.S. News & World Report in its 2019 edition of "America's Best Colleges." Fredonia has been ranked as a best university by U.S. News & World Report since 1989.
Registration will begin in mid-January, please check back at that time.
Space is limited and registration will close when the event's capacity is reached.
Questions? Please contact us at (716) 673-3327 or via email at careers@fredonia.edu.
Sponsored by the Career Development Office