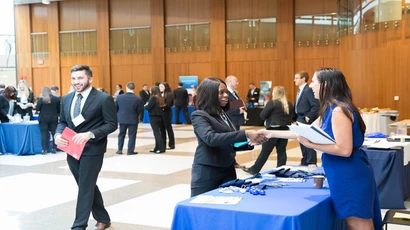 Services for Employers
We encourage employers to learn more about the State University of New York at Fredonia and its academic programs, and to take advantage of the Career Development Office's many services that will connect you with our students and alumni.
» Academic Programs | Fast Facts
» Directions to Fredonia | Campus Map | About the Area | Hotels & Restaurants
| | | |
| --- | --- | --- |
| To assist you, the Career Development Office at Fredonia offers the following services, free of charge: | To assist you, the Career Development Office at Fredonia offers the following services, free of charge: | To assist you, the Career Development Office at Fredonia offers the following services, free of charge: |
| | | View Community Employers |
Post a Job or Internship
Employment and internship opportunities can be listed in FREDNetwork powered by Handshake, the CDO's web-based job posting system. Employers can request a free FREDNetwork account to post a position, or e-mail or fax (716-673-3593) our office and we will list them for you. If you wish, you can use our Job Posting Form or our Internship Position Form. Unless otherwise indicated, jobs are posted for 30 days and internships are always visible. Please be sure to include application instructions for candidates! **Note: Unpaid internships are reviewed using the Department of Labor's Criteria Test. Employers should also be aware of Fredonia's Virtual Internship Policy prior to promoting an off-site experiential learning opportunity. Learn more about hosting an intern.
On-Campus Recruitment
The CDO encourages employers to hold interviews for jobs or internships at our office's quiet, private facilities. Our staff can publicize the opportunity via FREDNetwork and other means, collect resumes, and coordinate the schedule. Employers have the option to pre-screen the resumes or permit open sign-up. Please contact us to schedule a date and arrange the details.
CDO Spotlight Program
Employers are invited to gain exposure for their organization while providing a valuable service to our students by participating in the CDO Spotlight Program. Spotlights can be about an organization and its opportunities, or about a career topic such as interviewing or the hiring process in the speaker's industry. The CDO provides refreshments, markets the event to targeted students, and places an ad in campus newspaper.
Information Tables
Organizations are welcome to reserve an information table on campus. We can set you up at a very high-traffic, high-visibility location on campus so that you can distribute information and interact with students. Ask about our Network on the Go program.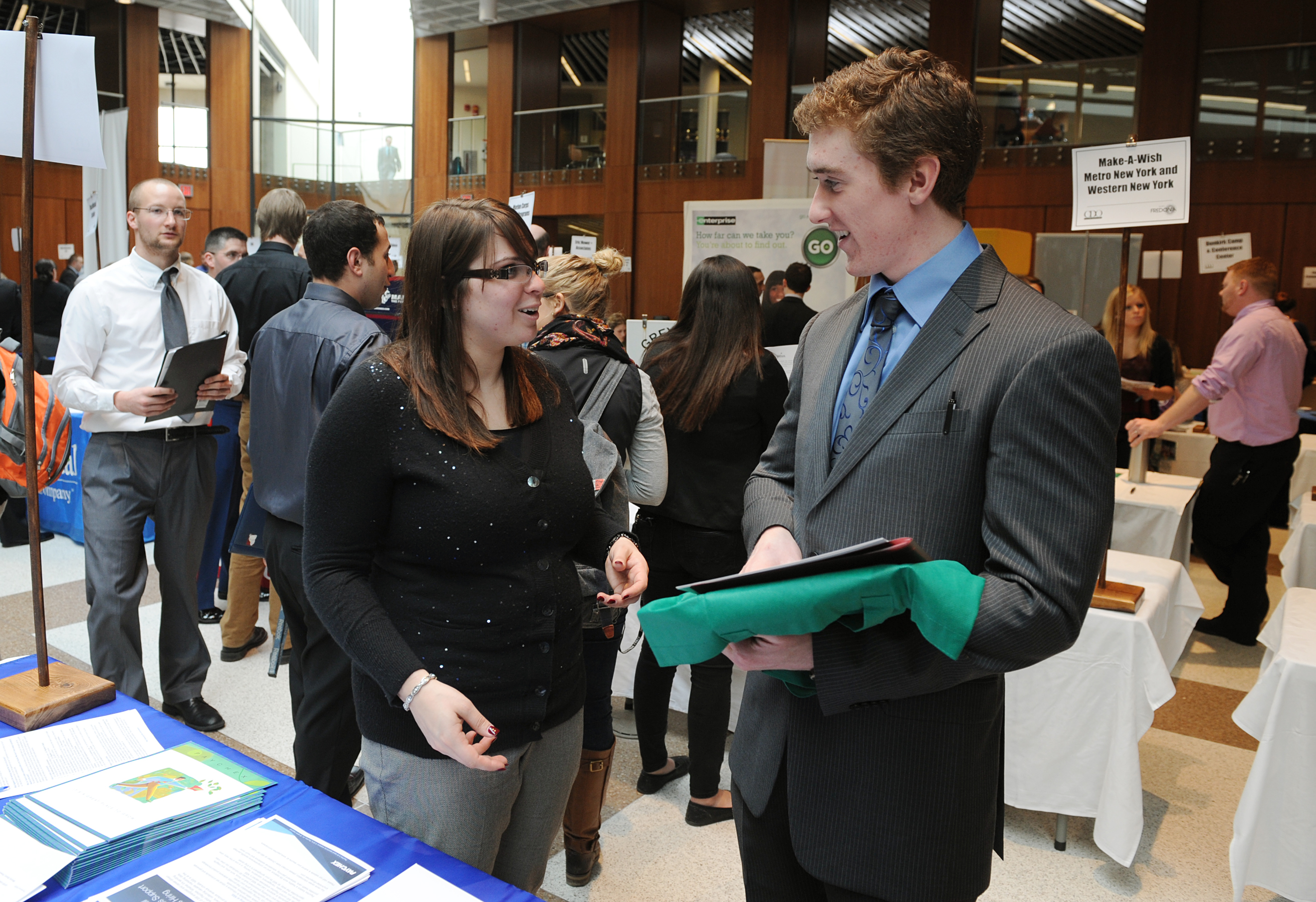 Job & Internship Expo
The CDO hosts an annual Job & Internship Expo every spring. Invitations are sent out in January. If you would like to be added to the mailing list, please contact our office.
Consortium Services
The CDO is a member of the Western New York Association of College Career Centers (WNYACCC), a consortium of 19 universities throughout the region. Our students are therefore in attendance at WNYACCC events such as the WNY Career & Internship Fair in January and Teacher Recruitment Days in the spring. Please visit the WNYACCC website for information regarding their services and events.
We are also members of the State University of New York Career Development Organization (SUNYCDO), made up of career staff from all 64 SUNY campuses. To learn how your organization can connect with SUNYCDO member institutions, please visit their website.
Employer-In-Residence Program
Students need every competitive edge that they can get in today's tough job market. The Employer-In-Residence program brings recruitment professionals from a variety of industries to campus for a morning or afternoon of one-on-one resume, cover letter, job search or interviewing consultations. If you would like to be an Employer-In-Residence, please contact us!
Student Organization Connections
The CDO works closely with many student organizations and actively seeks to involve these clubs in our employment programming. We can serve as a liaison between speakers and clubs in setting up presentations. Also, the CDO encourages employers to advertise their opportunities and campus visits in The Leader, the student-run weekly newspaper.
Become a Mentor
Contact the CDO if you are interested in mentoring Fredonia students. Mentors can help current students and graduates who are exploring a variety of options - career decisions, internships, employment opportunities, graduate school and relocation. Mentors include Fredonia alumni, as well as friends of the university (employers, parents, faculty and staff) who work in a variety of areas and are willing to share their expertise and advice.
Report a Hire
At Fredonia, success is a tradition and we like to hear about the career successes of our students. If you have recently hired a Fredonia student or alum, please take a moment to complete our Report a Hire form. In addition to celebrating a career achievement, this information also helps us to identify successful recruiting practices so we can better serve the students and employers that we work with.
---
Fredonia has been named among the top 100 best values for public campuses in the nation by Kiplinger's Personal Finance magazine and has been recognized consistently as being one of America's best colleges. Among the top regional public universities in the North, Fredonia was named one of "America's Best Colleges."
QUESTIONS?
Email our Employer Relations Coordinator or call 716-673-3327 for assistance.
The State University of New York at Fredonia does not discriminate illegally in any aspect of its college life because of race, color, sex, age, religion, marital or veteran status, sexual orientation, or non-job-related handicap, nor does it as a matter of policy do business with employers who do so discriminate.
[ Back to Top ]