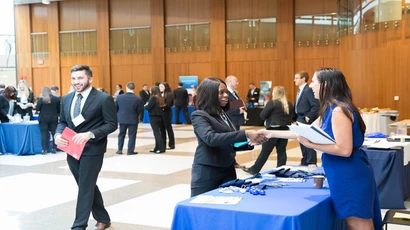 Fredonia's Job & Internship Expo
Wednesday, March 6, 2024 - Williams Center
Check back soon for BONUS events being hosted simultaneously!
Prepare in Advance
Several organizations will be holding interviews at the Career Development Office leading up to and following the Expo. Announcements and job/internship descriptions will be listed in FREDNetwork as they become available. Candidates are strongly encouraged to visit the organization's table during the Expo!
Information regarding employers who will be returning for on-campus information sessions (
CDO Employer Showcase
events), and interviews will be announced as they are scheduled. Follow the postings in
FREDNetwork
for the most up-to-date information regarding employer visits to campus, and more!
Questions? Please contact us at 716-673-3327 or via email at careers@fredonia.edu.
Sponsored by the Career Development Office, with funding provided by an FSA Grant, and event assistance provided by on-campus student clubs.
Connect with employers in FREDNetwork, and review prior event attendees!
Job & Internship Expo March 2023