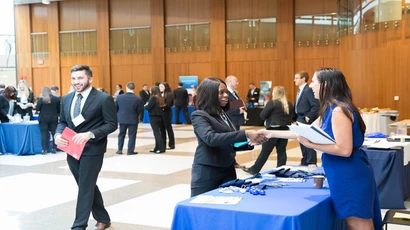 Informational Interview Questions
What follows is a list of possible questions you might ask as you interview people for information. You will not, of course, ask all of these questions, and you may think of other questions that are not on this list. The questions you choose to ask will depend on what you want to know and whether you are gathering information to help you decide about occupations, information to help you prepare for your job search, or both.
Always ask a question in your own words, in a way that is natural for you. You can also phrase selected questions so that they relate to your own skills, interests, or work styles. For example, "I do my best work in a quiet environment with minimal interruptions. How typical is this noise and bustle?" Use this style sparingly so that the focus remains on the person being interviewed.
To learn about how to conduct information interviews, refer to the Interviewing for Information resource. If you are preparing for your job search, refer to the Networking information.
How did you get interested in this kind of work?
What are your primary responsibilities?
What is a typical day like?
What skills and abilities are important to be successful?
What personality traits are important for success?
What academic preparation is necessary to enter this field?
What do you like best about your work?
What do you like least?
How closely do you work with other people?
How many hours a week do you work? How much, if any, travel is involved?
How much flexibility do you have regarding dress, hours of work, vacation schedules, or places of residence?
What is a typical "chain of command" in this field?
How long have you been in your current position, and what was your career path to get there?
To what professional associations do you belong? Do they accept student members? Should I join now?
How do you keep up with the changes in your field? Are there professional journals that I should/could be reading now?
To what extent do you feel your experiences are typical of others in the field?
What factors differentiate those who succeed from those who fail?
How do most people get started in this field?
What are some typical job titles in this field?
Who hires people to do this kind of work?
What are the opportunities for advancement? How are people promoted?
Are there other fields in which the same skills might be used?
What is the potential for this field?
What areas (specialties, types of organizations, geographic locations) do you feel promise the most growth/opportunities?
How is this field affected by economic fluctuations?
Would you recommend graduate or professional school training right after college, some time in the future, or not at all?
How would you advise I go about looking for an entry-level job?
How do people find out about openings in this field?
If you were to hire someone right now, what would be the most critical factors influencing your selection?
Do you know anyone else who might be willing to talk to me? May I say that you referred me?
Practice interviewing whenever you want with Zoom, or another shareable video recording software! All you need is a computer with a webcam and Internet access. You can also sign out a webcam at the CDO or schedule an in-person, phone or Zoom mock interview with a counselor.