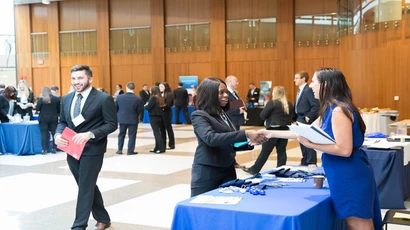 CDO Mission
CDO Mission
The mission of the CDO is to provide a variety of developmental programs and services to educate students and alumni about career choices and opportunities, integrating their academic preparation with their interests, competencies, experiences, and values.
STUDENT LEARNING COMPETENCIES
Cognitive Complexity
Build competencies in identity development by using self-assessment tools and individualized counseling for career choice.
Knowledge Acquisition, Integration and Application
Learn about the world of work and its relationship to the self.
Learn how to research opportunities using web and career library resources.
Learn from hands-on experience though internships.
Interpersonal and Intrapersonal Competence
Establish career goals and work towards implementing them.
Learn to make effective decisions using knowledge of self and world of work.
Practical Competence
Learn to communicate effectively with potential employers and internship sites using resumes, cover letters and personal interviews.
Learn to communicate effectively when applying to graduate/professional programs.

| | |
| --- | --- |
| Domains | Student Learning Outcomes (aligned to Institutional Learning Outcomes) |
| Self-Management | Students will be able to evaluate the world of work and its relationship to the self. (SKILLED) |
| Diversity & Global Consciousness | Students will learn how to research and identify experiential education opportunities. (CONNECTED) |
| Leadership Development | Students will learn to communicate effectively with potential employers. (CREATIVE) |
| Social & Civic Responsibility | Students will learn from experience through internships. (RESPONSIBLE) |
| Self-Management | Students will learn to make effective decisions using knowledge of self and world of work. (CONNECTED) |