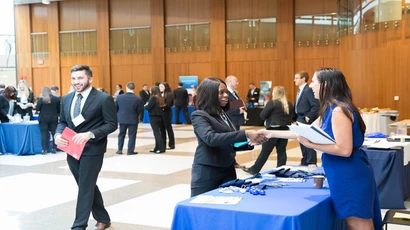 Resources for Parents
Welcome to the Career Development Office (CDO) website. Our hope is that as a result of visiting this site, we will have answered some of your questions regarding the career development process and the career services that are available to students at Fredonia.

The CDO helps students prepare and make informed decisions about their career paths. Professional career counselors assist students and alumni with a full range of career counseling including choosing a major/career, finding an internship, writing resumes and cover letters, preparing for interviews, researching employers, finding job opportunities, applying to graduate schools, attending job or career fairs and much more!

Learn more about how to help your student:
The Value of a Liberal Arts Degree
A liberal arts education has long been recognized in the workplace for its value and versatility. Employers say they want employees who can think critically, communicate clearly, and solve problems creatively. They emphasize the need to work collaboratively in teams, to continue learning on the job, and to view issues from multiple perspectives. This is the essence of the education your student is receiving at Tufts. Your daughters and sons are prepared to enter the workplace or graduate school with transferable skills that ensure their success in a variety of challenging tasks and environments.
Helpful Links
You may also wish to browse our website and learn more about Successful Career Planning.