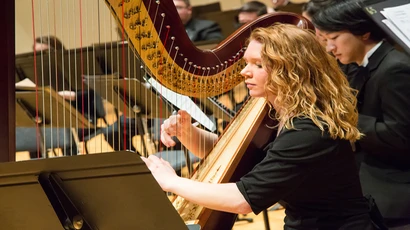 Harp
Faculty: Sonja Inglefield
Quality and Value
Fredonia's School of Music has a 180-year history of excellence, and is fully accredited by the National Association of Schools of Music (NASM). Tuition rates are extremely affordable. Scholarships and financial aid are available, including FREE tuition through the new Excelsior Scholarship!

Convenient Auditions
Two contrasting pieces are the only required repertoire for undergraduate harp auditions. Multiple on and off-campus audition dates are available. Video auditions are accepted from students more than 300 miles away. 

Individual Attention
Internationally acclaimed Professor of Harp, Sonja Inglefield, considers the personal experiences and ambitions of each student while guiding them on the path to a future career.\
Supportive Environment
The high level of cooperation and mutual respect between students in the harp studio encourages great personal success and life-long friendships. Two pedal harps are available for student use, and locked practice rooms are provided for personal instruments.

Solo and Ensemble Training
A weekly Recital Seminar focuses on performance abilities, practice habits, memorization skills, technical proficiency and musicianship, as well as career counseling, instrument maintenance and repair. Four bands, two orchestras, four choirs, and various chamber groups make ensemble opportunities plentiful.

Size and Location
With about 5,000 total undergraduates — 550 of whom are in the School of Music — Fredonia is set on a beautiful residential campus in Western New York state, just minutes from Lake Erie and an hour from Niagara Falls.
For more information about harp at Fredonia, visit: http://www.fredonia.edu/music
or contact Professor Sonja Inglefield directly at
sonja.inglefield@fredonia.edu or 716-673-4629.
Degrees Available